One Runner Finds Strength To Stay Sober Through Running
After being diagnosed as a Type-A alcoholic, Melissa reclaimed her life and is now shooting for her BQ time.
Heading out the door? Read this article on the new Outside+ app available now on iOS devices for members! Download the app.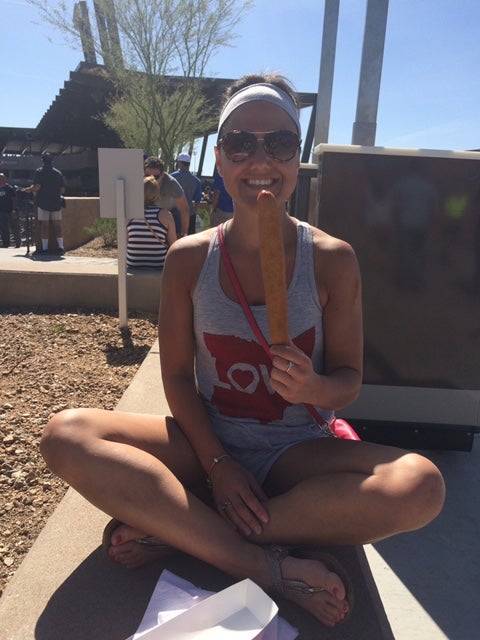 Read and see more about the author, Claudia Taller, at her website. 
Five years ago, Melissa's dreams didn't include the Boston Marathon. But today, the 30-year-old has become a competitive runner—after running saved her from herself.
Melissa ran cross country and track in high school, where she excelled at distance running. Then one day Melissa's 10-year-old sister came home from school and found Melissa dead—or so she thought when she called her mother at work. When the ERT arrived they discovered she'd ingested a fifth of vodka.
On that day, Melissa repeatedly told her mother she was sorry. The lies and disappearing acts and scary situations had been causing her parents sleepless nights. Things deteriorated to the point that one psychiatrist said, "Sometimes children come along that we just have to give up on." When Melissa entered rehab, she was diagnosed as a Type-A alcoholic.
Related: From Depressed And Overweight To Boston Qualifier
Today, Melissa is a runner. She started running again in the Cleveland Metroparks and raced small races, including the Susan G. Koman Race for the Cure and the Cleveland Turkey Trot.
"Then, in 2012, I ran my first half marathon in Cleveland for Team Ken Run For Hearts, and my time was 1:51. I ran my first full marathon in 2013 in Cleveland with a time of 3:53:46," she recalls. In 2014, at her second marathon in Cleveland, she had a time of 3:52:31. In 2015 at the Columbus Children's Hospital Marathon, she hit a personal record of 3:37:39.
She's now training for the 2016 Cleveland Rite Aid Marathon and hopes to make a 3:35 time and qualify for the Boston Marathon in her age group. She charts a course of training and sticks with it, even when she's not feeling well. The beauty of running is there's always something more to strive for, to push through and a continuous list of reasons to pursue it.
Related: One Runner's Crazy Life Adventure To Find Her Love Of Running
Sober six years now, Melissa helps other women in crisis. When she's helping other women make it through their own struggles, she listens, acknowledges and accepts. She's been there, so she can be empathetic but firm. "My sobriety and life events teach me to not give up and keep going even when I want to stop and give up!"
She went back to school at 25 and excelled, even though she traveled 80 miles each way to school while also working. As an occupational therapy assistant, she often asks herself, "What can I do to motivate this person to go further?" Her friends, co-workers, and patients admire her frankness. She's not afraid to tell a patient that they can learn to speak better or a friend that they aren't making the effort required to change their life.
Melissa's life is rounded out by swimming and yoga, time with her dog, Sophie, keeping up her apartment and spending time with her supportive boyfriend. Running is the tool that can be relied upon to awaken sensibilities, heighten self-worth, improve focus, stave off temptation and create a healthy and beautiful body. The meditative feel of running gives her a sense of meaning and purpose.
"On my running days when I set out to meet a pace/time goal or a distance goal for the day," she says, "I feel energetic and confident, strong."
Read and see more about the author, Claudia Taller, at her website.