Nike's Breaking2 Just Misses Goal But Delivers Record
Eliud Kipchoge just missed breaking the elusive 2-hour mark in the marathon, but Nike's Breaking2 event still packed plenty of excitement.
Heading out the door? Read this article on the new Outside+ app available now on iOS devices for members! Download the app.
*Courtesy of Competitor.com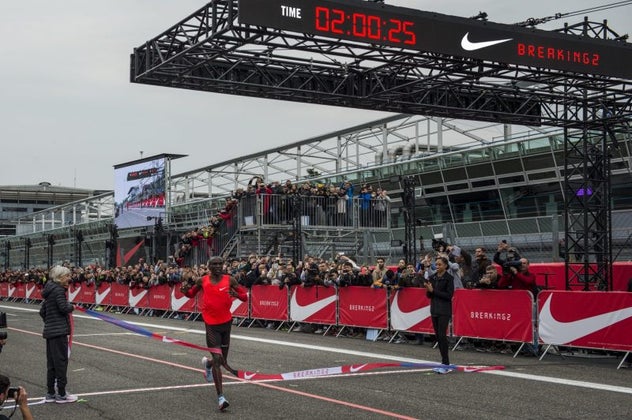 Nike's ambitious Breaking2 event may have fallen just short of the coveted record, but still proved to be an exciting endeavor.
This weekend on a Formula 1 track in Monza, Italy, Eliud Kipchoge, Lelisa Desisa, and Zersenay Tadese began theirattempt to break the elusive 2-hour barrier in the marathon. In the end it was Kipchoge, alone with his pacers, who stayed in contention. Hovering just under the 2-hour mark for most of the race, his pace creeped up during the last 5K. Kipchoge finished in 2:00:25, faster than anyone has ever run a marathon.
Tadese, owner of the world record in the half marathon (58:23) hung on to the blistering pace until half way. His finish of 2:06:51 was almost 4 minutes faster than his previous best (2:10:41). Desisa, whose marathon PR of 2:04:45 was set at the Dubai Marathon in 2013, fell behind at 15K. He hung on and finished in 2:14:10.
"I've seen the magic of gold shoes and swift suits. I've seen iconic athletes leave it all on the track. But I've never seen anything like what we saw today," says Nike CEO Mark Parker after the race. "This achievement represents more than a race. It's a moment of global inspiration that will encourage every athlete, in every community, to push the limits of their potential."
While Kipchoge failed to break 2 hours, the event never lacked excitement. The race was streamed live on Twitter, Facebook and YouTube, generating a lot of conversation, despite the late hour in much of the U.S. Nike has not released information on how many people tuned into the race.
Woven into the broadcast were background stories on each runner and commentary by Nike athletes and Kevin Hart, who added levity to a serious event. Nike also had segments devoted to the creation of the much talked about Nike Zoom Vaporfly Elite shoe. Each athlete was able to customize their shoe, which is supposed to allow runners to use 4 percent less energy.
The time will not be eligible for an official world record. However, the aim of Breaking2 was more to test the limits of human endurance, making the event part science experiment and part one-of-a-kind marketing endeavor for Nike. Adidas is said to be planning their own race to chase the 2-hour barrier. The brand debuted their own Sub2 shoe last year. They also sponsor Dennis Kimetto, who has run the official world record of 2:02:57, and Wilson Kipsang, whose PR is 2:03:13.
If you missed Breaking2 last night, you can re-watch the entire race below.