Her Shoes are Made for (Women's) Vaulting
When a young pole vaulter got frustrated that nobody made women's-specific shoes for her sport, she got to work.
Heading out the door? Read this article on the new Outside+ app available now on iOS devices for members! Download the app.
Every inventor has that "a-ha" moment.
For 19-year-old Madison George, a pole vaulter at Elon University in North Carolina, that moment came a year ago when she was ordering spikes online that would take a month to arrive from overseas.
"I thought that it was pretty ridiculous that women don't have easy access to sport-specific shoes, and that got me thinking about how sport-specific shoes are all unisex sizing," said George, who is from Scottsdale, Arizona, majoring in engineering.
It also got her thinking about an opportunity she recently heard about at her university's Maker Hub, an invention production facility on campus. The center was offering students $300 each to bring their visions to life.
Could she create a better shoe, specifically for women pole vaulters? With resources from Maker Hub and guidance from her professors, George got to work.
And she ran into plenty of challenges building her women's pole vaulting shoes. George researched materials that work with 3D printers. She experimented with a nylon prototype for the bottom layer. And she also started over when her ideas didn't work.
"I have basically gone back to the drawing board when it comes to designing the actual shoe," George says.
The next phase is adding shoe sensor technology in order to collect data on the physics of pole vaulters' feet on the runway. Progress has been hampered by the pandemic, which has stifled opportunities to interact in person with other pole vaulters, but George is also studying videos of pole vaulters and surveying elite athletes on their experiences with the spikes they wear.
"I am constantly being surprised by this process," she says. "I have been analyzing existing pole vault spikes and finding how different all of the versions are. It makes me wonder why there isn't a consensus on the most scientifically effective design."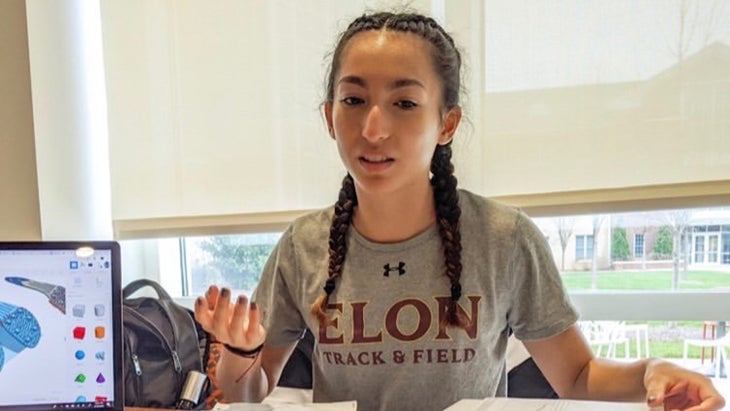 George's ultimate goal is not mass production of a particular shoe, but designing one that can be custom-made for an individual athlete's arch and foot shape. That approach benefits not only athletes, but also the environment by reducing waste, she says.
Scott Wolter, a materials science and engineering professor at Elon, says it's been easy to mentor George on her women's pale vaulting shoe project, thanks to her exceptional drive and eagerness to learn.
"When I first chatted with Madison, I could tell she was an engineer. She is a problem solver," he says. "What she has gained as an athlete—a dedication to teamwork, her grit and determination—makes her such an impressive person."
George's determination has been tested more than ever during the COVID-19 crisis, which has canceled track and field competition and hampered some progress on her project.
"It's heartbreaking to not be able to compete and show what all of our hard work has led to, but my relationship with my sport is very strong, and I love training whether or not I am traveling or competing," says George, a gymnast who took up pole vaulting in high school after her track coach convinced her to try it.
For now, George is focused on securing an internship with a sports footwear company, where she hopes to work in product engineering and learn things she can apply to her own project.
Kyle Altmann, a physics professor at Elon who also mentors George, says that without a doubt, George has a bright future in sports engineering.
"I fully expect one day there will be an amazing shoe with her name on it," he says.