USATF Championships Live Updates: Gabby Thomas is Crowned National Champion In The 200m
And other results of the USATF Championships in Eugene, Oregon.
Heading out the door? Read this article on the new Outside+ app available now on iOS devices for members! Download the app.
USATF Championships Final Day: July 9th
Final: 200m
Gabby Thomas, the Tokyo Olympics bronze medalist who has a master's degree in Epidemiology from Harvard, was sidelined in 2022 with a torn hamstring. But this year she's been back to top form and she rose to the occasion to win her second national title in 21.60, which eclipsed her personal best and the U.S. championships meet record (and is also the fourth-fastest time in history). Sha'Carri Richardson was close behind with 21.91 and reached her goal of going to the World Athletics Championships in both the 100m and 200m races. Kayla White came in third (22.01) to round out Team USA heading to Budapest. A stand-out athlete was Mia Brahe-Pedersen, a seventeen-year-old high school junior from Oregon, lining up in the final as the first high school track and field athlete to sign an NIL deal with Nike  and running 22.65.
Team USA: Gabby Thomas, Sha'Carri Richardson, Kayla White
Final: 5,000m
Alicia Monson, the top-ranked American in both the 5,000m and 10,000m this year, finished second in the 10,000m on Thursday night after running easy in the middle of the pack and letting the action unfold. In Sunday evening's 5,000m final, Monson took the action to everyone else, taking the lead early in the race and pushing at a moderate pace until Natosha Rogers surged with 600m to go. Rogers finished third in the 10,000m but still lacks the world championships qualifying standard, so she didn't want to suffer a similar fate in the 5,000m. But just as Rogers started the final lap, Elise Cranny, Thursday's 10,000m champion, came up on her and took the lead and began a strong finishing kick that she wouldn't relinquish. She won the race in 14:52.66, while a resurgent Monson finished second (14:55.10) and narrowly edged Rogers (14:55.39) as both finished under the world championship's standard.
Team USA: Elise Cranny, Alicia Monson, Natosha Rogers
Final: 400m Hurdles
Dalilah Muhammad, the 2019 world champion in the 400m hurdles, was running as well as she has in four years and seemed like the runner to beat in Sunday's  final. But Shamier Little, the 2015 silver medalist, was also running like her old self and snatched the victory from Muhammad over the final 50 meters to win in a season-best time of 53.34. Muhammad held on for second in a season-best of 53.34, while Anna Cockrell, a 2020 Olympian who trains with Little, was third in 54.24. Even with Sydney McLaughlin-Levrone focusing on the open 400m, Team USA has a top-tier squad heading to Budapest with Little, Muhammad and Cockrell.
Team USA: Shamier Little, Dalilah Muhammad, Anna Cockrell
Final 800m
While many expected Ajeé Wilson to chase her 11th U.S. title in this event, Nia Akins had intentions of her own. After LSU junior Michaela Rose set the pace with a modest 58.37 opening 400, Sage Hurta-Klecker was positioned in second followed by Raevyn Rogers and Akins bunched together and ready to surge as Wilson was off the back in eighth place. Rogers, the bronze medalist at the Tokyo Olympics two years ago, finally caught and passed Rose at the 600m mark and looked strong with 100m to go, but Akins timed her final kick perfectly and outran Rogers to the finish. The 25-year-old Akins, who has a nursing degree from the University of Pennsylvania, broke the tape in 1:59.50 to win her first national title, while Rogers was second in a season-best 1:59.83 and Kaela Edwards was third in 2:00.52 and Hurta-Klecker was fourth in 2:01.19. Wilson had an uncharacteristically off night, finishing eighth in 2:05.88.
Akins has the world championships standard, but Rogers and Edwards do not and will have to chase the time over the next three weeks or rely on world rankings to earn the trip to Budapest with Akins.
Team USA: Nia Atkins, Raevyn Rogers, Kaela Edwards
USATF Championships Day Three: July 8th
Preliminary Heat: 200m
Sha'Carri Richardson continues to tear up the track in Eugene. The 23-year-old sprint phenom won her opening round heat of the 200-meter dash in 21.61—a new personal best and the sixth fastest time in history. Tamra Clark was the next fastest qualifier, winning the third heat in 22.05 over Abby Steiner (22.31) and Abby Steiner (22.31). Gabby Thomas won the first heat in 22.28. There are two more races on Sunday and all of the top sprinters advanced, so it should be a fast final on Sunday night.
Semifinals and Finals: Sunday, July 9, 5:45 P.M. PT, 7:10 P.M. PT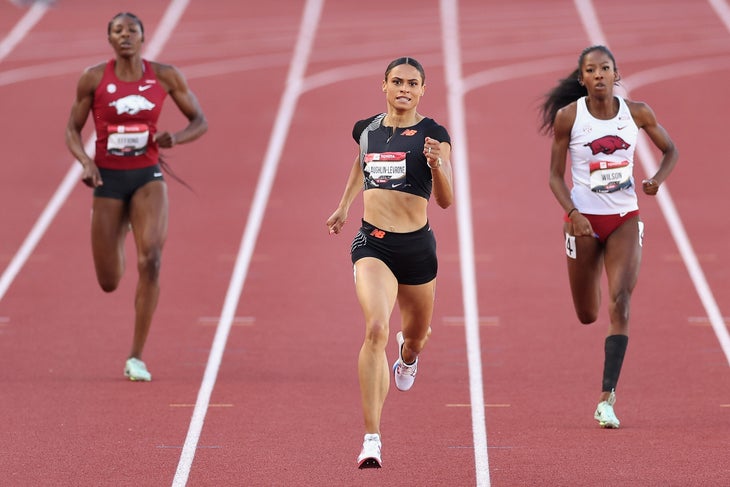 Finals: 400m
Sydney McLaughlin-Levrone lived up to her superstar billing, winning the open 400 in a U.S. championship record and personal best of 48.74. After focusing on the 400m hurdles for the past seven years—setting new world records while winning Olympic and world championship gold medals the past two years—the 23-year-old is now one of the world's best in the 400 without any hurdles. University of Arkansas junior Britton Wilson, the NCAA record-holder in the event, placed second in 49.79, while Talitha Diggs, last year's U.S. champion, finished third in 49.93. McLaughlin-Levrone's time was the second-fastest in U.S. history and she barely missed the American record of 48.70 set by Sanya Richards-Ross in 2006.
Team USA: Sydney McLaughlin-Levrone, Britton Wilson, Talitha Diggs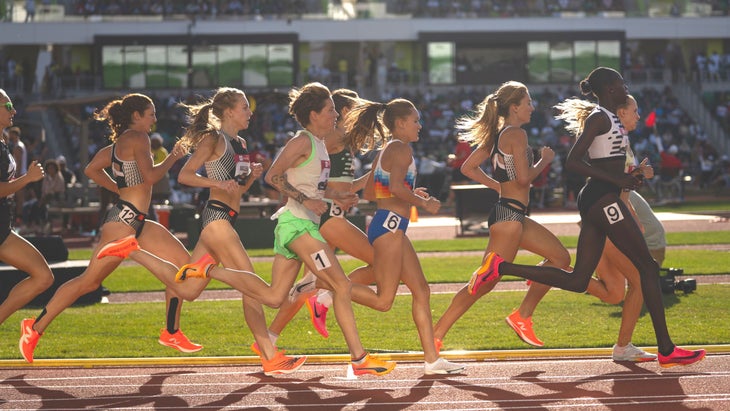 Finals: 1,500m
Nikki Hiltz won their first U.S. outdoor title by outkicking Athing Mu and Cory McGee down the homestretch to seal the victory in dramatic fashion in 4:03.10. The race started at a slower pace and turned into a tactical race, with Mu, the defending Olympic and world champion in the 800m, taking the lead with 400 meters to go. It looked like it might be a sprint showdown between Mu and McGee, an Olympic and world championships finalist, but Hiltz surged off the final turn and ran away with the victory. Sinclaire Johnson (4:03.49) finished fourth, followed by Addy Wiley (4:04.25) and Helen Schlachtenhaufen (4:04.99).
The 28-year-old Hiltz, who uses they/them pronouns and identifies as transgender nonbinary, has continued to progress in the mile and 1,500m the past two years. They earned their fourth big win of the season, after notching victories at the U.S. indoor championships in February, Drake Relays in April and the Trond Mohn Games in Bergen, Norway in June.
Team US: Nikki Hiltz, Athing Mu, Corey McGee
However, if Mu opts turns down the Team USA berth in this event and opts run the 800m at the world championships in Budapest—she has an automatic qualifier because she's the defending champion in that event—fourth-place finisher Sinclaire Johnson (4:03.49) would represent the U.S. at the world championships.
RELATED: Nikki Hiltz Partners With Lululemon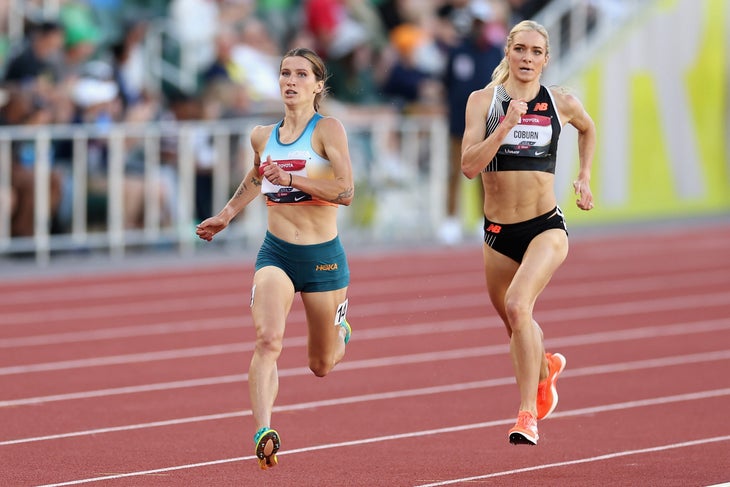 Final: 3,000m Steeplechase
Krissy Gear, just 23, ran the best race of her life and outkicked Emma Coburn in the final 100-meters to win the finals in a personal best 9:12.81, a time that surpassed the world-championship qualifying standard. Coburn, 32, who has 10 U.S. titles in the event, lost for the first time since her first victory in 2011 but still ran a season-best time of 9:13.60 to earn another Team USA berth and the opportunity to chase another world championship medal. Courtney Wayment, 24, led the race early and pushed the pace to keep it honest, held on to finish third in 9:14.60.
Gear entered 2023 with a 9:38.62 PR in the event, but has lowered it twice and is now the sixth-fastest American of all-time. At last year's world championships in Eugene, Coburn placed eighth—her fifth top-10 finish in the event since 2011—and Wayment placed 12th.
Team USA: Krissy Gear, Emma Coburn, Courtney Wayment
Semifinals: 400-Meter Hurdles
Dalilah Muhammad continued a resurgent season in the 400m hurdles with a solid victory in the first semifinal heat, winning in 54.17. Cassandra Tate finished second in 55.31, while LSU junior Shani'a Bellamy was third in 56.03. Shamier Little won the second semifinal heat in 54.84, ahead of Anna Cockrell (55.44) and Lauren Hoffman (56.00)
Although Sydney McLaughlin-Levrone is likely focusing on the open 400 this year and not the 400 hurdles, the U.S. is still very strong in this event and it will take a world-class effort to finish among the top three in Sunday's finals. Muhammad, 33, a former world-record holder in the 400m hurdles, owns four world championship medals in the event, as well as Olympic gold and silver medals. Little and Tate were second and third, respectively in the 2015 world championships in Beijing.
Finals: Sunday, July 9th, 6:34 P.M. PT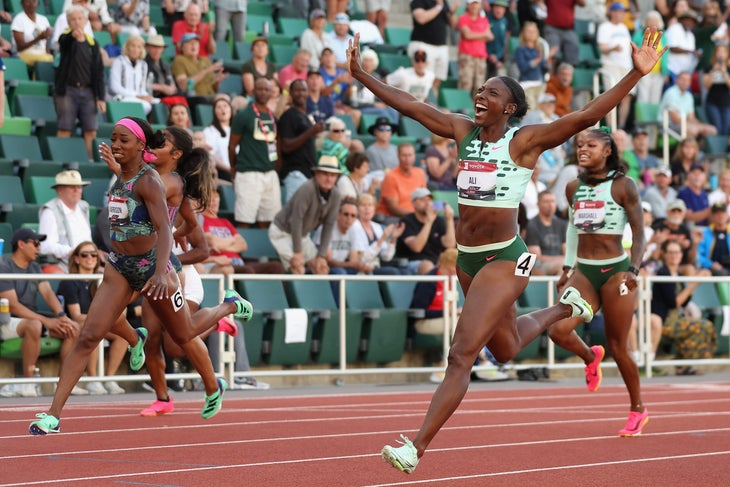 Semifinals and Finals: 110-Meter Hurdles
Nia Alia, a 34-year-old mother of three, earned her first U.S. title with a flawless race in the finals that she won in 12.27 seconds. Keni Harrison, a former world-record holder in the event, was second in 12.42, followed by Masai Russell and Alaysha Johnson, who were both timed in 12.46. (Russell's full automatic time was 12.458, while Johnson's was 12.460, meaning Russell earned a spot on Team USA by the slimmest of margins and Johnson, the fifth-fastest competitor in the world in the event this year, will have to wait until next year's U.S. Olympic Trials to earn redemption.)
Earlier Saturday, Johnson posted the fastest time in the semifinals, winning her heat in 12.37. Ali won her heat, too, in 12.43 to edge Harrison (12.45) and Russell (12.48). Entering the U.S. championships, seven of the top 10 women in the world were American, so Team USA was bound to be strong no matter who made the squad. Ali was the sixth-ranked American and ninth in the world entering the meet, but she rose to the occasion and is now heading to Budapest with Team USA.
Team USA: Nia Alia, Keni Harrison, Masai Russell
---
USATF Championships Day Two: July 7th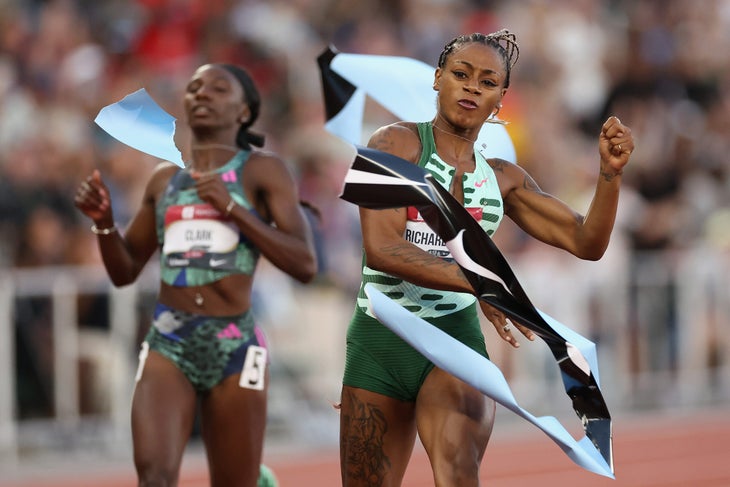 Final: 100m 
Headline maker Sha'Carri Richardson showed she meant business even before she was in the starting blocks. Lining up she dramatically took off her signature orange wig at the starting line and tossed it behind her on the track.
Her start was arguably flawed, but she didn't panic, she moved to the front by 60 meters and took it home in 10.82 seconds with a determination that should be bottled and given to all young athletes dreaming of crossing the finish line as a national champion.
In the post-race interview, Richardson was confident stating, mentally, physically and emotionally, "I am ready." And then she added: "I'm not back, I'm better!"
The two other athletes accompanying Richardson to Budapest are Brittany Brown who ran a PR of 10.90 seconds and Tamara Davis, who was quick off the blocks and led for the first half of the race, then held on to take third in 10.99 seconds.
Team USA: Sha'Carri Richardson, Brittany Brown, Tamara Davis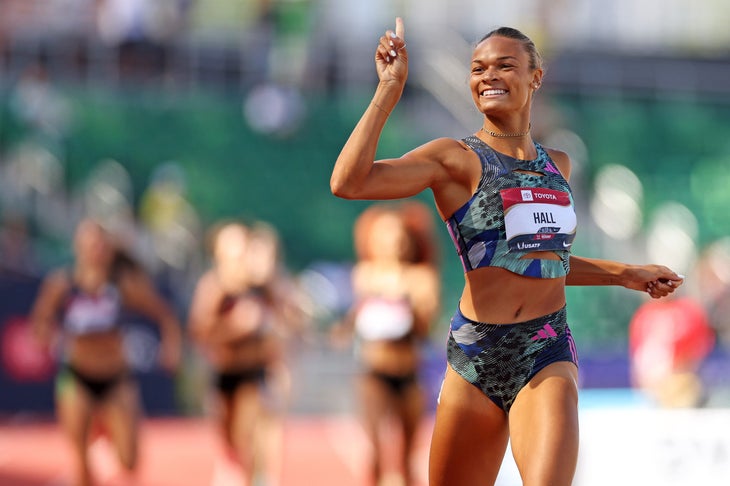 Final Day: Heptathlon
As expected, a jubilant Anna Hall took the top spot at the end of the seven-event heptathlon with 6677 points. She will be the sole U.S. representative in the event heading to Budapest for the World Athletics Championships in Budapest as the only athlete to have reached the world championship standard.
Team USA: Anna Hall
Semi-Finals: 400m
In heat one, Sydney McLaughlin-Levrone had an easy win running a very controlled first 200 meters, then pulling well ahead of the competition in the final 100. She cruised into the line with a 49.60, just a tenth of a second off her personal best. Following the race, McLauglin-Levrone made clear she is, "getting used to the rhythm [of the 400m]" and that her goal of this meet is to make the team and go from there.
Heat two saw Britton Wilson, the fastest American this year, pull out a strong final 100m to win in a comfortable 50.59. Another standout in heat two was last year's national champion, Talitha Diggs, who closed the gap on Britton and crossed the line in second place (50.95) and will be a good contender in the finals.
The final race on Saturday is set to be an exciting one to watch.
Final: Saturday, July 8th, 7:19 P.M. PT
Semi-Finals: 800m
A day after winning her preliminary heat, Nia Akins continued her strong running in Eugene by winning the first semifinal heat in 2:00.02. She pulled veteran runners Raevyn Rogers (2:00.44) and Ajeé Wilson (2:00.66) through to automatic finals-qualifying berths too. The second semifinal was slightly faster, with LSU's Michaela Rose winning in 2:00.39 as the top five women finished within less than a half second. With defending Olympic and world champion Athing Mu running the 1,500m in this year's championships, Wilson has a chance to notch her 11th national title in the event (indoors and outdoors combined) but it certainly won't be easy.
Final: Sunday, July 9th, 7:18 P.M. PT
Preliminary Rounds: 400m Hurdles
Dalilah Muhammad, who took gold in the 400m hurdles at the 2016 Olympics and 2019 World Championships, looked back to her great form, winning her preliminary heat in a season-best time of 54.56. That was the fastest time of the night, edging out the other prelim winners Shamier Little (55.32) and Anna Cockrell (55.74). With Sydney McLaughlin-Levrone focusing on the open 400 in these championships, everyone is eager to go for the gold.
Semifinals and Final: Saturday, July 8th, 7:55 P.M. PT, Sunday, July 9th, 7:34 P.M. PT
---
USATF Championships Day One: July 6th
Day One of the USATF Outdoor Championships kicked off with temperatures reaching the mid-eighties on the track. Fortunately for the 10,000m athletes, the race was late in the evening allowing them a much-needed cooler and shadier experience for the longest race on the track.
RELATED: Read our Complete Preview of the USATF Championships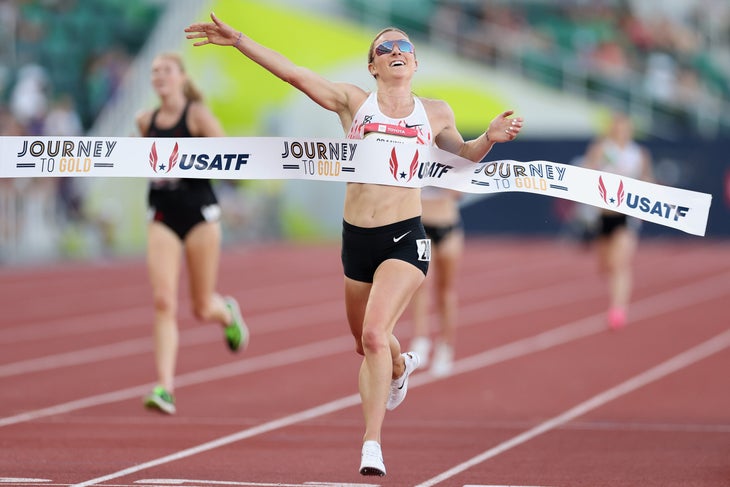 Final: 10,000m
Unlike other races that have preliminary heats, the 10,000-meter run is contested in one race. That means there's only one chance to get it right, and the country's top long-distance track runners got it all out of the way on day one at Hayward Field.
The race started out extremely slow, as unattached and unsponsored runner Kasandra Parker reluctantly wound up leading the 18-runner field through the first mile in 5:33. She was still leading the group at a mellow pace through two miles (10:45), three miles (16:07) and four miles (21:22), but then things started to shake up a bit. Ednah Kurgat started to push the pace, then Natosha Rogers took the lead for a few laps. With a mile to go, there was still six women in the lead group, but soon Alicia Monson surged into the lead and found herself in a head-to-head battle with Elise Cranny.
Cranny closed with a 4:32 final mile and a 62-second last lap to seal the win 32:12.30, while Monson was second in 32:17.51. She and Cranny have secured their right to line up at the World Athletics Championships for Team USA having both met entry standard time of 30:40.00, but both are also entered in the 5,000 on Sunday evening.
In a gutsy third place was Natosha Rogers, who crossed the line at 32:22.77. She now has two options to make it to Budapest. She either has to rise high enough in World Athletics rankings or meet the 30:40 standard by the end of July. She will also run in the 5,000m race on Sunday where she has already reached the qualifying standard.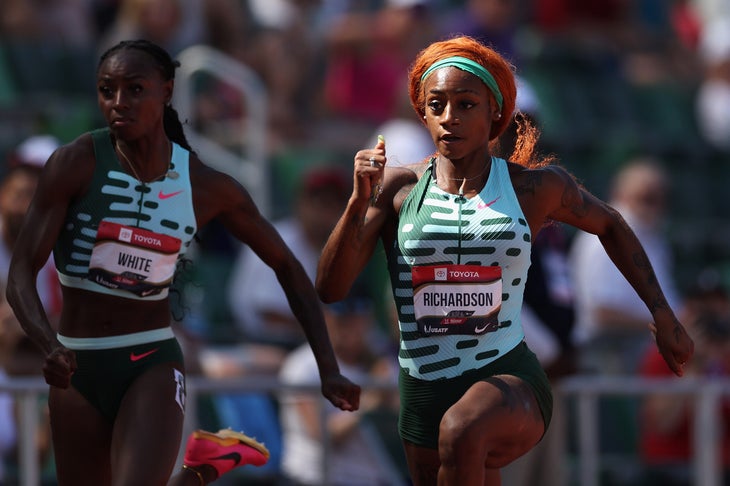 Preliminary Heats: 100m
Heat one of the 100m burst of the starting blocks with favorite Sha'Carri Richardson running a world-leading time of 10.71 seconds and a personal best for her by one-tenth of a second.
Second on her heels was Brittany Brown with a 10.96, a time that matched her previous personal best. They lead the way as the fastest women going into Friday night's semi-finals.
Semi-Finals and Finals: Friday, July 7th, 7:14 P.M. PT followed by the finals at 8:45 P.M. PT.
Preliminary Heats: 400m
Sydney McLaughlin-Levrone strided out her first 400m without hurdles and won her heat with a 49:79 effort that led all semi-final qualifiers. Defending national champion Talitha Diggs came in with the fifth fastest time in the heats, behind Britton Wilson, Lynna Irby-Jackson and Makenzie Dunmore. With so many athletes having reached qualifying standard at this distance, the semis- and final races should be super fun to watch.
Semis and Final: Friday, July 7th at 8:29 P.M.. PT and the final on Saturday, July 8th, 6:19 P.M. PT
Preliminary Heats: 800m
The top athletes in the 800m did what they had to do to secure their places in the semis on Friday. Nia Atkins registered the fastest time in the qualifying heats with 1:59.09 and a seasonal best for her. Other athletes registering bests in the heats were Rosin Willian (2:00.32) Juliette Whittaker (2:00.74), also with seasonal bests, and a personal best for Rachel Gearing (2:01.24)
Semis and Final: Friday July 7th, 7:59 P.M. PT and the final on Sunday July 9th 6:18 P.M. PT.
Preliminary Heats: 1,500m
Sinclaire Johnson (4:07.84) was the fastest qualifier for the 1,500m semifinals, winning the second heat in a neck-and-neck finish with Heather Maclean (4:07.90). The other semifinal winners were Addy Wiley (4:09.53) of Huntington University and Lululemon pro Niki Hiltz (4:11.55), who surged over the final 200 meters to outrun Emily Mackay (4:12.24) and Dani Jones (4:12.75). "I know it's a prelim, but a race is a race and I'm trying to win as many as possible," said Hiltz. In all, 12 runners advanced to Saturday night's final race, including 2021 Olympian Corey McGee (4:09.62) and defending world and Olympic 800m champion Athing Mu (4:10.33)
Final: Saturday July 8th, 6:34 P.M. PT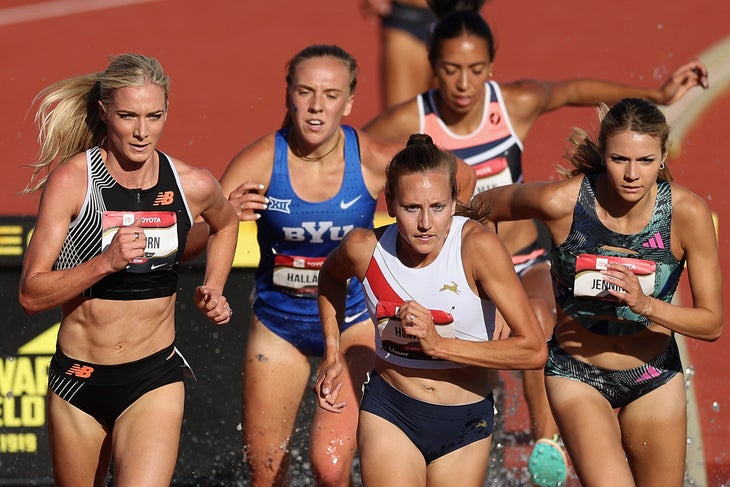 Preliminary Heats: 3,000m Steeplechase
There was a bit of drama in the second heat of the 3000m steeplechase as 2021 Olympic silver medalist Courtney Frerichs stumbled after the first barrier going into the third lap. After falling she let the field pass, jumped up and set out to chase the field down. She finished eighth in the heat at 9:47.36, a time faster than the winner of heat one, and so qualified for the final, albeit, by her own admission, a little rattled.
Emma Coburn, the 2017 world champion, 2019 world championships silver medalist, posted the fastest time of the heats with an easy win in 9:36.69.
Colleen Quigley took the hard decision to not start the qualifying heat stating on social media that she has been experiencing some hip discomfort.
Final: Saturday July 8th, 7:40 P.M. PT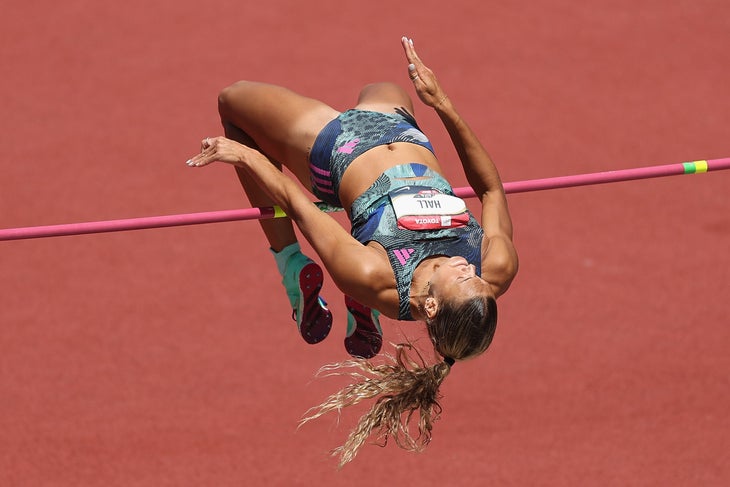 Heptathlon
Day one of the heptathlon saw the first four of the seven total events with the athletes taking on the two running and two field events; the 100m hurdles, high jump, shot put, and ending with the 200m. After the first day, Anna Hall, the defending national champion and bronze world championships medal holder, and Taliyah Brooks are top two in the meet standings.
Friday afternoon will bring the remaining three events; the long jump, javelin, 800m—and decide which athletes will qualify to represent Team USA at the World Athletics Championships.