Top U.S. Women Join Fast International Pro Field at the 2019 New York City Marathon
The 26.2-mile race through the five boroughs could serve as a sneak peek at the 2020 U.S. Olympic Trials.
Heading out the door? Read this article on the new Outside+ app available now on iOS devices for members! Download the app.
When Kellyn Taylor was plotting the lead up to the 2020 U.S. Olympic Marathon Trials, she had already checked "run a fast marathon time" off her to-do list, by way of the 2:24:28 she clocked at the 2018 Grandma's Marathon. What else did she want to accomplish before the big show?
"I've done New York City once and it was my highest placing [in a major marathon] ever," Taylor said, during a phone interview with Women's Running. "It was my favorite marathon to date. For me, it's more about not feeling stagnant before the Trials—I perform best when I come off a big buildup."
The tactical nature of the New York City Marathon, combined with the hillier terrain of the course will serve as good practice for the Trials course that she'll run on February 29, in Atlanta. And the competition she'll face? On the American side, it will also look familiar, joined by a stellar international presence as well.
New York City Marathon officials announced the full professional field on Tuesday, and it includes Mary Keitany of Kenya, the defending champion who has won the race four times already. It also includes Ruti Aga of Ethiopia with a 2:18:34 personal best, and Worknesh Degefa, also of Ethiopia, who has a 2:17:41 best and won the 2019 Boston Marathon. Joyciline Jepkosgei, the world record holder in the half marathon (1:04:51) from Kenya is also slated to compete.
Taylor will face off with a number of U.S. women who she'll compete with in February at the Trials, where the top three finishers will earn a place on the 2020 Olympic team. Desiree Linden, the 2018 Boston Marathon champion and two-time Olympian, will race, as well as Sara Hall, who has a 2:26:20 best. Allie Kieffer (2:28:12) is scheduled to return to racing, too, after tending to injuries over the past year, along with Diane Nukuri.
First reported by Sports Illustrated, Hall also announced on Tuesday that she plans to race the Berlin Marathon in September, 35 days before New York, then lined up for the Trials 118 days after that.
"I run two and a half hours basically as hard as I can every week when I'm marathon training," Hall told SI. "I've actually run a 2:31 marathon in trainers while in training. It's business as usual for my body. It's maybe not as much of a shock to my body as people think."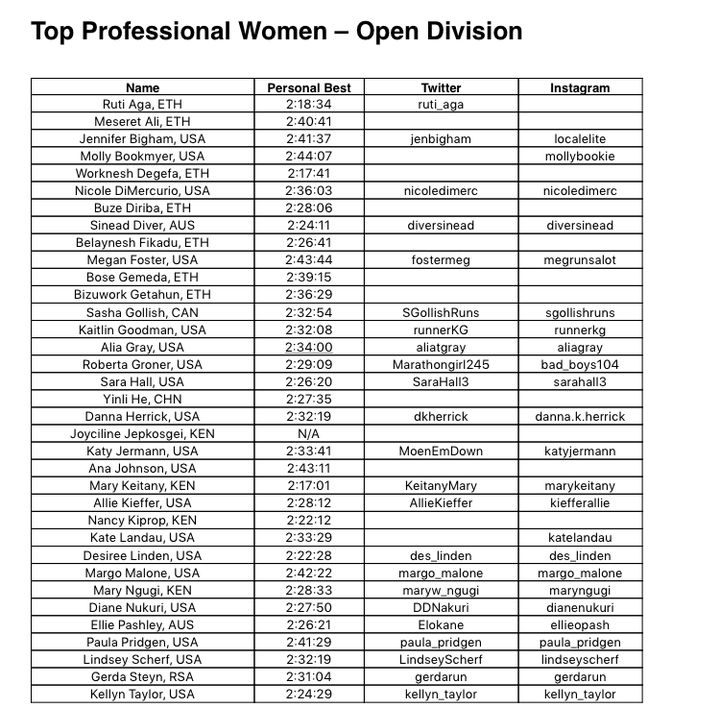 When Taylor ran the 2017 New York City Marathon, she placed eighth in 2:29:56. She came away with a few key lessons she'll try to remember on November 3.
"Having faith in your abilities is the biggest thing. The last time, I didn't make the first big move that everybody else made and found myself separated from the pack," she said. "I ran the fastest mile of anybody in that race when I caught back up to them, so I need to put myself in it. That's when the magic happens."
Taylor is coming off a third-place finish in the 10,000 meters at the U.S.A. Track & Field Outdoor Championships, which is her best finish at a national track championships. It leaves her with another notch of confidence heading into 2020.
"It was a really fun experience—it was really nice to get out there and compete," she said. "I was happy with it. I would have made some moves earlier in the 10K—I had a lot more run left in my legs…it was fun to remember what it was like to run around an oval."
But next up: the five boroughs.
"The atmosphere is so unique in New York," Taylor said. "I was in the middle of running it and you're always in a little pain no matter where you're at in the race and I found myself smiling 20 miles in. That's not something I normally do, so it was a race where I was thinking how grateful I was to be able to do what I was doing."