Prefontaine Classic: These Six Women Track Stars Crushed the Season-Ending Meet
Key highlights from the Prefontaine Classic offer a sneak preview to next summer's Paris Olympics
Heading out the door? Read this article on the new Outside+ app available now on iOS devices for members! Download the app.
The world's best track and field athletes came to Eugene, Oregon, on September 16-17 for Hayward Magic (and perhaps money, with $2 million dollars of prize money spread evenly across 34 events). Their elite-level performances at the Prefontaine Classic marked the grand finale of the year's competitive season, performing in front of 12,355 spectators. For reigning world champions, the Diamond League Finals offered two concentrated days of competition before well-deserved rest. For other athletes, the event represented something deeper: a final opportunity at redemption and a chance to conclude their season in victory.
The event played out like an orchestrated musical composition. Held at the same venue as last year's world championships, dramatic performances rose through octaves in Hayward Field. Athletes' efforts coordinated and contrasted before the final note.
While the remarkable 2023 track season has come to an end, here's a look at the women's highlights as we await next year's Paris Olympics.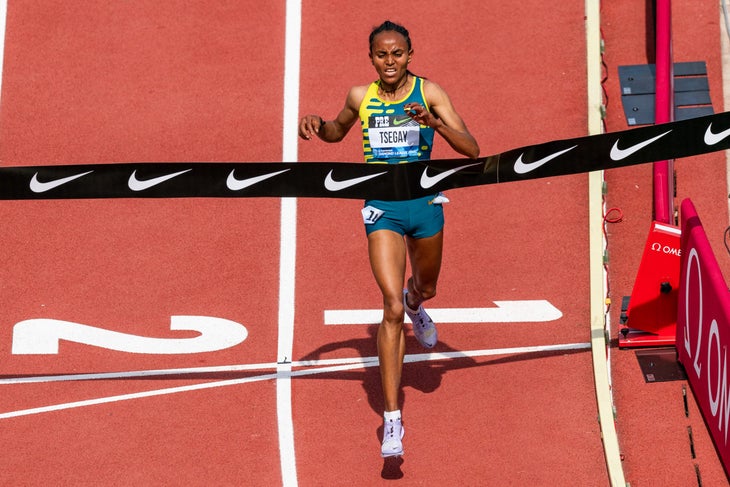 1. Gudaf Tsegay outpaces world record lights to run 14:00
Gudaf Tsegay arrived in Eugene with one ambition: to break the 5,000-meter world record.
"I was really angry to not bring back two medals from the world championships, but I knew from our training I had a lot of potential to do something with my fitness," said Tsegay, who finished 13th in the 5,000 final in Budapest after winning her 10,000-meter title. "Even though the conditions weren't perfect [in Eugene], we thought we could do it."
The American duo of Sinclaire Johnson and Elise Cranny paced the field through 1,000 meters in 2:48 and the next 2,000 meters in 5:37, respectively. Then Tsegay's Ethiopian compatriot Birke Haylom took the lead, passing 3,000 meters in 8:26.03 and ahead of world record pace. As Tsegay reached the 4,000-meter mark in 11:16.89, Kenya's Beatrice Chebet trailed closely behind. With two laps to go, Tsegay showed her dominance as if this race was solely against the lights.
With the crowd on their feet, Tsegay powered down the homestretch with perfect form. She crossed the finish line in an eye-popping 14:00.21—a time that shattered the world record Faith Kipyegon had set in June (14:05.20)—before collapsing to the ground. The Hayward crowd gave her a rousing standing ovation—a fitting tribute to Tsegay, who was the 2022 world champion in the 5,000 meters at the same venue and now the proud world record holder.
Kenya's Beatrice Chebet finished second place with a time of 14:05.92, while Ethiopia's Taye Ejgayehu finished third in 14:21.52. American Alicia Monson ended her stellar season with a sixth-place finish in a time of 14:45.98.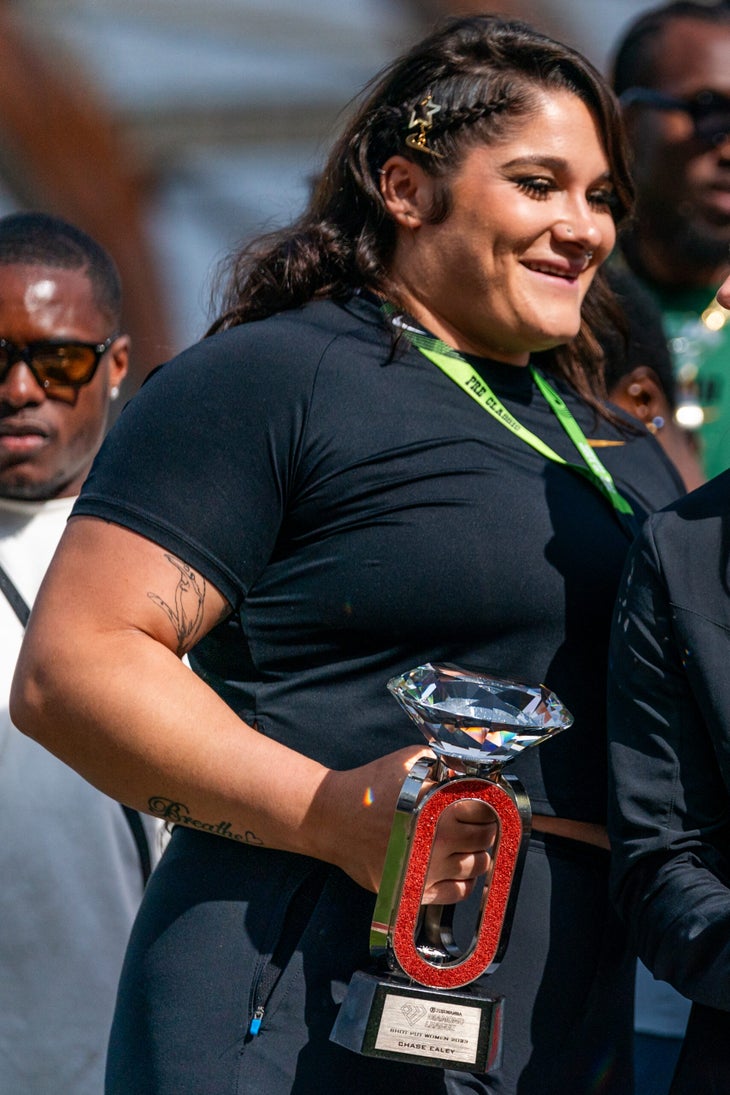 2. Chase Ealey writes her name on the American record book
Chase Ealey, fresh off winning her second straight shot put world title, served as an inspiration to all, demonstrating that a season isn't truly over until you decide it's over. Despite her prolonged absence from competitive circuits due to rehabbing a rib muscle injury, she refined her technique to come out on top when it mattered the most.
"I have good people around me and I think that's really important," Ealey said. "It's really made my throwing a lot better and everything better as a whole. I can go through the lows and not feel so bad."
The 29-year-old from Los Alamos, New Mexico, concluded her season with fireworks by throwing 20.76 meters (roughly 68 feet, 1-¼ inches), not only breaking the American record but setting a meet record and clinching a $30,000 Diamond League trophy. "There's something about this stadium that brings it out of me," Ealey said. "I love this stadium. It kind of feels good to do it here and bring it home all the time."
Ealey's achievement surpassed the previous national record of 20.63m held by Michelle Carter, the 2016 Olympic gold medalist. "To [break the record] in the last meet, I've been wanting to do it all season," she reflected. "I told my coach I was gonna do it here."
Canada's Sarah Milton placed second, throwing 19.94m. Auriol Dingo of Portugal secured third with a personal-best throw of 19.92m.
3. Sha'Carri Richardson cares about sisterhood as much as success
From Eugene to Budapest to Zurich back to Eugene, American sprinter Sha'Carri Richardson's 2023 performances have validated her sentiment: she's not back, she's better. Richardson claimed her first 100-meter title at this year's U.S championships and secured the world championship win with a record-setting time of 10.65, putting her tied as the fifth-fastest female sprinter of all-time. However on Saturday in Eugene, she proved she is also better at losing.
"I am not mad at all about the time that I did today," the 23-year-old said, explaining a performance that was competitive but ultimately disappointing. Richardson placed fourth in 10.80 but still embraced her competitors after the finish.
Her rival Shericka Jackson won the Diamond League trophy handily, with a time of 10.70, marking her first win over Richardson in four 100-meter races this year. "Today was amazing, a great end to the season," said Jackson, who already boasts five Olympic medals.
Marie-Josee of Cote took second place with a time of 10.75, matching her season's best, while five-time Olympic champion Elaine Thompson Herah placed third in 10.79, also a season's best.
Richardson expressed her commitment to fostering a sisterhood among the sprinters, a goal she once thought was unattainable. That could be a key component to bringing next-level exposure to the top women sprinters heading to Paris next summer. "We got fresh, beautiful women and that's gonna take over the entire game," she said. "Watch."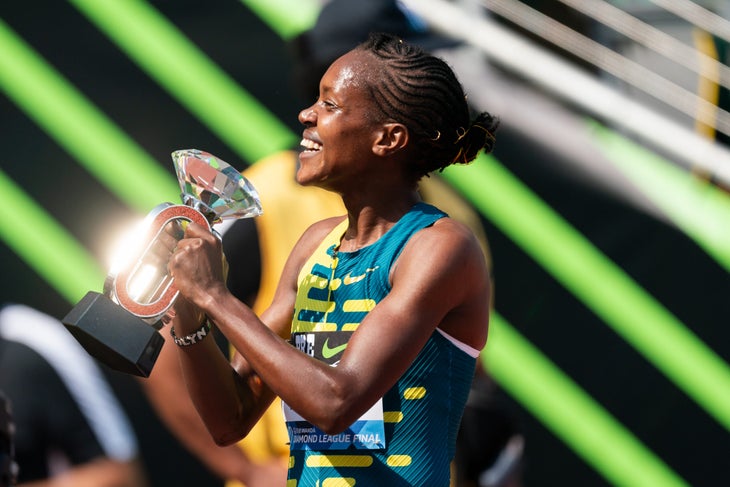 4. Faith Kipyegon takes another victory lap
It's not every day you watch greatness unfold, but every day Faith Kipyegon steps to the line it feels like greatness is inevitable. She stood beside several other Nike athletes at the start of the women's 1,500-meter run, all dressed in a striking combination of pine green and school bus-colored yellow. Yet this distracting uniform had no bearing on the 29-year-old Kenyan, who took charge right from the gun and never looked back.
While the crowd argued whether the kit's color was green or blue, Olympic and world champion Kipyegon remained focused on herself. "I didn't watch the clock," she said. "I didn't worry about anything, I was just going… just go to the tape and see what I was going to run."
Kipyegon indeed delivered, clocking in at 3:50.72, and marked the fifth-fastest women's 1500m in history. She entered the race as the undisputed favorite and has maintained her unbeaten streak in the 1,500 for more than two years. Kipyegon ended her Diamond League season with an undefeated record across all distances this year, including world records in the 1,500, mile, and 5,000m. Her last lap was an astonishing 56.63 seconds.
Clearly Kipyegon is in a league of her own but her pace pushed the field to achieve remarkable times themselves. Ethiopia's Diribe Welteji of Ethiopia secured second place in a personal best of 3:53.93 while Great Britain's Laura Muir claimed third with a season's best of 3:55.16, her second-fastest time ever. In any other race, they would have made the headline. Nine women broke four minutes. American Corey McGee was close but ultimately missed the mark in 4:01.28, hanging her head exhausted with unmet expectations.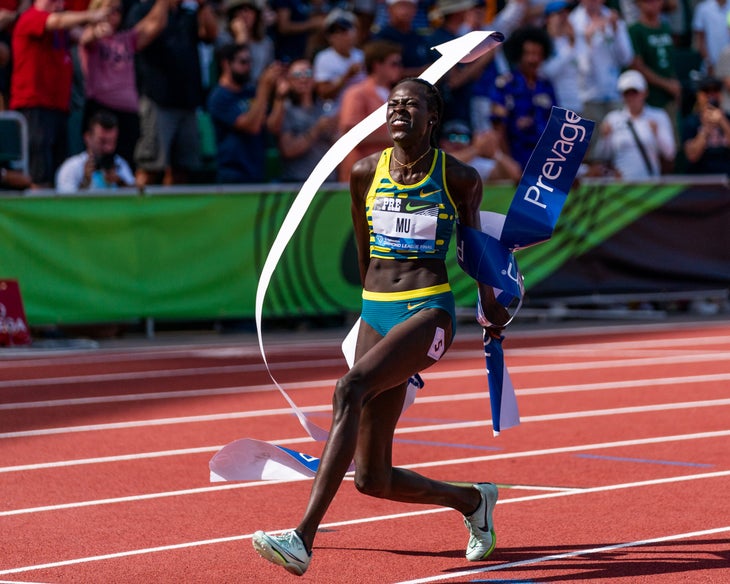 5. Without expectations, Athing Mu resets her American record
Most of the season it was a "Will she or won't she?" whether or not the Tokyo Olympic gold medalist and 2022 world champion was going to compete. After a third-place finish at the world championships in Budapest, she believed her season was over. However, thanks to a host-country wild card exemption, she found herself in the final. At just 21-years-old, Mu proved her expertise on Sunday.
 "I felt really new and refreshed, and I'm just happy," said Mu. "I wasn't even hoping for the American record, I was just hoping for a PR, but I knew I could do something fast if I could just relax and compete."
Mu hit the tape with a win in 1:54.97, a new American record, meet record, world lead and personal best. Her victory was hard fought, with rival Keely Hodgkinson, also a 21-year-old British star, on her heels, finishing in 1:55.19, setting a new national record for Great Britain and a personal best. Natoya Goule-Toppin placed third in 1:55.96, a national record for Jamaica and personal best. The reigning world champion Mary Moraa of Kenya placed fourth in 1:57.42
Hodgkinson collected her share of silver this summer, also coming in second at worlds in Budapest but disagreed this position was bittersweet. "Wins are for a reason and I broke the national record twice in one season," she said.
"It's a really good way to end the season."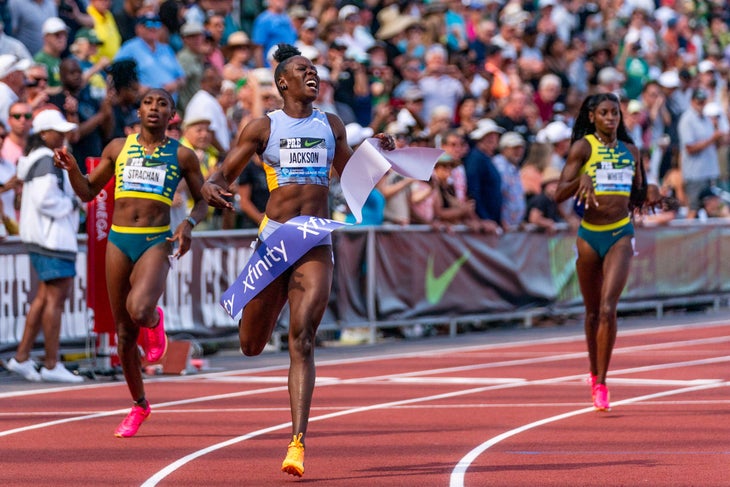 6. Shericka Jackson closes the event with a meet record
In the final race of two days of competition, the women's 200 meters delivered for the crowd. Shericka Jackson crossed the line in first with a time of 21.57, fast enough to break the meet record.
"Last year one of my goals I wrote was that I wanted to get two trophies. I didn't get two trophies last year and I rewrote that again, that I wanted two trophies this year," said Jackson, who won the women's 100 meters a day earlier. "I got it and I'm grateful. The end of the season. I'm healthy and I ran some fast times."
Marie-Josee Ta Lou of Côte d'Ivoire came in second with a time of 22.10, a season's best and Anthonique Trachan of Bahrain placed third in 22.16.