Why Saucony Is Sponsoring Healthcare Workers
Nurses in the U.S. walk an average of a marathon per week, and a sponsorship model for N.C.A.A. athletes is now being extended to healthcare workers
Photo: Courtesy of Saucony
Heading out the door? Read this article on the new Outside+ app available now on iOS devices for members! Download the app.
It's not uncommon for running brands to look into new ways of changing the game in who they choose to support. Saucony is no exception, having announced its first-ever name, image, likeness (NIL) program last month, which coincidentally was National Nurses Month. This new program is exclusively for nursing students, in partnership with Galen College of Nursing, one of the largest nursing education programs in the U.S.
What Is NIL?
In simple terms, name, image, and likeness (NIL) programs permit college athletes to use their name and promote themselves through products and services to earn money.
Since 2021, NIL programs have traditionally allowed college athletes to partner with companies for sponsorships and other marketing opportunities. The goal of this particular NIL program is to raise awareness of the vital role that nurses play in healthcare, as well as inspire and prepare the next generation of nursing professionals.
With regard to collegiate athletes, NIL programs have traditionally served as legal protections that allow them to pursue partnerships with brands and other professional domains. This legislation is not tied to the NCAA; in fact, it's the first of its kind to be tied to an outside industry such as nursing. Brands have begun to take notice of this development and started to offer similar programs to other professionals, like nursing.
Through this program, Saucony has awarded NIL sponsorships to four of the college's high-performing students: Brianna Nelly, Lauren Lowe, Ashley Lutes, and Sarah Sangha.
RELATED: Ten Things You Didn't Know About Saucony Running Shoes
According to Anna Kitson, vice president of marketing and communications at Galen College of Nursing, the college worked with its advertising agency to bridge its connection to Saucony, as well as draw the link between how hard nurses work, mentally and physically, and how hard nursing students are working on their way to being able to care for the lives of others. The students, which came from both Galen College's associate degree nursing program, as well as its three-year bachelor of science nursing program, were selected based on academic performance.
"Our agency partners hear us talk all the time about how critical it is right now to expand access to nursing education—to elevate and celebrate nursing as a profession in a time where new nurses are vital to the future of healthcare," Kitson said. "To make the connection from top-performing college students being celebrated and rewarded for their hard work and dedication, to nursing students—while expanding beyond the traditional college athlete—was amazing."
"Nursing school can be defeating and extremely stressful, and sometimes as students we don't feel like our hard work is noticed," Nelly added. "I am so grateful to have been selected for this program, which goes to show that we are noticed."
The selected nursing students will serve as Saucony ambassadors, showcasing their commitment and performance wearing Saucony gear, including the new Saucony Triumph 20 and Saucony Endorphin Shift 3, on the job. Since these shoes are designed to be worn all day, they're ideal for on-duty nurses who work long shifts.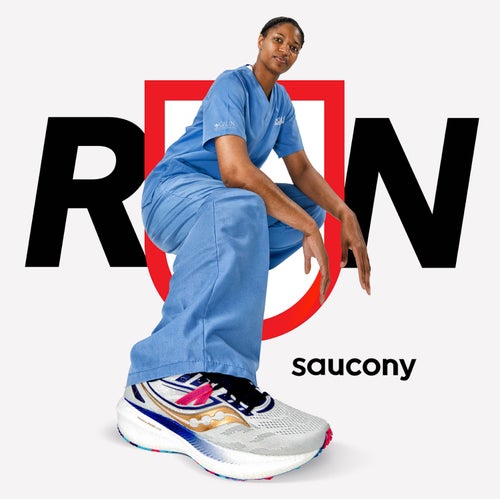 Whitney Parks, Saucony's senior marketing director, said that the student nurses will be featured on both Saucony and Galen's social platforms through imagery that emulates athlete portraiture in advertising, in an effort to demonstrate their heroism and performance to inspire others to pursue a career in nursing, a field that was heavily impacted by the pandemic.
"An already existing nursing shortage was exacerbated by the pandemic, and we are proud to partner with Saucony to draw attention to the importance of nurses in healthcare around the globe," Kitson said. "It takes nurses for healthcare systems to work."
RELATED: The Pluses and Perils of Profiting as an NCAA Athlete
"When we found out that nurses walk over 26 miles each week while on the job, we felt it was time we did the same for top performing nursing students as we do for top performing college athletes, in giving them an NIL deal," Parks said. "NIL deals typically recognize the performance of elite student athletes, so with this selection process in mind we are championing the next generation of elite student nurses."
"Since my Saucony endorsement, I have reprioritized self care by working out regularly," Sangha, one of the student nurse NIL recipients, said. "By taking care of my body, I am able to better take care of my patients and reduce my chances of getting injured on the job."
Kitson emphasized the need to not only recognize individual nurses with programs like this, but also showcase to the greater community the vital role they play. While no other athletic brands have announced similar programs, it's a possibility that it will get them thinking about what's next, and if it's a brand model of the future.
"We have a strong sense of responsibility on so many levels—to our hard-working students, our healthcare partners where they will go to practice, and to our communities at large," she said. "We need recognition like this to amplify the importance of new nurses coming into the workforce, as well as to help nurses and those on their way to becoming nurses see how much they are respected for their enduring hard work and commitment."