O'Keeffe Wins U.S. 10-mile Championships and More Running News
Yalemzerf Yehualaw becomes the youngest female winner of the London Marathon, O'Keeffe Wins U.S. 10-mile Champs, a British record is taken down by Eilish McColgan, and more.
Heading out the door? Read this article on the new Outside+ app available now on iOS devices for members! Download the app.
Fiona O'Keeffe was so far out in front of everyone late in the USATF 10-Mile Road Championships on Sunday in Minneapolis, she was starting to get rattled.
The 24-year-old Puma-sponsored runner had surged away from Annie Frisbie and Emily Durgin in the second half of the race and knew she had put a good gap on the rest of the women's field. But because the women started almost 6 minutes before the men, O'Keeffe spent much of the last 2 miles of the race alone if one of the top men was closing in on her.
And that was a bit awkward to her, especially because there was a $10,000 bonus on the line if she could get to the finish line first ahead of any of the men.
"It's easier to be the hunter than the hunted," she told the Minneapolis Star Tribune.
As it turns out, she had plenty of time to get draped in an American flag and turn around and wait for the first-place men's finisher Hillary Bor. O'Keeffe won the race in 51 minutes, 42 seconds—topping Molly Huddle's 2015 record by 2 seconds—and earned the $12,000 winner's check as well as the bonus.
"I knew I was ready for a strong race," she said. "I just didn't know what that would translate to."
Taking advantage of the cool weather and the opportunity of the extra bonus money, the women's race got off to a quick start with O'Keeffe and Durgin quickly heading to the front and pushing the pace through the first half of the race.
By mile 5, the pack was down to just six athletes with O'Keeffe, Durgin and Frisbie being joined by Aliphine Tuliamuk and Lauren Goss hitting the halfway point in 25:44.
O'Keeffe would continue to push the pace, putting nearly 20 seconds on Frisbie by mile 8 before expanding the margin to 28 seconds by the finish. Frisbie, who is preparing for the New York City Marathon, was second in 52:10 and earned $10,000. Durgin was third (52:16, $7,000), Nell Rojas was fourth (52:20, $4,000) and Tuliamuk was fifth (52:35, $3,000).
RELATED: Guide to the 2022 Fall Marathon Racing Season
O'Keeffe primarily trains in Chapel Hill, North Carolina, with the Puma-backed training group led by Amy and Allistair Cragg, but she had been in Mammoth Lakes, California, recently for altitude training in preparation for a half-marathon in Tokyo later this month.
The win gave O'Keeffe the first U.S. title of her professional career. She also placed fourth at the Houston Half Marathon (1:07:42) in January, sixth in the 5,000m (15:58) at the U.S. outdoor track and field championships in June and first at the Bix 7 road race in Iowa in late July.  Most recently, she took second in the 5,000m at the NACAC Championships (15:15) in the Bahamas in mid-August.
The U.S. championship race was held in conjunction with the TC Medtronic 10-Mile and Twin Cities Marathon. Jessica Watychowicz was the women's winner in the marathon in 2:33:09, as she outran Bridget Belyeu (2:35:18) and Kim Conley (2:35:43).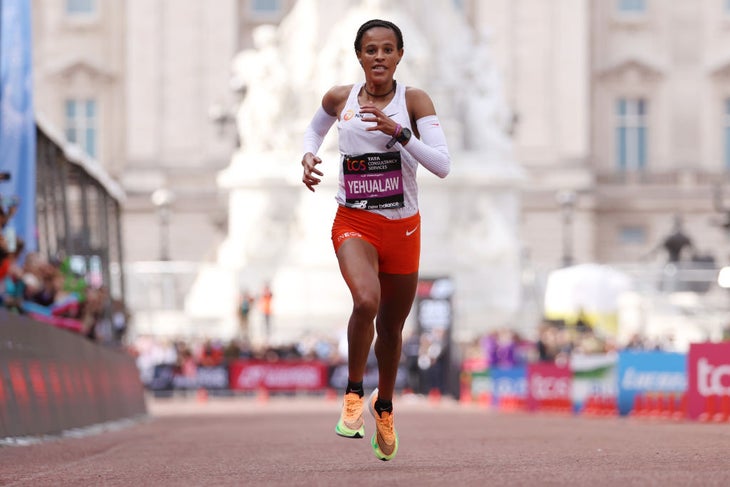 Ethiopia's Yehualaw wins London Marathon with blistering surge
Ethiopia's Yalemzerf Yehualaw used a powerful late-race surge to win Sunday's London Marathon in 2:17:26.
In the 33km mark, the 23-year-old Yehualaw was running at the back of the lead pack of seven runners, and as she went through a crosswalk she suddenly fell. She quickly got to her feet and in less than a minute rejoined the lead pack.
But the real action was yet to come. At the 35km mark, Yehualaw put the hammer down ripped off a 15:51 split over the next 5km, including a nearly unfathomable 4:43 24th That surge dropped Sutume Asefa Kebede, Judith Jeptum Korir and Alemu Megertu and put Yehualaw in position to run alone to the finish.
Her winning mark of 2:17:26 was the third-fastest ever at London behind only Paula Radcliffe's 2:15:25 from 2003 from a mixed-gender start and Mary Keitany's 2:17:01 from a women's only start in 2017. She won $205,000 for her efforts—$55,000 for the win plus $150,000 for breaking 2:17:30.
"I really like this race," said Yehualaw, who runs for Nike and the NN Running Team. "I knew it was fast-paced and I was aware we were on world record-breaking time at one point, but I just focused on running as fast as I could."
The race was only Yehualaw's second marathon. She made her debut in Hamburg last April, and her mark of 2:17:23 was the fastest-ever by a debutante.
Kenya's Joyciline Jepkosgei got second in 2:18:07 and Ethiopia's Alemu Megertu third in 2:18:32. Kenya's Judith Jeptum Korir—who earned the silver medal at the marathon at the World Athletics Championships marathon in Eugene in July, and originally planned to be a pacemaker in London—was fourth in 2:18:43, while Joan Melly Chelimo, who formerly represented Kenya but now runs for Romania, got fifth in 2:19:57.
The only American runner in the women's elite field was Oregon's Marci Klimek, who placed 11th in 2:37:56. However, not only did 1984 Olympic marathon champion Joan Benoit-Samuelson, who is now 65, run the race in 3:20:20, her 35-year-old daughter, Abby Samuelson, also ran it in 2:58:19—her first sub-3-hour marathon.
View this post on Instagram
Pride Run 5K
After two years of virtual races, elite track runner Nikki Hiltz was finally able to hold the first Pride 5k in Flagstaff on Sunday. The Pride 5K is both an in-person and virtual race that raises money for The Trevor Project, the world's largest suicide prevention and crises intervention organization for LGBTQ+ youth, and the Sunnyside Neighborhood, a resident-led organization that works to address the health and wellbeing of their community.
Danielle Shannahan won the women's division in 16:52, while Rachel Smith was second in 17:19 and Hannah Steelman was third in 17:40. Breanna Cornell was the top finisher among the 12 runners in the non-binary division in 21:36, while Nico Condon was second in 22:19. Yemen Haileselassie was the overall winner and men's division champion in 14:22. More than 450 runners participated in person in Flagstaff.
"Our goal was simple: Through running, create a space for people to show up as themselves, where they can celebrate their Pride while running a 5k all while raising money for an incredible organization, the Trevor Project," Hiltz said on Instagram.
View this post on Instagram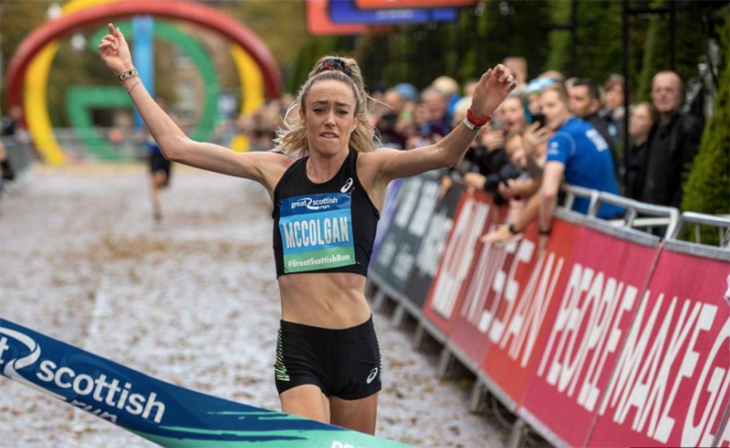 Eilish McColgan sets British record at Great Scottish Run
Eilish McColgan concluded her successful season of racing in stunning fashion on Sunday by winning the Great Scottish Run 10K in Glasgow, Scotland. The 31-year-old Scottish star and 2022 Commonwealth Games 10,000m champion set a new British record and surpassed her own European mark by winning the race in 30 minutes, 18 seconds.
The three-time Olympian ran 1 second faster than her 30:19 run at the Great Manchester Run in May. She won four medals across the Commonwealth Games and European Championships earlier this year, and has also set British records over 5km, 10km and the half-marathon. McColgan's run in Glasgow was initially announced as a European record, but it apparently has not yet been rubber-stamped with some criteria still to be met.
McColgan is the daughter of Liz McColgan, who won the gold medal for the 10,000m at the 1991 World Championships, and a silver medal over the same distance at the 1988 Olympic Games. She said having her grandmother present for this weekend's race was a big inspiration for her success.
"I think it's really special for my family as well, especially since I've got my wee granny here today," McColgan said. "She was obviously there when my mum won gold in Edinburgh in '86 and she wasn't in Birmingham (for the Commonwealth Games in August). Unfortunately she's a little too old to get down there. So for her to be here today with us, see my medals for the first time, be part of this sort of welcome home ceremony, that to me is the really special part."
RELATED: Eilish and Liz McColgan Both Won 10,000m Titles 30 Years Apart
Tuohy, N.C. State win Joe Piane Notre Dame Invitational
At the Joe Piane Notre Dame Invitational on Saturday, North Carolina State sophomore Katelyn Tuohy shattered the 5km course record and beat Alabama senior Mercy Chelangat by 12 seconds as N.C. State won the meet with 55 points over New Mexico (68) and Alabama (70). It was one of the biggest cross country meets of the 2022 season featuring top athletes and top teams heading into the NCAA Division 1 Championships on November 19 in Stillwater, Oklahoma.
Chelangat was the runner-up at last year's NCAA Championships, while Tuohy placed 15th and was the top freshman. But Tuohy emerged as a star last spring on the track, winning the 5,000m in 15:18 over Florida's Parker Valby, Oklahoma State's Taylor Roe and Chelangat, who won the 10,000m.
In the Notre Dame race, Tuohy went out hard from the starting gun and was in the lead as she split 5:11 for the first mile. She was only a few strides ahead of Chelangat and Oregon State's Kaylee Mitchell at the 4km mark, but she won the race and gapped Chelangat with strong surge in the final 800m.
N.C. State won the meet on the strength of placing its first four runners among the top 12, with junior Samatha Bush in fifth (16:11.8), senior Sydney Seymour in sixth (16:12.0), Marlee Starliper in 12th (16:21.9).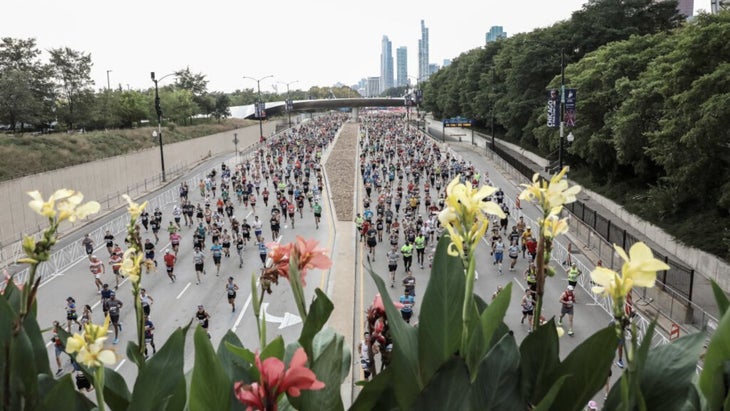 Coming Up This Week
The Chicago Marathon is next on the fall marathon season roster of World Marathon Majors on October 9. Kenya's Ruth Chepngetich (2:17:08), the 2019 world champion, is the fastest runner in the women's field. She'll be defending her 2021 victory (2:22:31), but there will also be a strong contingent of American women, including Emily Sisson (2:23:08), Laura Thweatt (2:25:38), Sarah Sellers (2:25:43), Sara Vaughn (2:26:53) and Susanna Sullivan (2:26:56).
The 44th running of the Chicago Marathon will be streamed live nationally on Peacock from 7-11 a.m. CST, as well as on nbcchicago.com and telemundochicago.com from 7 a.m.-3 p.m. CST.