Running News: Annual Falmouth Road Race, Leadville 100, NACAC, Euros and UTMB
Heading out the door? Read this article on the new Outside+ app available now on iOS devices for members! Download the app.
D'Amato Wins 50th Annual Falmouth Road Race
American marathon record-holder Keira D'Amato dropped down to a shorter distance and won the 50th running of the ASICS Falmouth Road Race 2022 on Sunday in stunning fashion. She ran with a small pack early in the contest before she and defending champion Edna Kiplagat broke away to turn the competition into a two-runner battle for the title.
The American made a decisive move with about 1 mile left in the 10K race to win comfortably in a time of 36:14. She became the first U.S. runner to win the ASICS Falmouth Road Race since Magdalena Lewy-Boulet ran 36:58 for victory in 2011.
Edna Kiplagat, a Kenyan athlete who has lived and trained in Boulder, Colorado, since 2010, who won in 2021 and is a two-time World Athletics Championships Marathon champion (2011 and 2013), Boston Marathon champion (2017), TCS London Marathon winner (2014), and TCS New York City Marathon (2010) conqueror, had to settle for second place in 36:28. Third place, in the meantime, went to American Marielle Hall who crossed at 36:44, followed by Ednah Kurgat (36:49) and Biruktayit Eshetu Degefa (36:53) of Ethiopia.
Also in Falmouth, Nikki Hiltz continued a strong summer of mile racing by winning the women's division of the Falmouth Elite Mile in 4:28.93 over Kaela Edwards (4:30.55) and Carina Viljoen (4:31.69). With recent wins at the Sir Walter Miler (4:21.89) on August 5 in North Carolina, the Fleet Feet Liberty Mile (4:28) in Pittsburgh on July 22, and the 1,500-meter win on the track (4:01.12) on July 15 in Los Angeles — not to mention a strong third-place effort and a new road mile PR (4:20) at the Guardian Mile (4:20.95) in Cleveland on July 22 — Hiltz has built a lot of momentum heading into the Fifth Avenue Mile on September 11 in New York City.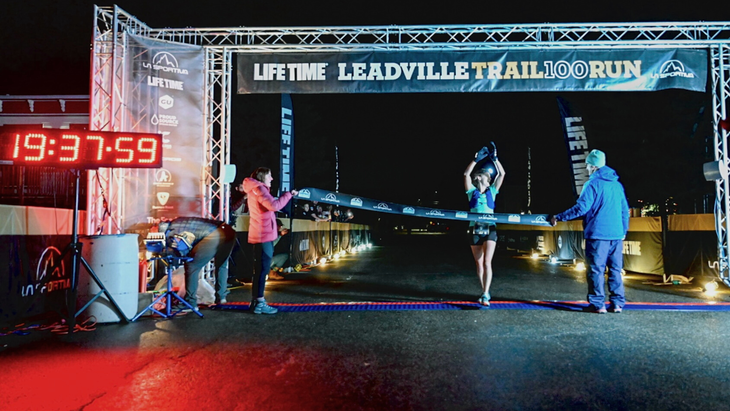 Clare Gallagher Wins Second Leadville 100
Clare Gallagher returned to the race that made her a breakout star and showed she's still one of the world's best women ultrarunners. Running the Leadville 100 for the first time since she won it in 2016, the Boulder, Colorado, resident turned in a strong encore by covering the course in 19:37:57 to win with a two-hour margin.
The race included more than 700 runners ranging in age from 18 to 72 years old, representing all 50 states and 30 countries. The famed out-and-back course challenges runners with over 15,000 feet of net gain, topping out at 12,532 feet across Hope Pass.
The women's race figured to be a battle between Gallagher and Addie Bracy, the 2018 Leadville runner-up who was coming off a win at the Speedgoat 50K in July. Bracy ran strong through the halfway point, but said by the 60-mile mark at the Twin Lakes inbound aid station she started feeling the same symptoms of rhabdomyolysis that put her in the hospital in February and she eventually dropped out at 70 miles.
Alisyn Hummelberg, 30, of Estes Park, Colorado, turned in a strong race in her debut 100-miler to take second in 21:58:59, while Lindsey Herman, 24, of Gunnison, Colorado, did the same to secure third in 22:50:41. Of 707 starters, only 363 (51 percent) finished the race.
Gallagher, who grew up in Denver, is a Patagonia-sponsored runner who races for La Sportiva. She's made a name for herself as an environmental advocate, working in support of Winter Wildlands Alliance  and Protect Our Winters. In addition to her success in Leadville, she has also won the CCC 100K in Chamonix France (2017), Way Too Cool 50K (2019), Western States 100 (2019) and Black Canyon 100K (2022). She's also set a few Fastest Known Time marks on trails, including the Zion Traverse and Joshua Tree Traverse.
"My run in 2016 was a totally different beast…this (year) was really, really hard. But I had the best crew and my family," said Gallagher. In response to her favorite part of the day she said, "The top of Hope Pass was the best. We were in a cloud on the inbound, and then the rain cleared, it was phenomenal. I loved seeing the runners go over, there's a lot of comradery in this race being an out-and-back. Crossing paths with hundreds of other runners was so, so cool."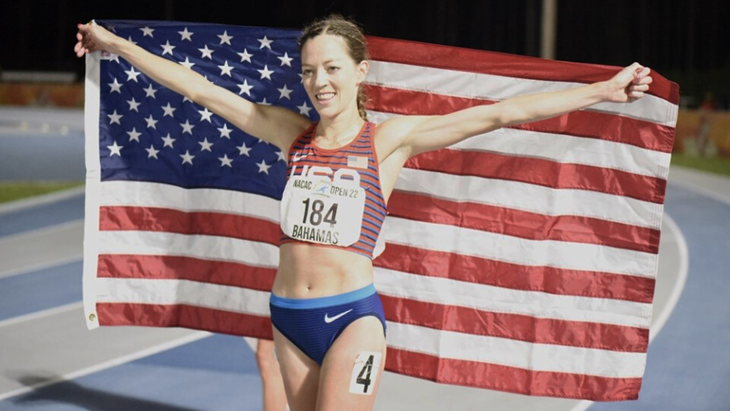 Stephanie Bruce Wins NACAC 10,000-Meter Title And More
Stephanie Bruce saved one of her best performances for last. The 38-year-old retiring pro runner of the Hoka Northern Arizona Elite team earned her first senior-level international medal by winning the 10,000-meter run in 33:12 at the North American, Central American and Caribbean Open Championships (NACAC) at the Grand Bahama Sport Complex in Freeport, Grand Bahama. Bruce, a mother of two and a co-founder of Picky Bars, will be running the New York City Marathon on November 6 as one of her last competitive races. Her NACAC win comes 16 years after she won the 10,000 at the NACAC Under-23 Championships in Santo Domingo in the Dominican Republic in 2006.
"This one felt special," Bruce said on Instagram. "This year has been unpredictable in many ways but I knew I couldn't pass up the opportunity to race with the red white and blue across my chest one last time."
View this post on Instagram
In other NACAC events, Americans Ajee Wilson (1:58.47) and Allie Wilson (1:58.48) went 1-2 in the 800, Natosha Rogers took the top spot in the 5,000 in a new championship record 15:11.68 ahead of her teammates Fiona O'Keeffe, 15:15.13 and Eleanor Fulton, 15:50.31, while Gabrielle Jennings led an American sweep in the 3000m steeplechase (9:34.36) with Katie Rainsberger and Carmen Graves.
Hodgkinson, Gega Take Home European Athletics Titles
After back-to-back championship silvers at the World Athletics Championships and Commonwealth Games this summer — as well as last summer's Tokyo Olympics — 20-year-old rising British star Keely Hodgkinson finally got a gold medal in the 800-meter run at the European Championships on August 21 in Munich.
Hodgkinson's race came first just as a rainbow appeared over the backstretch grandstand as the skies began to clear after several hours of heavy rain.  Running in chilly conditions, Hodgkinson clocked 1:59.04 to edge French runner Renelle Lamote (1:59.49).
Hodgkinson stayed slightly back in the opening 200 meters and remained tucked behind the leaders after the fast (58.60) 400-meter split set by Germany's Chrstina Hering. Down the backstretch of the second lap, Hodgkinson asserted herself and took the lead at 600 meters. Coming around the final bend, Hodgkinson had the inside lane and started a kick that wouldn't be overtaken. Lamote had plenty of snap in her legs en route to securing silver while Wielgosz (1:59.87) outlasted Hoffman (1:59.92) for the bronze.
For Hodgkinson, her gold medal was particularly sweet after taking silver to American star Athing Mu at both last summer's Tokyo Olympics and 2022 World Athletics Championships, and silver again earlier this month to Kenya's Mary Moraa at the Commonwealth Games.  She had come to Münich to win.
"I think today I wanted it to be a little bit different," said Hodgkinson, who often runs from the front. "It would be quite obvious if I went to the front like I have been kind of doing all year. I wanted to sit back and see what other people were going to do." I refused to walk away today without gold. So, I'm happy."
Meanwhile, Luiza Gega of Albania won the 3,000-meter steeplechase in a European Championships record of 9:11.31. From the starter's gun, she moved into the lead and never relinquished it.  She made her intentions clear with a fast opening kilometer of 3:00.33 and—surprisingly—Switzerland's Chiara Scherrer, Germany's Lea Meyer, Britain's Lizzie Bird and Aimee Pratt, and Turkey's Tugba Guvenc ran close behind.
"From the beginning I tried to run hard," said Gega, 33, who also won the European Championships title in 2016.  "I know how to run alone because I train alone.  I just tried to stay focused."
Also noteworthy, British athlete Laura Muir successfully defended her European title in the 1500 on Aug. 19. The Scotswoman ran the final lap in 60.4 seconds and won in 4:01.08.  Her victory tonight came just 12 days after she won the Commonwealth Games title at the same distance.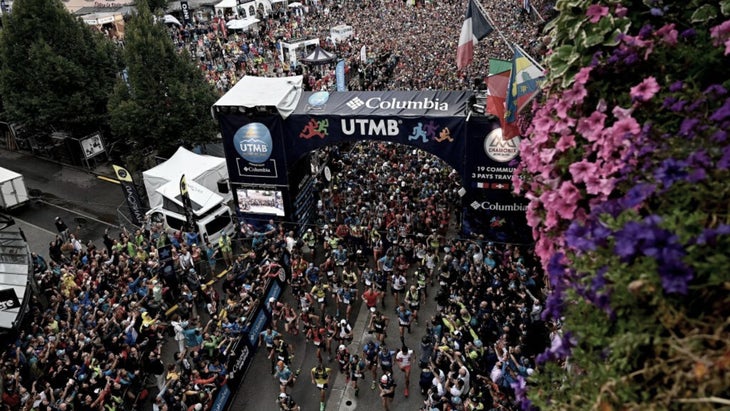 The Week Ahead
Most of the biggest events in the running world are happening in Europe this week. The massive Ultra-Trail du Mont-Blanc (UTMB) festival of trail running in Chamonix, France, is underway, with more than 10,000 runners from around the world participating in the seven-event lineup of races this week. Meanwhile, the Diamond League track series resumes with a big meet in Lausanne, Switzerland, on August 26. The track meet should feature several key events, including a showdown between American Delilah Muhammed and Dutch star Femke Bol in the 400-meter hurdles now that Sydney McLaughlin has completed her season. Americans Elise Cranny, Alicia Monson, Josette Norris and Elly Hennes are entered in what is expected to be a very fast 3,000-meter race, while Aleia Hobbs and Tamari Davis will face-off with Jamaica's Elaine Thompson-Herah in the 100 meters.
RELATED: Trail Runner's Guide To UTMB 2022
The UTMB, the biggest race, is the Super Bowl of ultra-distance trail running and has been since its inception in 2003. Not only does the course send runners on a grueling 171.5 km loop (106.5-miles) around the Mont Blanc massif, with nearly 33,000 feet of vertical gain, but it also brings together the deepest international field of the year, with more hype and media attention—including epic coverage and commentary via livestream—than any other event in the world by far. But the other races — including the CCC100K and OCC 55K — are also competitive and extremely challenging. All of the races finish in Chamonix amid thousands of cheering fans.
Colorado's Sabrina Stanley, a two-time winner of the Hardrock 100, is among the favorites in the UTMB. Other elite-level Americans in the womens' field are French resident Katie Schide,  Idaho's Brittany Peterson, Colorado's Hillary Allen and Washington's Kaytlyn Gerbin. The 30-year-old Schide, who has lived in Nice, France for several years while working on a PhD. in geology, was sixth in UTMB in 2019 and ninth last year, while both Peterson, 36, and Allen, 33, dropped out of their first attempts at UTMB last year.
Allen has run well in other races in Chamonix (including a runner-up showing in the TDS in 2019) and ran to a strong third-place finish in Colorado's San Juan Solstice in June, while Peterson has a history of being a strong 100-miler despite struggling to a 16th-place showing at Western States this year. Gerbin, 33, has a long history of ultra-distance podium finishes, but she has never run any of the races in Chamonix.