In a Battle on Boylston, Peres Jepchirchir Wins the 2022 Boston Marathon
The fastest field in the history of the race also marked the 50th anniversary of women's first official entry into Boston.
Heading out the door? Read this article on the new Outside+ app available now on iOS devices for members! Download the app.
It was down to a two-woman race with a mile to go on Monday at the 2022 Boston Marathon and it looked like Peres Jepchirchir, the reigning Olympic champion from Kenya, was going to drop Ethiopian Ababel Yeshaneh. But it wasn't over yet.
The two would switch leads several more times until finally, with just yards to go, Jepchirchir pulled ahead for good, in a quintessential battle down Boylston Street, winning in 2:21:01 to Yeshaneh's 2:21:05.
"You know, Ababel was strong so for me, I was feeling the pace," Jepchirchir, 28, said after the race, adding that she was trying to save something for the final 800 meters.
WHAT A FINISH!

In one of the greatest races in @bostonmarathon history in the women's elite field, Olympic champion Peres Jepchirchir takes the win on Boylston Street. #Boston126 pic.twitter.com/m0N4SvSdCP

— NBC Sports (@NBCSports) April 18, 2022
Mary Wacera Ngugi, 33, also of Kenya, was third at the 2021 Boston Marathon and was third again on Monday, in 2:21:32, a four-minute personal best for her. She said on Monday that she doesn't wear a watch while racing, so she wasn't sure how fast the group was running, but she knew enough that trying to match Jepchirchir's surge would be a mistake.
"I knew I was in good form coming here, but then this is Boston so you can't predict each time you run," Ngugi said. "I would say I was so surprised running to 21 [miles]. I knew the form I was in and I knew my training had been good. When Peres made the move, I tried to follow but I felt like it was too fast for me."
Yeshaneh, 30, and Jepchirchir jostled into each other at times in the last half of the race, but also displayed camaraderie as they made their way toward the finish. At the final water stop, Jepchirchir even grabbed a cup to give to Yeshaneh.
​"She is a very good competitor and she is a friend," Yeshaneh said of Jepchirchir, through an interpreter. "I'm glad that I run with her and I'm also glad that I came in second."
Monday also marked the 50th anniversary of the first year women were officially allowed to compete at the oldest marathon in the world. And the women proved once again that their competition is compelling.
Under clear skies, a slight headwind, and favorable temperatures reaching a high of 50 degrees in Boston, a group of more than 20 women joined a lead pack for the first five miles. Then Jepchirchir, Yeshaneh, and Kenyan Joyciline Jepkosgei decided to push, gradually whittling the contenders down to just the three by mile 10, dropping a 4:59 split at mile nine. It remained a race between the trio all the way until mile 23, when Jepkosgei fell off and eventually finished seventh in 2:24:43.
After Jepkosgei faded, the duel for the final podium spot was on. Edna Kiplagat, 42, who was second at the 2021 Boston Marathon and is a double world champion from Kenya, gave it a shot. Ngugi bested her in the final mile, however. Kiplagat still set a masters course record in 2:21:40.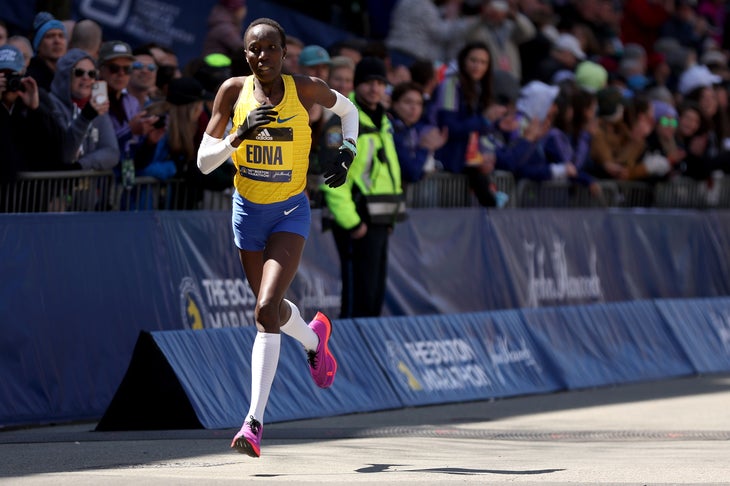 The leaders on Monday had been threatening the course record of 2:19:59, set in 2014 by Ethiopian Buzunesh Deba, up until about 30K, after they hit the famous Newton hills. By mile 20, the mark was out of reach.
With her win, Jepchirchir remains the dominant female marathoner in the world. After earning her Olympic gold last summer, she turned around to also win the 2021 New York City Marathon in November, the first athlete to ever take both victories in the same year. Her time on Monday was the third-fastest women's mark on the course. She earns $150,000 for her win (Yeshaneh receives $75,000 for second, and Ngugi gets $40,000 for third).
"I can say that this is a difficult race for me," Jepchirchir said. "I came to realize Boston is Boston. It's a tough course. But I am glad…for my victory and I'm honored and happy."
The American women were led by Nell Rojas, 34, of Boulder, Colorado, who finished 10th in a personal best time, 2:25:57. She was also the fastest American in October, at the 2021 Boston Marathon. Stephanie Bruce was 12th (2:28:02) in her final Boston Marathon before she retires from pro competition at the end of the year. And 2018 Boston Marathon champion Desiree Linden finished 13th in 2:28:47.
Although Linden describes her current career standing as "getting to the end" of her pro marathon career, she also added she intends to give the 2023 Boston Marathon a shot, which would be her 10th go at the race.
"As long as they keep inviting me, I'll keep showing up," Linden said.
Molly Seidel, Olympic marathon bronze medalist, dropped out of the race after the 25K mark with what she described as a "hip impingement" that she's been dealing with on and off through her training for Boston.
"It was feeling good the last few weeks and no indication that it would hurt today," she said in a text sent by her agent, Stephen Haas. "I went out aggressively in the race but wasn't able to hang with the leaders…by mile 16 I was in a good deal of pain and had to make the difficult call to stop at a medical tent to avoid really damaging anything."