This Jeweler is Making "Medals" For the Women of the U.S. Olympic Marathon Trials
In lieu of medals, finishers were gifted a commemorative print that can hang in their homes forever.
Heading out the door? Read this article on the new Outside+ app available now on iOS devices for members! Download the app.
At the end of a windy, hilly, and down-right gritty marathon on February 29 in Atlanta, six people were draped with medals and American flags and welcomed onto team USA. As for the rest of the historic number of finishers that fought their way to the U.S. Olympic Marathon Trials finish line? No medals.
To some running fans, it felt like a snub. But the race coordinators simply had different intentions. The idea, according to Jay Holder, Atlanta Track Club director of marketing and communications, was to spend money creating a true Olympic experience. This included making sure every athlete had the means to travel and housing them all in the same hotel, Olympic Village style.  
"And much like the Olympic Games," said Holder in an email to Women's Running, "a podium ceremony was planned and held post-race at which the athletes were presented with gold, silver, and bronze medals created by a local artist." The top three women and men (Aliphine Tuliamuk, Molly Seidel, Sally Kipyego, Galen Rupp, Jacob Riley, and Abdi Abdirahman) were given a box of local whiskey. And the top 10 finishers were honored together with an evening reception after the race.
Every Olympic Marathon Trials competitor received a commemorative print designed by Atlanta native, Walter Cumming, to celebrate the accomplishment of qualifying and participating. For Cumming, 66, his contribution was a way to be involved in a dream event for him, as he chased an OTQ for years but always fell a little short.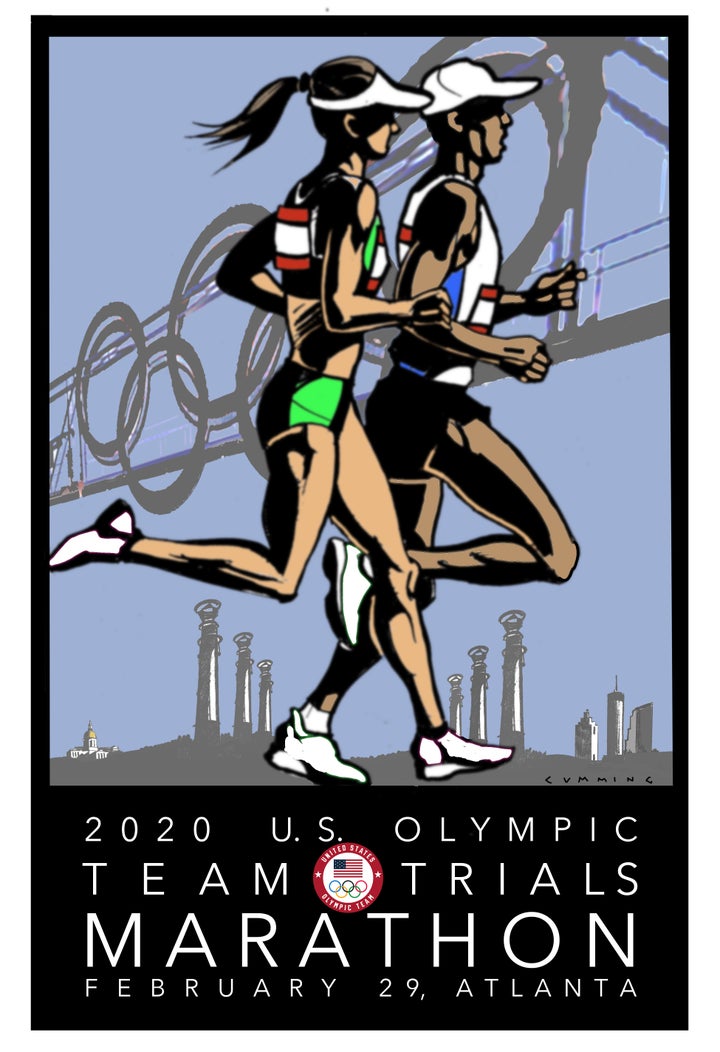 The traditional gesture of a medal might be missed by some, but like runner and jeweler Erica Sara points out, "It's not something you can wear everyday." That's why she is taking it upon herself to create her own version of a finisher "medal:" an engraved necklace with the Atlanta skyline and the course elevation below. Sara will also do custom engraving on the back for free if a runner would like to commemorate their bib number, race time, or a mantra that got them through. 
The necklaces (which can also be purchased as a charm minus the chain) will range from $30 to $76 depending on size and materials offered. And 20% of sales will be donated to a women-specific running charity.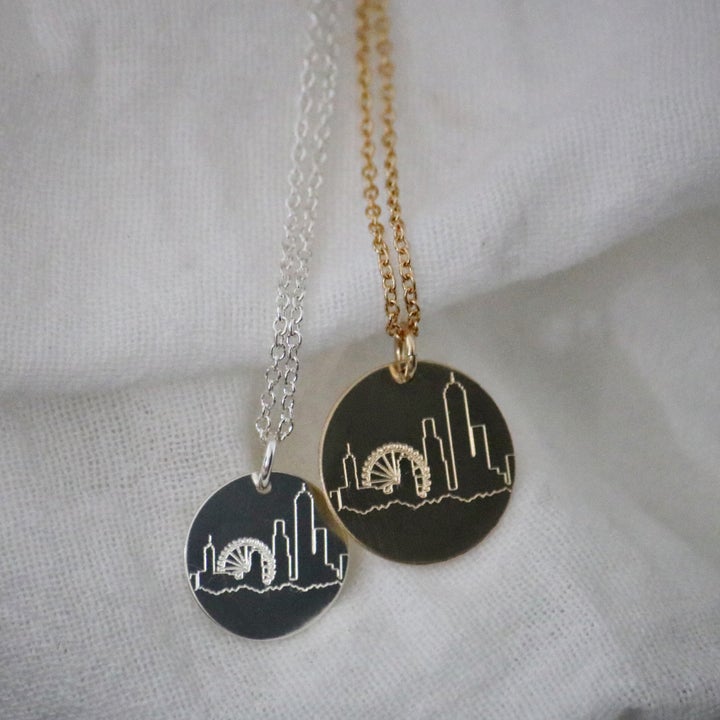 Just from tweeting out her idea, Sara has had a ton of feedback. "The response has been overwhelmingly positive," she said. "So many people have retweeted the idea and lots have responded that they'd like to buy one, or sponsor one for an athlete who ran. Some people even mentioned that they'd like to have one gifted to their favorite elite athlete to thank them for being an inspiration." (Click here to read more about how you can sponsor a medal for an athlete.)
As for the female half of Team USA, Sara is planning on sending a complimentary custom necklace to Tuliamuk, Seidel, and Kipyego as her way of honoring the three women our country will send to the Tokyo 2020 Games. 
The Atlanta Track Club put on an Olympic Marathon Trials weekend that the runners will remember forever. And Sara's effort adds a touch of extra sparkle the historic women's field can keep with them every day. Her jewelry idea has sparked joy with a single photo of the prototype. "I think that's my favorite part of it all," she said, "seeing so many women in the running community want to continue supporting and celebrating one another."