Alicia Monson, Nikki Hiltz Break American Records on the Track
Plus, Kenya's Faith Kipyegon, a mother of a 5-year-old daughter, set an astonishing new world record in the mile
Heading out the door? Read this article on the new Outside+ app available now on iOS devices for members! Download the app.
Alicia Monson and Nikki Hiltz have been tearing up the track this year, and over the weekend they each set new American records while racing in two of the most epic races in the history of the sport.
On Sunday afternoon at the Diamond League meet in London, Monson lined up in one of the deepest women's 5,000-meter fields ever assembled. It included 2022 world champion Gudaf Tsegay of Ethiopia, 2020 Olympic champion Sifan Hassan of the Netherlands, and 2023 world cross country champion Beatrice Chebet of Kenya, who was also the silver medalist in the 5,000 at the 2022 world championships. But Monson, a 2020 Olympian in the 10,000, is a rising American star who has set several American records this year.
View this post on Instagram
After a relatively slow opening lap, the pace quickened with pacemakers aiming for Hellen Obiri's four-year-old meet record of 14:20.36. Averaging 69-seconds per lap, the field strung out early, leaving just five women, including Monson, in a mini pack of frontrunners by the halfway mark.
Hassan led with two laps to go, but Tsegay wound up outrunning everyone to win in 14:12.29 after she blazed a 60.8-second final lap. Tsegay ran the fourth-fastest time in history and edged out Chebet (14:12.92, No. 7 all-time) and Hassan (14:13.42, No. 9 all-time) in the fast final sprint to the finish. To put that in perspective, each of those women averaged about 4:35 mile pace for the 3.1- mile, 12½-lap race. Finishing second was 18-year-old world junior champion Medina Eisa of Ethiopia, who held onto the lead trio as long as she could and finished fourth in 14:16.54 to shatter the U20 world record of 14:30.88 previously held by countrywoman Tirunesh Dibaba.
Monson had been running stride for stride with the leaders before falling off slightly, but she still finished strong and wound up fifth in 14:19.45. That stellar effort not only chopped nearly 12 seconds off her previous personal best she ran last year, but it also broke Shelby Houlihan's 2020 American record of 14:23.92.
"I was a little bit disappointed with my races leading up to this, and I knew my training was there, and I've been training better than ever," Monson said after the race. "And so just to be able to come out here and have a great result and put myself in the race and learn from what I had in Paris and Oslo earlier this year—the American record that came with it, I was obviously super happy with it."
It was the first time in history that five women finished under 14:20 in a single race. (Also of note in the race, American Elly Henes finished 11th in a new personal best of 14:47:15.)
It was the third American record of the year for Monson, 25, a former University of Wisconsin star who trains with the On Athletics Club in Boulder, Colorado. In February, she set a North American indoor record in the 3,000 meters with an 8:25.05 effort at the Millrose Games in New York City. Then in March, she lowered the U.S. women's 10,000-meter run record to 30:03.82 in San Juan Capistrano, California.
Monson placed second in both the 5,000m and 10,000m at the USA Track and Field Outdoor Championships earlier in July and is expected to run in both of those events for Team USA at the August 19-27 World Athletics Championships in Budapest, Hungary.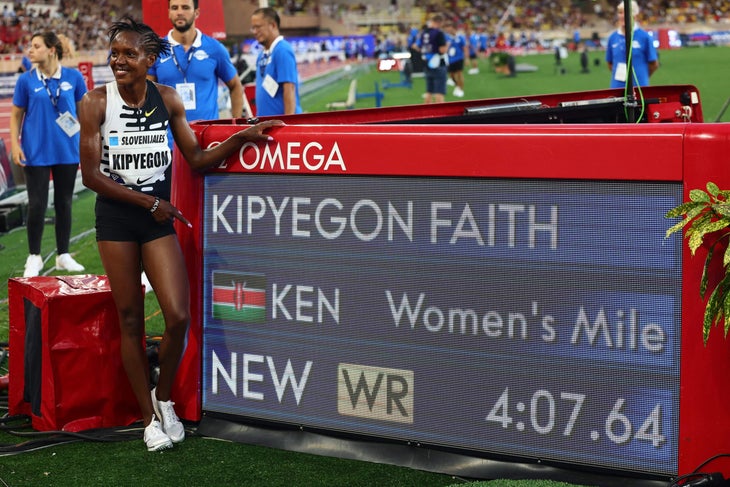 Faith Kipyegon Sets a New World Record in the Mile
On Friday night at the Diamond League meet in Monaco, Nikki Hiltz ran to a new American record in what was the fastest women's mile race in history.
The mile, which is 1,609 meters in length and a little more than four laps around the track, isn't run very often on the international track circuit, as the 1,500-meter run is much more common. The race was set up as a world-record attempt for Faith Kipyegon, a 29-year-old Kenyan who set new women's world records in the 1,500m (3:49.11) and 5,000m (14:05.20) in June. Kipyegon is not only the reigning world and Olympic champion in the 1,500m, but she's also the mother of a 5-year-old daughter.
As pacemakers took her through the first two laps in what seemed like an unfathomable halfway split of 2:04.10, the rest of the field was, as expected, already far behind and racing for second place. But Kipyegon held that hot pace as she took the lead with a lap to go, and then closed with a 59.98 final 400-meter split to win the race by 70 meters in an astonishing new world record of 4:07.64. That shattered the previous world record of 4:12.33 that Sifan Hassan had set in Monaco in 2019.
"I have done good training so far and I just came for it," Kipyegon said after the race. "The time—yes, it was really good because the race was well planned. It just went smoothly and to accomplish the world record. That is amazing."
While Kipyegon's result is one for the ages, so, too, is how the rest of the race played out. Despite no one else in the field being able to come close to Kipyegon, six women behind her set national records for their home countries, led by runner-up Ciara Mageean of Ireland who sprinted hard to finish second in 4:14.58 (No. 5 all-time). Freweyni Hailu of Ethiopia was third in a personal best 4:14.79 (No. 6 all-time), followed by national record-setting runners Laura Muir of the UK (4:15.24, No. 7 all-time), Jessica Hull of Australia (4:15.34, No. 8 all-time) and Hiltz of the U.S. (4:16.35, No. 13 all-time).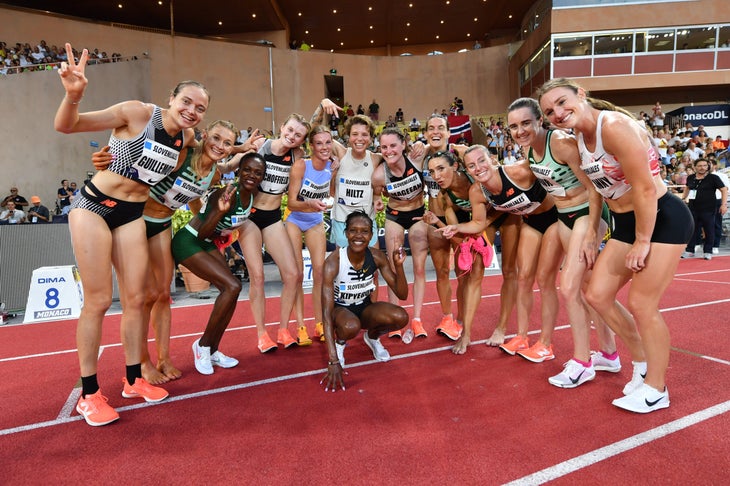 Nikki Hiltz Lowers the American record
Hiltz, a 28-year-old Lululemon-sponsored pro who trains in Flagstaff, Arizona, broke Mary Slaney's 1985 American record of 4:16.71—one of the oldest U.S. track records—en route to setting a new North American record as well. Hiltz, who identifies as transgender nonbinary and uses they/them pronouns, had previously lowered their personal best to 4:18.38 on June 15 in Oslo, Norway.
"It's insane, I can't believe it," Hiltz said after the race. "Of course I knew about it going in, but I didn't focus on it. I just focused on racing … and then it happened."
Hiltz won the U.S. title in the 1,500m run on July 8 and will be running that event for Team USA at the world championships in Budapest in August.
Fellow American Elise Cranny, who won U.S. titles in the 5,000m and 10,000m earlier this month, also surpassed Slaney's mile time by finishing eighth in 4:16.47, the 15th-fastest time in history. All 13 runners in the race set new personal best times. Berenice Cleyet-Mierle of France (11th, 4:26.06) and Joselyn Brea of Venezuela (13th, 4:27.21) also set national records for their respective countries, while Kipyegon's mark is a new continental record for Africa, Hull's time is a new record for Oceania and Brea's mark is a new South American record.
RELATED: 10 Stunning Performances from the U.S. Track and Field Championships