Tokyo Marathon, Plus McColgan, Monson set British, American 10,000m records 
Betsy Saina becomes 8th fastest American in the marathon with postpartum personal best
Heading out the door? Read this article on the new Outside+ app available now on iOS devices for members! Download the app.
Tokyo Marathon and Other Running News
Marathon season officially got underway with 38,000 runners competing in Sunday's Tokyo Marathon. Included in that was a strong effort from American Betsy Saina, who finished fifth and ran a personal best 14 months after having a baby. Plus, the much-anticipated marathon debut of Eilish McColgan notched up a few levels of excitement with an exciting track race on Saturday night in Southern California. And who's counting, but we're only six weeks until the Boston Marathon.
The Scottish-born three-time British Olympian on the track is preparing to make her marathon debut in London next month. As she's started to consider the marathon, she's been favorably compared to retired British marathon legend Paula Radcliffe, who won a world championship and held the women's world record for 16 years.
McColgan, the daughter of Liz McColgan, a world champion and Olympic silver medalist at 10,000 meters on the track. The younger McColgan, now 32, has also excelled at that distance, winning a Commonwealth Games title at that event last summer in England and also broke Radcliffe's British national record in the half marathon (1:06:26).
On Saturday amid a rainstorm in San Juan Capistrano, California, McColgan showed off her exceptional fitness as she eclipsed Radcliffe's 2002 British national record in 10,000, winning Sound Running's The TEN event in 30:00.86.
McColgan, who had been training briefly in Colorado Springs before the race, was a late entry into the Sound Running meet.
"I thought 'eff it, I'm going to give it a go'," she said after the race. "I'm building up for the London Marathon and have had a few niggles and missed some prep races in January and a half-marathon in February, but I'm really strong right now so I'm glad I did it.
"The marathon is going to be a big challenge. I think I'll run a good 20 miles but that last 10K is going to be tough."
She had to outrun another likely future marathoner, American Alicia Monson, who placed second and broke the U.S. and North American records with a 30:03.82. That eclipsed Molly Huddle's 2016 mark of 30:13.17 set at the Rio Olympics. Monson, 24, runs for the On Athletics Club under coach Dathan Ritzenhein, who has said she'll probably transition to the marathon, too, but not for several more years.
View this post on Instagram
McColgan and Monson now sit 12th and 14th, respectively, on the world all-time list.
OAC runner Josette Andrews, who served as a pacer for the race, helped Monson and McColgan open up a four-second lead on the next closest runners and by the halfway mark, that margin had grown to more than 20 seconds. Andrews took them through the halfway mark in 15:09 but then really sped things up from there.
Monson became the aggressor and reeled off a 70-second penultimate lap only to have McColgan burst by her with 300 meters to go en route to a 64.87 second final lap.
"It was definitely aggressive, but training said that I could do it," Monson said. "Once it started raining harder, I kind of had to try to relax my face just because the rain pelting in your face can be a bit distracting, but I just had to tell myself I've run in these conditions before and I'm ready to go."
The men's race was won by U.S. star Woody Kincaid over American rival Joe Klecker, 27:06.37 to 27:07.57, as they both set new personal bests.
Australia's Commonwealth Games 1500m champion Oliver Hoare helped to pace them to 5000m in 13:35. Kincaid took the lead with about 900m left to go, then moved away from Klecker in the closing stages to win by a second.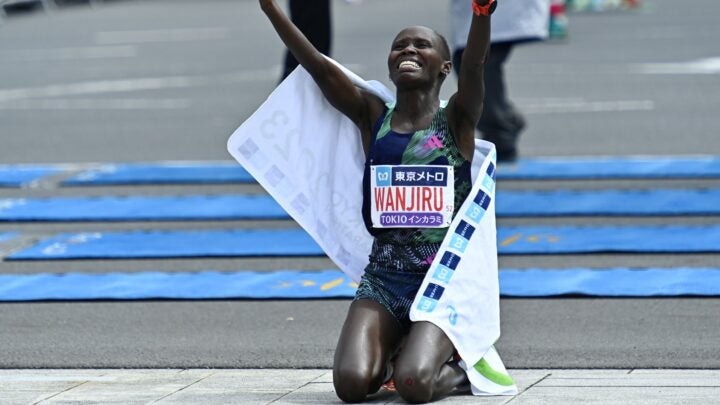 American Betsy Saina Shines in Tokyo Marathon
Kenya's Rosemary Wanjiru blazed through the streets of Tokyo on Sunday morning, winning the Tokyo Marathon in 2:16:28 — the seventh-fastest women's marathon in history.
The Japan-based Wanjiru won the race by 28 seconds over Ethiopia's Tsehay Gemechu, who became just the eighth woman to run a marathon under 2:17. Last year's runner-up, Ethiopia's Ashete Bekere, was third in 2:19:11, while her countrywoman Worknesh Edesa was fourth in 2:20:13.
Kenya-born American Betsy Saina, running her first marathon since gaining U.S. citizenship in 2021 and having a baby early in December 2021, finished fifth in 2:21:40 just ahead of Mizuki Matsuda (2:21:44), the first Japanese woman across the line. Saina, who was a three-time NCAA champion for Iowa State, became the eighth-fastest American woman in history as she improved her personal best by more than a minute from her 2:22:43 effort at the 2019 Toronto Marathon.
Saina, who has been training in Kenya, took fourth in the Tokyo half marathon (1:11:13) last fall and won the Seville Half Marathon (1:08:25) in Spain in January.
Another American, Lindsay Flanagan, placed 8th in 2:26:08, her second straight top-eighth finish at a World Marathon Majors race.
The biggest highlight of the day came in the men's race when Ethiopia's Deso Gelmisa outsprinted compatriot Mohamed Esa down the final stretch to claim a thrilling victory. The 25-year-old Gelmisa clocked a winning time of 2 hours, 5 minutes, 22 seconds as he crossed the finish line in the capital's Marunouchi district less than a second ahead of Esa. Tsegaye Getachew was three seconds off the pace as he completed a men's podium sweep for Ethiopia.
Meanwhile, Canada's Cam Levins placed fifth in a North American record 2:05:36, breaking American Khalid Khannouci's 2:05:38 mark from the 2002 London Marathon. The 33-year-old from Courtenay, British Columbia, shattered his previous Canadian record of 2:07:09, set when he placed fourth at the World Athletics Championships last summer in Eugene, Oregon. American Ryan Hall has run the fastest marathon among North American runners, but his 2:04:58 effort at the 2011 Boston Marathon is not considered record-eligible.
Hunt, Short Win Way Too Cool 50K Races
The competitive trail racing season continued with the 33rd annual Way Too Cool 50K race from Folsom to Cool, California. Craig Hunt, of Flagstaff, Arizona, a 2:15 marathoner on the roads who seldomly races on the trails, outran a strong field to win the men's race in 3:23:13. Colorado's Ryan Becker, a past winner of the Telluride Mountain Run, was second in 3:24:09, while Christopher Myers of Los Angeles, was third in 3:25:36.
In the women's race, Katherine Short of Lahaina, Hawaii, set a fast early pace and held on to outrun Leah Yingling of Salt Lake City to take the win in 4:03:22. The 32-year-old Short, who was fifth at the Bandera 100K in January, covered the fast initial 8 miles in 57:28 (or 7:11 pace), while Yingling was two and a half minutes back in fourth place. But Yingling, 31, who was sixth at the Western States 100 last year, used her trail strength and closed hard over the second half of the race to finish second in 4:04:13, followed by Katie Asmuth (4:07:10) and Kristina Randrup (4:09:45).