Lokedi, Salpeter and Gebreslase Grace the Podium in Thrilling New York City Marathon Race
Six of the top ten women elite finishers at the New York Marathon are mothers, a statistic that did not go unnoticed at Women's Running.
Photo: Jamie Squire/Getty Images
Heading out the door? Read this article on the new Outside+ app available now on iOS devices for members! Download the app.
Amid warm, humid temperatures in New York City, Sharon Lokedi dug deep and her best race yet, winning the New York City Marathon in her debut race at 26.2 miles.
But do you know who else dug deep and ran well in the marathon? Six of the next nine finishers behind Lokedi happened to be mothers of young children.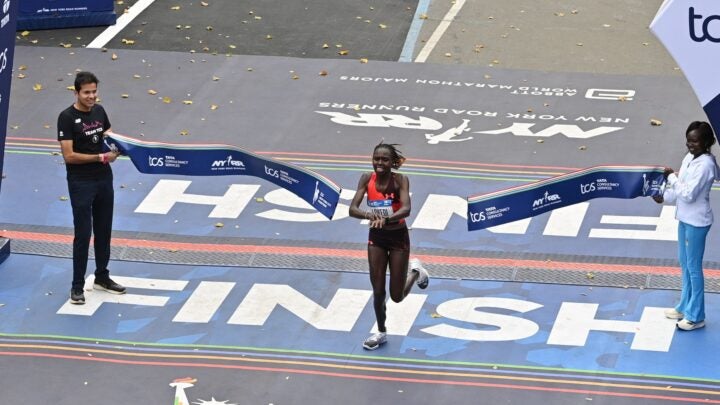 In a stunning debut running 26.2 miles, Lokedi, a 28-year-old former University of Kansas runner, broke away from the lead pack of women at the 24-mile mark and outran Kenyan-born Israeli runner Lonah Salpeter to win Sunday's New York City Marathon in 2:23:23. Salpeter, the bronze medalist at last summer's World Athletics Championships in Eugene, Oregon, finished seven seconds behind to secure second place (2:23:30), followed by Ethiopia's Gotytom Gebreslase in third in 2:23:39.
"I didn't expect to win (but) I expected to run well," said Lokedi who finished fourth at the United Airlines NYC Half last March in a personal best 1:08:14. "I wanted to be in the race; I know I was strong. I just wanted to go and put myself in it."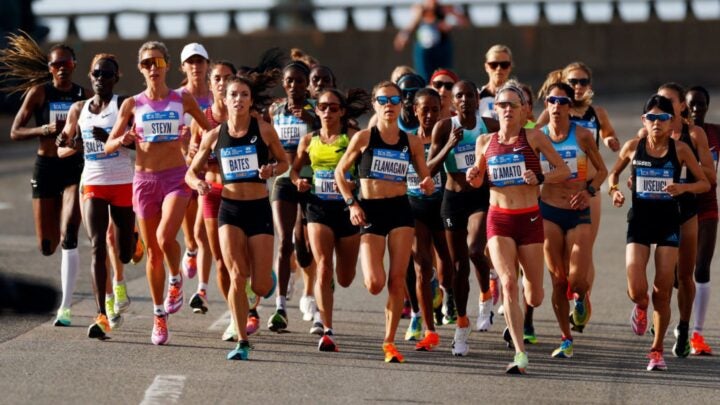 Elite Mother Runners
While Lokedi ran a magnificent race and should get all of the credit and accolades that come her way for her 2:23:23 victory, it says a lot when mothers of young children dominate the top 10 places of one of the most competitive marathons in the world. That's right, Salpeter (Kenya/Israel), Viola Cheptoo (Kenya), Edna Kiplagat (Kenya), Hellen Obiri (Kenya), Aliaphine Tuliamuk (Kenya/U.S.) and Jessica Stenson (Australia) who finished 2nd, 4th, 5th, 6th, 7th and 9th overall are all strong, fit and very fast moms. (See women's top 10 results here.)
Motherhood and running is a hot topic at Women's Running. Pregnancy and the post-partum experience can have a significant impact on a woman's body, whether you are an elite or an age-grouper with a goal or not. Not so long ago, having a child put an immediate end to your professional athletic career. With that in mind, it's a significant moment to witness the majority of the top ten female athletes at a World Marathon Major as mothers. This is testament not only to their athleticism, dedication and commitment, but also to a changing world. Money talks, and when sponsors step up to support female athletes who have had children, it sends a message beyond sport.
RELATED: Running and Motherhood: How It Changes Us
Salpeter, a 33-year-old Kenyan-born athlete who competes for Israel, has a 7-year-old son. Cheptoo, 33, has two young daughters, while the 42-year-old Kiplagat, a two-time world champion and 2010 New York City Marathon winner, has five young children—two of her own, two adopted from her sister who died of breast cancer in 2003, and one adopted from a neighbor who died in childbirth in 2013. Meanwhile, Obiri, 32, and Tuliamuk, 33, have young daughters and Stenson, 35, has a young son.
It all seems perfectly appropriate in a year when the New York City Marathon went out of its way to support new mothers before, during and after the race. In partnership with the &Mother non-profit, the New York Road Runners set up private lactation stations at different locations throughout the course, as well as at the race expo earlier in the weekend.
RELATED: Child Care Pilot Program Will Kick Off at USATF Outdoor Championships
Tuliamuk, a 33-year-old Kenyan-born American who races for the Hoka NAZ Elite program based in Flagstaff, Arizona, was the U.S. finisher, finishing in seventh in a personal best 2:26:18 (5:35 per mile). She gave birth to her daughter Zoe in January 2021, then competed at the Tokyo Olympics seven months later. She wasn't able to finish that marathon but has great results at shorter distances, so this was the first marathon she finished since she won the 2020 U.S. Olympic Trials in Atlanta.
"I think I excel when the conditions aren't perfect," said Tuliamuk, who was not able to do a full marathon preparation because of an ankle injury she suffered in early September. "I think today that's the case."
RELATED: Aliphine Tuliamuk Feels Faster As A Mother
Other Notable U.S. Women's Results
Aside from Tuliamuk as the top American finisher, finishing in seventh in a personal best 2:26:18 (5:35 per mile), other top U.S. women were Emma Bates (8th, 2:26:53), Nell Rojas (10th, 2:28:32), Lindsay Flanagan (2:29:28), Stephanie Bruce (2:30:34), Keira D'Amato (2:31) and Des Linden (2:32:37).
Linden, the 2018 Boston Marathon champion and two-time U.S. Olympian, put in an early surge and ran out in front of the large women's lead pack, pushing the pace just off course-record pace through the 10km split (34:26) before the rest of the elites absorbed her back in to the pack.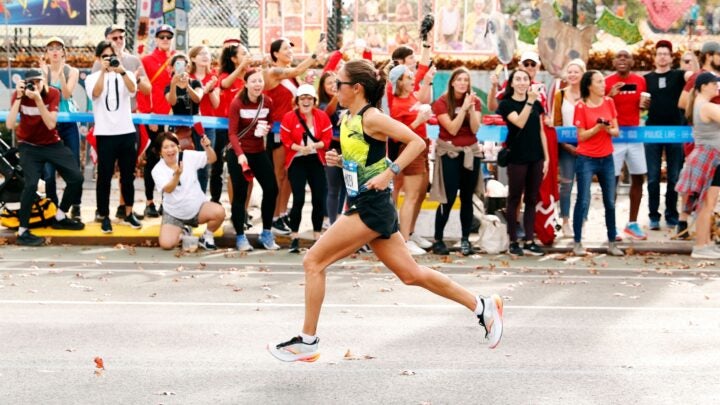 Men's Race in New York
In the men's race, Do Nascimento, dressed in purple shorts and a white tank top, blazed ahead of the pack and led the field by 31 seconds at the 5km (14:31) split and 90 seconds by the 10km (28:42). He's a legitimate elite runner, having placed third in last spring's Seoul Marathon in 2:04:51, the fastest time ever recorded by a non-African runner. But the rest of the men's elite field was content to let Do Nascimento get away for the time being as he ran sub-2:30 pace, perhaps because they were also ahead of the course-record pace and because the morning temperature was unseasonably warm and rising.
Shortly before the 21st mile marker, Do Nascimento succumbed to cramping and exhaustion and wobbled off the course, Chebet came flying by and never looked back. Kitata and El Aaraby were 20 seconds behind at that point, but only Kitata kept surging as Chebet got closer to the finish. Chebet didn't let up, though, grinding out the final miles in 5:05 pace to hold on for the victory.
"I'm so thrilled to celebrate a victory today," Chebet said. "I knew coming into this race that I would have a shot at the podium, but this field is so strong that nothing was guaranteed. Today's result feels like a reward for all the hard work I put in training for this race – I couldn't be happier."
Hug, Scaroni Win Wheelchair Races
American Susannah Scaroni broke the course record in the women's wheelchair race, finishing in 1:42.43, 21 seconds better than the old mark, which was held by Tatyana McFadden. Marcel Hug of Switzerland was victorious in the men's wheelchair race for the fifth time, tying Kurt Fearnley for most-ever victories in that event. Hug finished the 26.2-mile course that goes through all five boroughs of New York in 1:25:26 to break the previous mark of 1:29.22 set by Fearnley of Australia in 2006.  Both Hug and Scaroni earned $25,000 for their victories and $50,000 for their new course records.