Run News Roundup: Records Broken and Personal Bests Achieved in Women's Running
It was an exciting weekend of racing, from trail marathons to the outdoor mile, and the announcement of which women will represent Team USA in the marathon at the World Champs
Heading out the door? Read this article on the new Outside+ app available now on iOS devices for members! Download the app.
Summer racing is in full swing across trail running, road running, and track and field. This past weekend saw the running of the Leadville Trail Marathon, Grandma's Marathon and Half Marathon, Broken Arrow Sky Race, and a Diamond League meet in Oslo, Norway. The elite women at these events set new personal bests, achieved results they themselves did not think were possible, and one even ran in the finisher's chute with her dog.
Women's Running News from the Weekend
Leadville Trail Marathon
Hailing from Boulder, Colorado, 31-year-old Ellie Pell won the Leadville Trail Marathon in high-altitude Leadville, Colorado, facing freezing temperatures and some snow—not to mention nearly 6,000 feet of elevation gain and loss—on her way to the finish line. The marathoner and ultrarunner crossed the finish line in 4:02 initially thinking she wouldn't even start the race. "Leadville reminded me how to shut off my brain and just run," Pell says. "[The win] was an unexpected result based on the extreme fatigue I experienced the week before the race… I didn't even run in the week leading up to the race and even considered walking out of the starting corral before the gun went off." Pell went on to say that "Leadville was the race I needed to start building back the mentality I need to continue to do ultramarathons."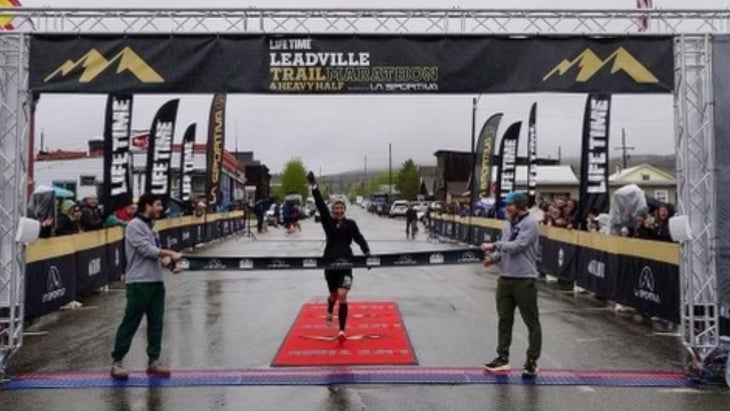 Broken Arrow Skyrace
The Broken Arrow Skyrace is a self-proclaimed "European-inspired, technical, HARD style of trail running" that takes place at Palisades Tahoe resort in Olympic Valley, California. Allie McLaughlin, 32, of Colorado Springs took the women's win in the 23K race—which doubled as a World Mountain Running Association World Cup event—in 1:51:46, traversing 4,700 feet of vertical gain in the process. McLaughlin, known for her vibrant personality, entered the finish chute with her beloved dog, Harley, and they crossed the finish line together. Other winners included Anna Gibson taking the Vertical K race just a week after finishing her collegiate track career at the University of Washington, and Helen Mino Faukner taking top honors in the 46K race.
View this post on Instagram
Grandma's Marathon
Over the river and through the course, to grandmother's finish line we go! Grandma's Marathon in Duluth, Minnesota is the only marathon (that we know of) where a person cosplaying a grandma greets you at the finish line. Flagstaff, Arizona-based Lauren Hagans of the Hoka NAZ Elite team clinched the win in a U.S. Olympic Trials-qualifying time of 2:25:55, making the 36-year-old's marathon debut the fourth-fastest U.S. debut of all time. "It meant so much to me to win Grandma's Marathon and this has opened up a whole new arena of distance running that I'm excited to explore," Hagans says. "I also proved to myself that I can do very hard things when I believe in myself." Additionally, Boulder, Colorado-based Maggie Montoya, 28, of the Roots Running Project broke the Grandma's Marathon race weekend Gary Bjorklund half marathon course record of 1:09:46 previously set by Kara Goucher in 2010. Montoya ran a 1:09:26 to claim the new women's course record. "I had a blast in the half marathon, which was a distance I had struggled with a bit in the last few years," Montoya says. "I went out hard and didn't look back. I made myself comfortable with being uncomfortable. I was ecstatic to hear I'd broken Kara's record when I finished the race!"
View this post on Instagram
World Athletics Championships and More News
USATF announced

its women's marathon team selections for the 2023 World Athletic Championships on August 26 in Budapest. The three-woman crew is headlined by former American marathon record holder

Keira D'Amato

, 38, of Oakton, Virginia, who was eighth in last year's world championship marathon in 2:23:34, and also includes

Susanna Sullivan

, 33, of Reston, Virginia, and

Lindsay Flanagan

, 32, of Boulder, Colorado. Sullivan finished 10th at the 2023 London Marathon with a lifetime best of 2:24:27, and Flanagan finished sixth at the 2023 Tokyo Marathon and holds a lifetime best of 2:24:43 from the 2022 Gold Coast Marathon.
Americans

Cory McGee

, 31, of Boulder, Colorado, and

Nikki Hiltz

, 28, of Flagstaff, Arizona, achieved the third- and fourth-fastest women's outdoor mile times in U.S. history, respectively, at the Diamond League meet in Oslo, Norway. McGee ran a 4:18:11 after a tough start to her 2023 season with two indoor mile DNFs earlier this year. Hiltz ran a 4:18:38, besting their 4:22:07 outdoor mile result from the 2023 Fast5000 in France earlier this year.
Coming Up
The summer season is only just getting started! Check out what's happening this weekend:
Western States: This iconic 100-mile trail race is also the world's oldest hundred-miler and kicks off on June 24, 2023. Held in the beautiful Olympic Valley in California, runners persevere through 18,000 feet of elevation gain and 23,000 feet of elevation loss for the ultimate test of even the strongest quads. Notable female elites lining up this year include

Marianne Hogan

,

Camille Herron

,

Emily Hawgood

,

Leah Yingling

,

Taylor Nowlin

,

Courtney Dauwalter

, and

Katie Asmuth

. Follow all the race weekend fun via

Trail Runner Magazine

.
B.A.A. 10K: The Boston Athletic Association (B.A.A.) 10K is a way to keep the Boston Marathon spirit alive all year. This 10,000-participant 10K fields an

elite wave

, which this year includes U.S.-based runners such as

Emily Sisson

,

Caroline Rotich

, and

Emily Durgin

.

USATF Grand Prix NYC

: Women's events include the 100m, 200m, 400m, 800m, 100m hurdles, triple jump, shot put, discus throw, hammer throw, javelin throw, and high jump.