Here Come The U.S. Track and Field Championships
The top three finishers in each event will compete in the 2023 World Athletics Championships
Heading out the door? Read this article on the new Outside+ app available now on iOS devices for members! Download the app.
The top women's track and field stars in the U.S.—including Sha'Carri Richardson, Sydney McLaughlin-Levrone, Athing Mu, Alicia Monson, Katie Moon and Brooke Andersen—will be at center stage this weekend at the USATF Outdoor Championships in Eugene, Oregon. But there is more at stake than just national bragging rights and a portion of the $525,000 in prize money spread among the 21 women's events. The top three finishers in each event will earn a spot on the U.S. squad that will compete at the World Athletics Championships from August 19-27 in Budapest, Hungary, assuming they have met the qualifying standards.
How to Watch The 2023 USATF Championships
Competition begins July 6 and continues through July 9, with several championship finals being held each day. The vast depth of American women's track and field still will be on full display at the University of Oregon's Hayward Field, but you can watch the action, too, via a mix of live coverage on CNBC, the USATF.TV pay-per-view platform, and NBC's Peacock subscription service. (Every event will be broadcast on USATF.TV, while CNBC and Peacock coverage will air from 10 P.M.-midnight ET on July 7 and 9-11 P.M. ET July 8-9.)
The Top Women To Follow at The Championships
Here are 10 leading stories that will be percolating at this weekend's national championships in Eugene, aka., Track Town USA.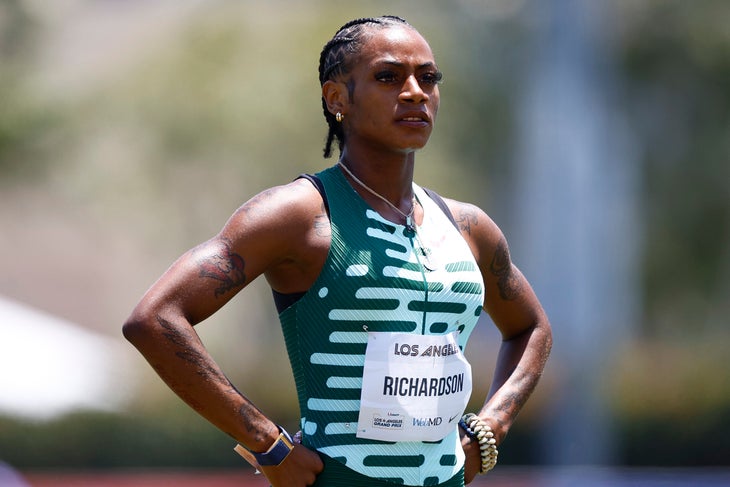 1. Can Sha'Carri Richardson take the next steps in her career?
Sha'Carri Richardson is known for being both fast and flamboyant, undoubtedly one of the world's top sprinting talents who could eventually threaten the 100-meter dash 10.49 world record of Florence Griffith Joyner set way back in 1988. But despite being one of the world's best sprinters for three years, she's yet to win a global medal. Will this be the year the 23-year-old from Dallas puts it all together? Because her 2021 U.S. Olympic Trials 100-meter title and the opportunity to race in the Tokyo Olympics were revoked because of her subsequent suspension for testing positive for marijuana, she has never even won a U.S. championship.
The remarkable 10.76 clocking Richardson posted on May 5 in a Diamond League meet in Doha (she also ran an eye-popping 10.57 with an over-the-limit tailwind on April 9 in Florida) has only been surpassed this year by Marie-Josée Ta Lou of the Ivory Coast (10.75). (She hasn't raced since May 27 USATF Los Angeles Grand Prix, where she ran a 10.90 in the prelims but skipped the final.) Although Americans Aleia Hobbs (10.81), Twanisha Terry (10.83) and Tamari Davis (10.89) are all legit, Richardson enters the meet with a chip on her shoulder and should win the Friday night final going away.
RELATED: Sha'Carri Richardson and The Tokyo Games
2. High school sprinters Shawnti Jackson and Mia Brahe-Pedersen are crazy fast.
While Richardson is the headliner of the 100, the American sprinters of the future have already arrived. Shawnti Jackson and Mia Brahe-Pedersen both ran exceptional 100 and 200 times in high school this year and should be around for years to come after their respective debuts at this year's national championships. Jackson, an 18-year-old University of Arkansas-bound runner from North Carolina, shattered the previous high school national record in the 100 on June 3 in while winning the event at the Music City Track Carnival in 10.89 seconds. She followed that with a strong 22.70 200m effort at the USATF NYC Grand Prix on June 24 in New York City, but she's only running the 100 this weekend.
Mia Brahe-Pedersen, a 17-year-old rising senior at Oregon's Lake Oswego High School, ran her way to new Oregon state records in the 100 (11.0) and 200m (22.43), the latter of which is second on the all-time U.S. high school list to Allyson Felix (22.11). She recently won the 100 and 200 and helped her team win the 400-meter relay at Nike Outdoor Nationals at Hayward Field. Brahe-Pedersen, who is entered in both the 100 and 200 in Eugene, also recently became the first high school track and field athlete to sign an Name, Image and Likeness (NIL) endorsement deal with Nike.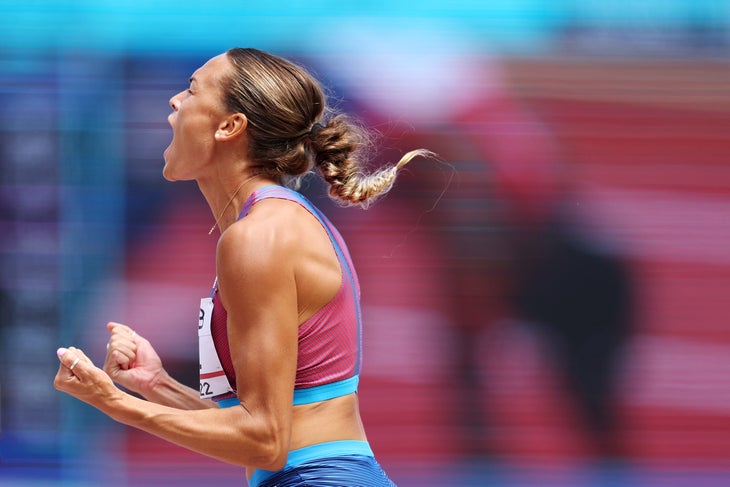 3. Anna Hall is one of the best female athletes in the U.S.—in any sport.
Unless you're a track fan, you probably haven't heard the name Anna Hall yet. But you will, no doubt, especially with the 2024 Paris Olympics and 2028 Los Angeles Olympics on the horizon. What event does she compete in, you ask? Just about all of them, it seems. Seriously though, Hall specializes in the heptathlon—the two-day, seven-discipline competition that combines the 100-meter hurdles, high jump, shot put, long jump, javelin, 200-meter dash and 800-meter run. It's the ultimate test of speed, endurance, power and agility, all of which Hall, a 22-year-old rising superstar from Denver, possesses in spades.
Hall won the heptathlon at the NCAA Championships last year while competing for the University of Florida, then parlayed her vast talents into a bronze medal at last summer's world championships in Eugene. In March, she won U.S. indoor championships in both the open 400-meter dash and the multi-event heptathlon and since then has won an international heptathlon in Austria with a world-leading 6988 points, the fifth-highest score in history. She could very well eclipse that score during the Friday-Saturday competition this weekend. It's not necessary to call her the second coming of American legend Jackie Joyner-Kersee, the two-time world and Olympic champion in the event, because Hall is soaring on her own vector and the sky's the limit.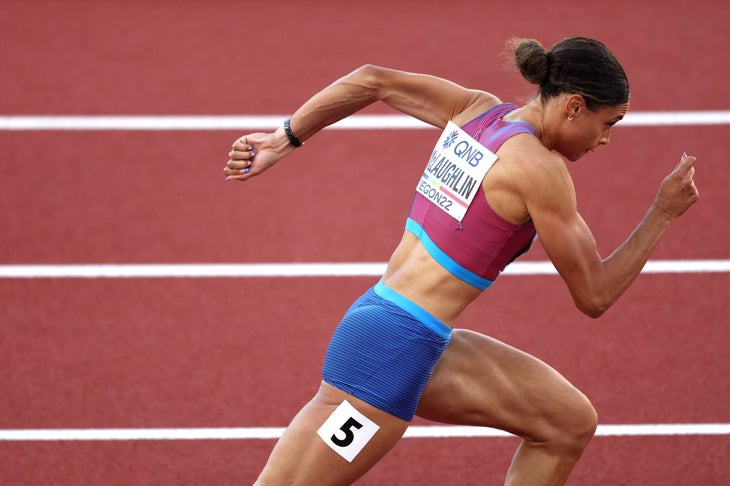 4. Can Sydney McLaughlin-Levrone be the golden girl of the 400?
Sydney McLaughlin-Levrone has been one of the world's best 400-meter hurdlers in the world since she was a teenager back in 2016 and won the event at the Olympics in Tokyo two years ago and last year's world championships in Eugene (in a world record 50.68). Now just 23, she is temporarily stepping away from her primary event. At this weekend's national championships, McLaughlin-Levrone will be running the open 400—one lap around the track sans hurdles—against some of the best sprinters in the U.S. Although she has an automatic bid to the world championships in the 400-meter hurdles, she hasn't run her specialty event at all this year, and there's a good chance she will just focus on going for gold in the open 400 at the world championships—and possibly the 38-year-old world record of 47.60 later this year. McLaughlin-Levrone is ranked fourth in the world in the 400 so far this year with a personal best of 49.51 on June 24 in New York City, but there are plenty of indications that she's capable of running much faster as soon as Saturday evening's U.S. championship final.
RELATED: Sydney McLaughlin-Levrone Breaks the World Record in the 400m
5. Britton Wilson is just getting started.
If it wasn't for McLaughlin-Levrone, Britton Wilson might be one of the headliners of the U.S. championships. The 22-year-old University of Arkansas junior sits atop the U.S. rankings in both the 400-meter dash (49.13) and the 400-meter hurdles (53.23) and could conceivably win (or at least finish among the top three) in either event this weekend and qualify for the world championships, but, like McLaughlin-Levrone, she's opting to run only the open 400. (The 400 is one of the deepest events in the U.S., with 14 runners under 51 seconds so far this year.) Wilson was the top-ranked collegiate runner in each event this spring and attempted the unprecedented feat of trying to win both events at the June 10 NCAA championship meet in Austin, Texas, even though they were only 25 minutes apart. She came up short in her quest—she was second in the 400 and seventh in the 400 hurdles—but she's still one of the brightest young American stars in the sport.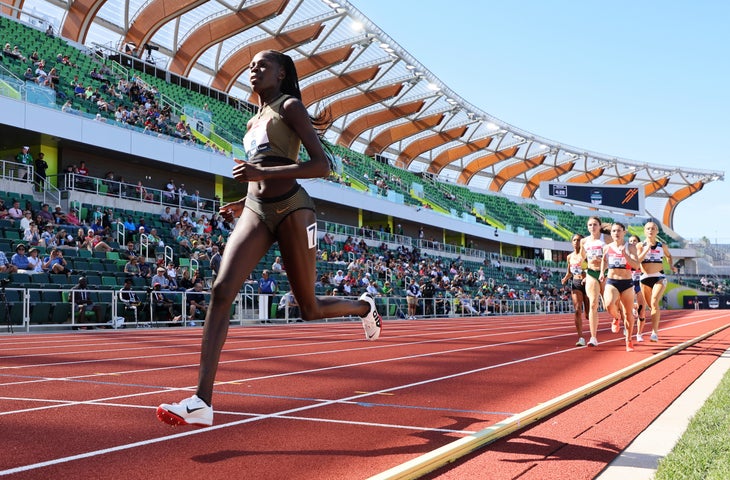 6. How fast can Athing Mu run the 1,500?
As one of the world's best runners in the 400- and 800-meter events, Athing Mu has been nearly unbeatable on the track since 2019—she's finished first in 52 of her past 54 races (including relays)— but he's only raced once since last July's world championships. That was a solid 800-meter win (1:58.73) on June 24 at the USATF NYC Grand Prix in New York City. Because she's the defending world champion in the 800, she has an automatic entry into this year's World Athletics Championships in Budapest, so at this weekend's U.S. championships she's running the 1,500 (aka the metric mile).
The 21-year-old Mu has only run that event once in recent years—a 4:16:06 effort during her only season at Texas A&M in 2021, but she also ran a 4:37.99 mile early during the 2022 indoor season. She should be able to advance to the finals Saturday evening, but finishing on the podium against a deep field that includes Heather MacLean (3:58.76), Elise Cranny (3:59.06), Cory McGee (4:00.61), Sinclair Johnson (4:00.77) and Nikki Hiltz (4:01.42) could be a tall order—unless it winds up being a slower kind of race that will play into Mu's closing sprint speed.
RELATED: Athing Mu Becomes the First American To Win the 800m at the World Championships
7.  The U.S. has elite-level depth in the women's 5,000 and 10,000.
There is more depth in the women's 5,000- and 10,000-meter events than ever before. Alicia Monson is the top-ranked runner in each event (30:03.82, 14:34.88) and could be a contender in both events at the world championships. But Thursday night's 10,000 field also includes experienced runners in Elise Cranny (30:14.66), Karissa Schweizer (30:18.05) and Natosha Rogers (30:48.69), as well as a slough of up-and-comers in Fiona O'Keeffe (30:52.77), Weini Kelati (31:04.16), Ednah Kurgat (31:12.10), Amelia Paladino (31:19.92), Emily Venters (31:48.35) and Vanessa Fraser (31:52.11) so expect so the expect some interesting results among the top five.
Monson, Rogers (14:52.21), Cranny (14:53.20), Kelati (14:53.41) and Schweizer (14:53.41) are also slated to double back in Sunday's even more competitive 5,000 final, where they'll face Josette Andrews (14;43.36), Emily Infeld (14:50.90) and Elly Henes (14:54.20), O'Keefe (15:01.34) and rising young stars Katelyn Tuohy (15:03.12) and Taylor Werner (15:03.13). Depending on who's exceptionally strong or if someone scratches from the 10,000, there should be some late-night fireworks.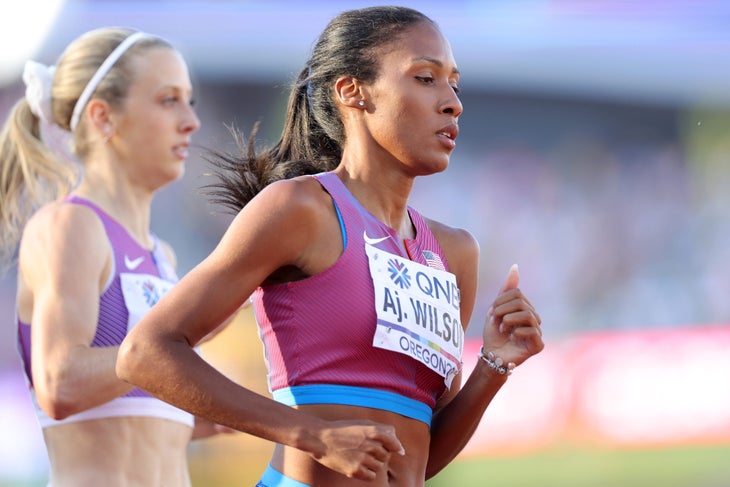 8.  Ajeé Wilson is consistently among the best.
It used to be that breaking 2 minutes in the two-lap 800-meter race was a rare feat, but this year 14 women arrived in Eugene with times of 1:59.80 or faster. Leading the way is 29-year-old Ajeé Wilson (1:57.23), a 12-time U.S. champion who won the world indoor title in the event last year. She's earned eight global medals in her career, but she's aiming to rebound after an eighth-place finish in last year's outdoor world championships. Other top competitors in the field include Sage Hurta-Klecker (1:57.85), Raevyn Rogers (1:57.96), Olivia Baker (1:58.05) and Allie Wilson (1:58.09). Athing Mu, the reigning Olympic and world champion, has an automatic berth to the world championships and is not running that event this weekend, which means the U.S. could wind up with four athletes at the world championships. Getting through two preliminary rounds and racing the final within a three-day span is a tough task, but expect Wilson's speed and experience to shine through in the Sunday evening race.
RELATED: How Olympian Ajeé Wilson Keeps Her Cool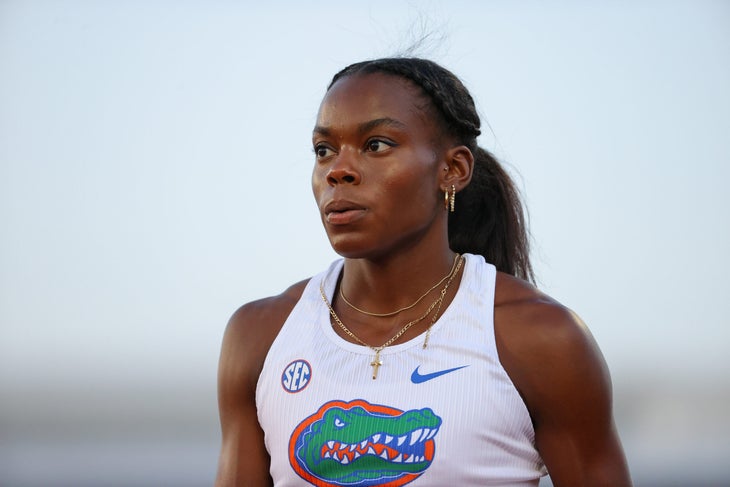 9. Katelyn Tuohy and Jasmine Moore are rising stars.
Katelyn Tuohy, a 21-year-old North Carolina State junior, has earned plenty of headlines during her record-breaking collegiate career, with three national championships on the track and another in cross country during the past two school years. But this weekend could be the start of her ascension to the national elite level. She's entered in the 5,000 at the U.S. championships, and although her 15:03.12 seed time ranks her only 10th (behind nine professional runners), she's shown a gritty competitiveness and will likely find herself among the top five in the finals.
Meanwhile, Jasmine Moore, a 22-year old University of Florida junior, is an elite-level triple jumper and long jumper who last year became the first American woman to qualify for the world championships in both events in Eugene (where she placed 13th in each event). This year, Moore, a 2021 U.S. Olympian in the triple jump, won both events at the indoor NCAA indoor championships and won the triple jump and took third in the long jump outdoors. She entered the USATF championships as the top-ranked triple jumper in the U.S. (48 feet, 6 inches, fourth best in the world)—although defending U.S. champion Suzan Ogunleye is back, too—and the No. 4 long jumper in the country (21 feet, 10 inches, seventh in the world). Moore doesn't have wings, but she'll fly through the air as she attempts to repeat her double world championship berths of a year ago.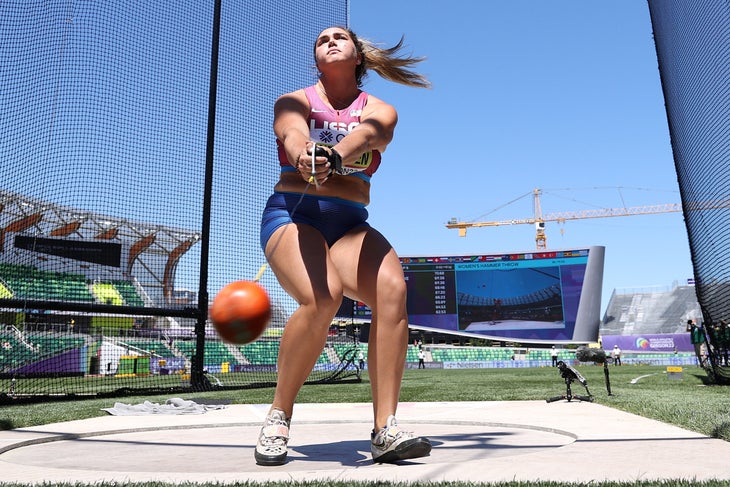 10. American field event athletes are a dominant force.
The field events in track and field never get the attention they deserve, especially when it comes to the strength of the American women's depth in those events. Katie Moon is the world's best pole vaulter so far this year (15 feet, 9 ¾ inches), Brooke Andersen leads the hammer throw performance list (263 feet, ¼ inch), Valarie Allman is the world's top-ranked discus thrower (230 feet, 5 ¾ inches) and shot putters Maggie Ewen (67 feet, 1 inch) and Chase Ealey (65 feet, 9 inches) are ranked 1-2, respectively. Each of those events will showcase the top stars (Moon, Ealey, Allman and Andersen are all world or Olympic champions), but they will also include relentless efforts of rising talents that have matriculated from the U.S. collegiate system.
There is no event in track and field in which the U.S. is more stacked than the women's hammer throw, as six of the world's top nine competitors this year are Americans: Andersen (first), DeAnna Price (third), Janee Kassanavoid (fourth), Ewen (fifth), Annette Nneka Echikunwoke (sixth) and Rachel Tanczos (ninth). The U.S. isn't quite as strong in the high jump or javelin, but Vashti Cunningham, a 2019 world championships bronze medalist, is ranked fourth in the world in the high jump so far this year (6 feet, 5¾ inches) and Maggie Malone-Hardin, the American record-holder in the javelin throw (204-1, No. 13 in the world) has continued to improve and climb the global ranks.