Hasay Wins 5km Plus Updates From Mammoth, Berlin & Emma Coburn's Elk Run
Our weekly round-up of amazing women running: Berlin Marathon, Mammoth Trail Festival, Emma Coburn's Elk Run, USATF Trail Half Marathon and more!
Heading out the door? Read this article on the new Outside+ app available now on iOS devices for members! Download the app.
Although she's been out of the running limelight for a few years, Jordan Hasay had some success with a bit of double-duty racing on September 25 at the Great Pittsburgh Race. The 31-year-old Nike-sponsored runner from San Luis Obispo, California, started her morning by winning the 5km race in 16:55 and then found her way back to the start line for the 10km race that followed. She  placed second in the 10km in 34:58 behind Pittsburgh's Jennifer Bigham, who won the event in 34:36. 
Although her times were well off her career bests, the races were among the first competitive efforts of the year for Hasay. A week earlier she pulled off a similar feat at the Philadelphia Distance Run where she won the 5km (17:32) and then placed 32nd in the half marathon (1:23:20). She previously finished 28th at Maine's Beach to Beacon 10K in August (37:41). 
Hasay is No. 4 on the all-time U.S. marathon list with her third-place 2:20:57 PR effort at Chicago in 2017, but hasn't run a competitive marathon since she finished third at the 2019 Boston Marathon in 2:25:20. She placed 33rd at Boston last fall (2:41:43) and placed 10th at the Pittsburgh Half Marathon (1:18:35) in May.
Sullivan a double-winner at the new Mammoth Trail Festival
Emkay Sullivan was one of the stars of the new Mammoth Trail Festival held over the weekend in Mammoth Lakes, California. The 28-year-old Craft-sponsored runner from Reno, Nevada, won both the McCoy 26km race and the Dragon's Back Ascent uphill race. On Friday, Sullivan won the 26km race—a 16.5-mile route with 3,500 feet of elevation gain—in 2:29:04 as she finished seventh overall. She was also the top women's finisher and sixth overall (40:25) in the Dragon's Back Ascent, a 2.75-mile race with 2,400 feet of vertical gain to the summit of California's highest ski resort. Klaire Rhodes of Anchorage, Alaska, was the women's winner of the 50km race. She covered the grueling 31.5-mile route with 7,000 feet of climbing in 5:21:19 to win by 20 minutes over runner-up Jenny Quilty (5:41:18).
Brinkman continues trail dominance at Flagstaff Sky Peaks 26km
Dutch runner Nienke Brinkman completed her weeklong domination of top American trail running races on September 25th by winning the Flagstaff Sky Peaks Quad Bomber 26km race in Flagstaff, Arizona, the final stop of the Golden Trail World Series circuit. A week after winning the Pikes Peak Ascent in Colorado, the 28-year-old runner outran top American challengers Sophi Laukli and Allie McLaughlin on a course that included massive climbs and descents on the slopes of Arizona Snowbowl ski resort. 
Brinkman, who was born in Indonesia but raised in the Netherlands, won the race in 2:11:43 and earned $3,000 for her efforts. Earlier this year, she set a new Dutch national marathon record of 2:22.51 and then on August 15 earned the bronze medal (2:28.52) in the marathon at the European Championships in Munich. Laukli, a 22-year-old U.S. ski team Nordic ski racer from Salt Lake City, placed second in 2:12:56, while McLaughlin, 31, of Colorado Springs, was third in 2:14:05. The top finishers also earned a chance to participate in the Golden Trails World Series Final at the Madeira Ocean & Trails 5-Day Stage Race in October.
View this post on Instagram
D'Amato finishes 6th in Berlin Marathon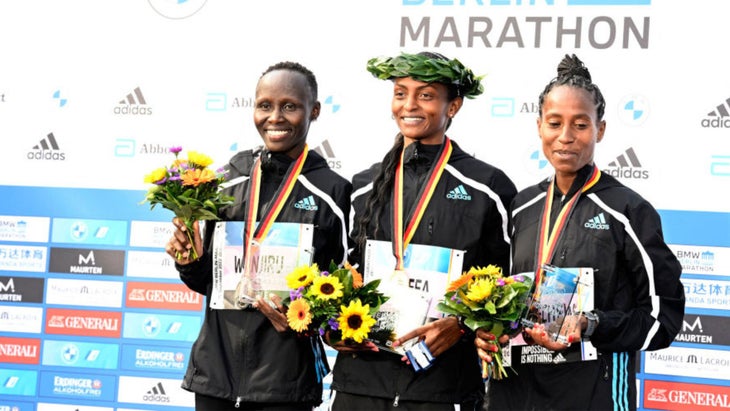 Keira D'Amato put herself in position to break her American marathon record early Sunday morning at the Berlin Marathon, but she experienced some mid-race cramps and couldn't maintain the hot pace over the second half of the race and wound up running the second-fastest time of her career. The 37-year-old mother of two from Virginia, gave it a valiant effort, but she ultimately had to settle for a sixth-place, 2:21:48 showing in the wake of Ethiopia's Tigist Assefa's surprise victory in 2:15:37. 
Running her own race and averaging between 5:16-5:17 per mile, D'Amato was ahead of the pace she ran at the Houston Marathon last January, when she ran 2:19:12 to break Deena Kastor's U.S. mark of 2:19:37 that had been on the books since 2006. Although she was 76 seconds off the lead and in 13th place at the halfway mark, D'Amato's 1:09:27 split about what she would have needed to be able to dip under 2:19. But she fell slightly off that pace over the second half of the race and could only manage a 1:12:21 split (5:31 pace) over the second half. D'Amato said she felt some cramping coming on that forced her to slow down and briefly walk near the 21-mile mark. 
Three other U.S. women finished in the top 30 in Berlin — Andrea Pomaranski (23rd, 2:33:10), Kaitlyn Peale (25th, 2:35:40) and Erin Gregoire (27th, 2:36:21). The women's masters competition was also noteworthy as Canadian runner Natasha Wodak, 40, was the top finisher in 2:23:12, followed by Australia's Lisa Weightman, who ran a personal best of 2:24:00 at age 43. 
Scott wins Emma Coburn's Elk Run
U.S. track star Emma Coburn hosted her annual Elk Run 5K in her hometown of Crested Butte, Colorado, and the parade of top finishers was a who's who of many of her Team Boss training group. Two-time South African Olympian Dominique Scott won the race in 17:29.6, follow by Gabbi Jennings (2nd, 17:41.2), Aisha Praught Leer (3rd, 17:42.3), Maddie Alm (4th, 17:43.8), Shari Eberhard (5th, 17:45.8). 
In the high school race, Katelyn Maley of Basalt High School was the winner in 18:43. She outran Madelyn Stice of Gunnison High School (18:55) and Basalt teammate Ava Lane (19:03) for the individual title. Heritage High School won the team title with 43 points after placing four runners among the top 20, including fourth-place finisher Linda Weigang (19:07.8)
Coburn started the race as a fundraiser for the Living Journeys cancer support center. Of the 658 runners at this year's race, 402 were women.
Dalton wins USATF Trail Half Marathon
Anna Dalton won the USATF Half Marathon Trail Running Championships on September 24 in Cable, Wisconsin.The race was held on the singletrack trail system that also hosts the American Birkebeiner ski races amid an array of colorful leaves. A consistent rain the night before the race made for slick and muddy conditions, but that didn't seem to slow down Dalton. The 33-year-old runner from Anchorage, Alaska, covered the course in 1:30:17. "I loved the course," she said. "I think my favorite part was the single-track sections. It's just beautiful in there." Megan Lacy, 28, Boise, Idaho (2nd, 1:32:34) and Kristen Monahan, 34, Houghton, Minnesota (3rd, 1:42:35) rounded out the podium, while Mary Bolich, 59, Milwaukee, Wisconsin, (5th, 2:06:13) was the top finisher in the women's masters division.
Cook leads Oklahoma State to victory
Running in the first collegiate race of her career, Oklahoma State's Natalie Cook won the individual title and helped the Cowgirls win the team title at the 2022 Cowboy Jamboree on September 24 in Stillwater, Oklahoma. The meet was one of the first big races for many of the top NCAA Division I teams.

Cook, a true freshman from Flower Mound, Texas, won the 6km race in 20:17.1, the sixth-fastest time in course history. Senior teammate Taylor Roe, last year's individual champion, finished second in 20:20.8 just ahead of Utah Valley's Everlyn Kemboi (20:22.2) as third-ranked Oklahoma State won the meet with 69 points and a 19-point margin over No. 22-ranked Northern Arizona. Two other Cowgirls finished in the top-15 as Dave Smith's squad defended its home turf in the most competitive meet of the season so far. The Lumberjacks put two in the top-6—Elise Stearns (fifth, 20:29.5) and Annika Reiss (sixth, 20:32.5)—and upended five top-10 teams in the final standings. No. 7 BYU finished third with 111 points, followed by No. 3 Colorado (155) and No. 5 Stanford (171) in fourth and fifth, respectively.
Upcoming
Marathon season continues with the London Marathon on October 2 and the Chicago Marathon on October 9. World marathon record-holder Brigid Kosgei (2:14:04, 2018 in Chicago) and defending London Marathon champion Joycelline Jepkosgei headline a deep women's field in London that includes nine runners with sub-2:20 personal bests. Kosgei is a two-time London champion and the silver medalist in the marathon at last year's Tokyo Olympics. The only American runner in the elite field is Oregon's Marci Klimek (2:30:48), who runs for Cascadia Elite. She was sixth at the California International Marathon last fall (2:30:48). You can watch the race via livestream beginning at 3:30 a.m. ET on Sunday morning.
Kenyans Ruth Chepngetich (2:17:08), Celestine Chepchirchir (2:20:10) and Vivian Kiplagat (2:20:18) are the fastest seeded runners in the women's elite field at the Chicago Marathon. But several American runners in the field should be contenders, too, including Emily Sisson (2:23:08), Laura Thweatt (2:25:38), Sarah Sellers (2:25:43) and Sara Vaughn (2:26:53). The livestream broadcast for Chicago begins at 8 a.m. ET on October 9.