Emily Sisson Lowers American Marathon Record to 2:18:29 in Chicago
It was great day out in Chicago for Emily Sisson, breaking the American record, with winner Kenya's Chepngetich narrowly missing the women's world record.
Heading out the door? Read this article on the new Outside+ app available now on iOS devices for members! Download the app.
Ruth Chepngetich and Emily Sisson were on a mission when they arrived in Chicago.
Both world-class runners had lofty goals for the Chicago Marathon and each one went out hard in pursuit of their goals.
For Chepngetich, the 2019 world champion from Kenya, the objective was to repeat her title from a year ago and chase after Brigid Kosgei's 2:14:04 world record set on the same course three years ago. Meanwhile, Sisson, the American record-holder in the half marathon from Flagstaff, Arizona, had her sights set on Keira D'Amato's America record in the marathon.
Chepngetich, 28, successfully defended her Chicago Marathon title with a bold and impressive effort running alone off the front, but she came up just short of the world record. However, her blistering 2:14:18 —that's 5:08 per mile for 26.2 miles—is the second-fastest women's time in history.
Sisson, 30, accomplished her goal with a superb 2:18:29, second-place effort that chopped 43 seconds off the U.S. mark that D'Amato set last January at the Houston Marathon. The New Balance-sponsored runner ran a smart, controlled race, averaging 5:17 per mile and running a slightly faster split (1:09:23) over the second half of the race as she ran away from a talented chase pack.
Sisson's time puts her at No. 22 on the all-time women's list, but it's only the 13th fastest time in the world this year.
"I'm so happy," Sisson said after the race, when she was joined by D'Amato and previous American record-holders Deena Kastor and Joan Benoit-Samuelson. "It's amazing. The women standing here today, they've all accomplished so much. To be among them is an incredible honor."
Sisson ran a strong marathon in her debut in London in 2019 (2:23:08) and hoped to make the 2020 U.S. Olympic team. But she had an off day on the hilly course at the U.S. Olympic Trials Marathon in Atlanta in February 2020 and dropped out before the finish. She later turned her attention to the 10,000 and finished 10th in that event at the Tokyo Olympics last summer.
Sisson broke the American record in the half marathon in May, clocking a 1:07:11 to take 4 seconds off Sara Hall's 1:07:15 mark set in January.
RELATED: Emily Sisson Breaks Sets A New American Half Marathon Record In Indianapolis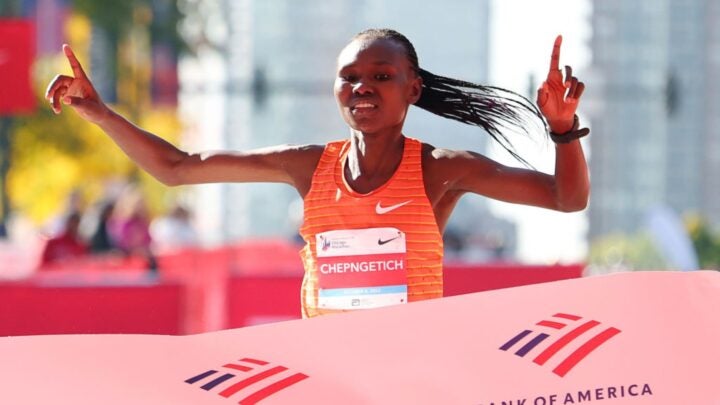 A Perfect Day In October
On a day that the weather gods delivered pristine running conditions, with temperatures in the high 40s and low humidity, Chepngetich took the race out hot behind her pacer with several sub-5-minute miles. Early on in the race, she was running 2:07 marathon pace, approximately 7 minutes under world record pace and 10 minutes under her PR of 2:17:08. She was well out in front as she came through the 5k in 15:11 and the 10k in 30:40.
The chase pack of five women—including Ethiopia's Haven Hailu Desse, Ruti Aga and Waganesh Mekasha Amare, Kenya's Vivian Jerono Kiplagat and Romania's Delvine Meringor, initially—was out in front of Sisson by about 30 seconds at the 5k (15:56) and 10k (32:35).
Eventually, with her more even splits and controlled pace, Sisson joined the chase pack around the 15k mark and the group of six reached the halfway point in 1:09:26, well under the American record pace.
"We are seeing magic happen right now," D'Amato said commentating on the race for the livestream broadcast by NBC's Chicago affiliate while riding on a pace motorcycle in front of Sisson.
Around the 25k mark, the chase pack of six, including Sisson, slimmed to three as Amare and Meringor fell off the pace and Desse dropped out of the race.
With her two male pacers Brian Harvey and Jonny Mellor alongside her, Sisson moved into a solo second around the 35k mark with Kiglagat falling back about 10 seconds and Aga about 30 seconds. Sisson only gained momentum from there, and although grimacing a bit in the final stages of the race, she looked so strong and powerful as she climbed the Roosevelt Road bridge, turned left and sprinted down Columbus Drive to the finish
By The Numbers
It was a tale of two very different racing styles from the top two women; Chepngetich's 5k splits slowed by almost 90 seconds from her first to her last  (15:11, 15:29, 15:39, 15:51, 15:53, 15:58, 16:24, 16:37) while Sisson executed very even and a few slightly faster 5ks as the race unfolded (16:23, 16:31, 16:23, 16:32, 16:20, 16:28, 16:33, 16:18), with her fastest 5k being her last.
Chepngetich was still on sub-2:12 pace when she came through the halfway point (1:05:44) and continued to surge through the 30k (18-mile) mark. Although she was fading over the final 10k, Chepngetich was able to claim the victory, besting her PR by almost three minutes.
In a post race interview she said she was happy with her result even though she missed the world record by a painfully close margin.
"I wanted to break the world record, but I missed by some seconds," she said.  She continued: "Next year, I'm ready to come back again."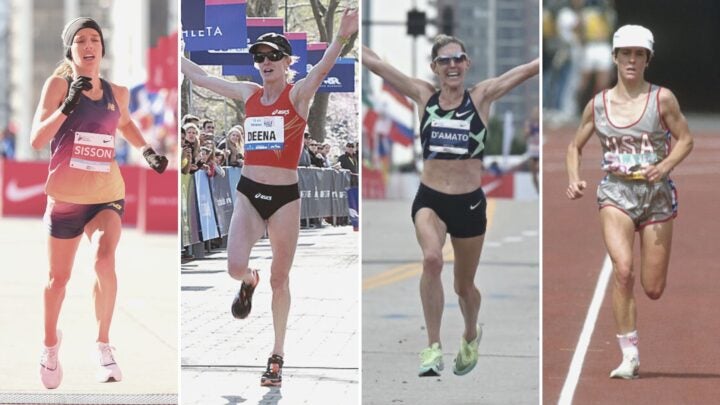 American Record
Sisson was elated at the finish and was joined by Joan Benoit Samuelson, Deena Kastor, Keira D'Amato, showing the generations of American record holders.
In reaction to Sisson's new American record, D'Amato said, "I was pretty emotional and just feeling… really proud of Emily today and just being part of that legacy to keep moving that bar forward for American women."
Kastor, a bronze medalist in the marathon at the 2004 Olympics, lowered her own American record to 2:19:36 at the 2006 London Marathon. That mark remained until D'Amato ran 2:19:12 in Houston earlier this year.
"Just when I thought I couldn't handle more excitement, here comes a new American record," Kastor said.
Joan Benoit Samuelson, the 1984 Olympic marathon champion, broke the American record at the 1985 Chicago Marathon with a 2:21:21 effort. That record stood until 2003, when Kastor broke it the first time in London with a 2:21:16.
"I am just delighted to be a part of this contingent," said Benoit Samuelson, who ran a 3:20:20 a week earlier at the London Marathon at the age of 65. "It is these women who keep me in the game. I gain inspiration from them everyday."
Kiplagat rounded out the podium with a time of 2:20:52, only 34 seconds off her PR. Aga Sora was next at 2:21:41 and Mekasha Amare held on for fifth in 2:23:41.
Chicago Marathon Notables
Americans Susanna Sullivan (sixth, 2:25:14) and Sara Vaughn (seventh, 2:26:33) both ran new PR's to finish as the second and third Americans, respectively. Sullivan, 31, is an unsponsored runner who works full-time as a teacher in Reston, Virginia. Vaughn is sponsored by Puma, but she's also a mother of four who works full-time as a realtor in Boulder, Colorado.
Maggie Montoya was eighth overall and the fourth American on the day with a PR of 2:28:07 and Makena Morley finished 10th overall in her marathon debut in 2:30:28 as the fifth U.S. runner.
Susannah Scaroni of Champaign, Illinois, won the women's wheelchair division in 1:45:48. After several second and third place finishes, she claimed her first World Major Marathon win.
"It is such an honor. I have been racing here since 2011 and been around legendary wheelchair races and learned from them," Scranoi said.
After being hit by a car while training last year, Scaroni sustained a burst fracture of her T8 vertebrae and wasn't able to train in her chair again until mid-January this year.
"It truly gave me a new perspective," Scaroni said post-race. "I have a new appreciation to be alive. I think about that constantly. Everything is a celebration and an opportunity."
Scaroni who claims she "loves hills," will compete at the New York City Marathon next on November 6.