Diana Kipyokei Wins the 2021 Boston Marathon
Nell Rojas placed sixth on Monday, America's top finisher in a competitive international field.
Photo: Maddie Meyer/Getty Images
Heading out the door? Read this article on the new Outside+ app available now on iOS devices for members! Download the app.
Diana Kipyokei, 27, of Kenya decided it was time to go at mile 18 on Monday at the 2021 Boston Marathon, so she put in a decisive surge to take the lead of the 125th edition of the race. The move paid off for her first win at a World Marathon Major, in 2:24:45.
The race for second and third remained undecided until the final two miles. Edna Kiplagat, 41, of Kenya, who won the 2017 Boston Marathon, moved from fifth to second, finishing in the runner-up position in 2:25:09. Mary Ngugi was third in 2:25:20, to complete the Kenyan sweep.
The Boston Marathon champion takes home $150,000, while Kiplagat earns $75,000, and third-place Ngugi wins $40,000.
Kipyokei said during the press conference she didn't feel assured of the win until she crossed the finish line, but when she noticed the group slowing down at mile 18, she figured she'd test herself.
"You know, I said (to myself) 'the body was good' and then I said 'let me try and push,'" she told WBZ TV. "The course was not easy, it was steep in the hills, but I did it."
Kipyokei, whose biggest victory prior to Monday was the 2020 Istanbul Marathon (2:22:06), was challenged through the Newton Hills by Netsanet Gudeta of Ethiopia, until about mile 24. Ultimately Gudeta faded to fifth place, finishing in 2:26:09, behind Monicah Ngige, also of Ethiopia, who ran 2:25:32 for fourth.
Kiplagat, who was second in Boston in 2019 and is a two-time world champion in the marathon, turns 42 in November, but has no intention yet of retiring. She's a mother to five children and is based in Boulder, Colorado.
"I think I will try to stay in the sport for more years to come," Kiplagat said on Monday. "The sport has been a passion, and this is something which has given me to stay healthy. And I'm grateful because I'm still doing very well. And so, even though maybe after some year I won't be as competitive, I want to stay in the sport so that I can still motivate the younger ones."
RELATED: Edna Kiplagat Keeps Going
A pack of about 14 women led the race at a slower pace through 18 miles, facing a bit of a headwind and some humid conditions. Nell Rojas, who was the top American finisher in sixth place with a personal best 2:27:12, said her first crack at a major marathon was a big learning experience.
"They wouldn't lead. They wanted me to lead," Rojas said. "I was like, 'Alright, you know what? I'm a big girl. Try to lead here.' And then at about 17 miles…they went. I think of myself as a good hill runner, but I was like, 'I'm going to try to go,' but I just couldn't do it. It was interesting. The downhills were brutal; the uphills were brutal."
Nonetheless, Rojas, 33, has put in a breakthrough season in her buildup to the Boston Marathon, winning her first U.S. championship in September at the Cherry Blossom 10 Miler, where she out-kicked Jenny Simpson for the title. Rojas remains an unsponsored athlete, but she said on Monday she's hoping that her performances change that and she believes she has faster marathons ahead of her.
RELATED: Nell Rojas's Strength Routine
"I've been talking to some agents. Hopefully this means that I can get some sort of sponsorship and be able to focus on running a little bit more," she said. "I think I have 10 more years left in me. I'm new to marathons, so I think I have fresh marathon legs. Hopefully I can get a sponsor and be a professional runner."
Desiree Linden, who won the 2018 Boston Marathon, finished 17th in 2:35:25, which was admittedly not the performance she had in mind. She's scheduled to also compete on November 7, at the New York City Marathon.
"It was really hard. I hemmed and hawed about whether I was ready to come here, but it's been such a great experience for me and I've said that at Boston they've loved me at my absolute best and today was probably my worst and they still loved me," Linden said on the NBC broadcast. "The city embraces this race, they embrace the runners and it was just good to be back and feel like we're back in the swing of things."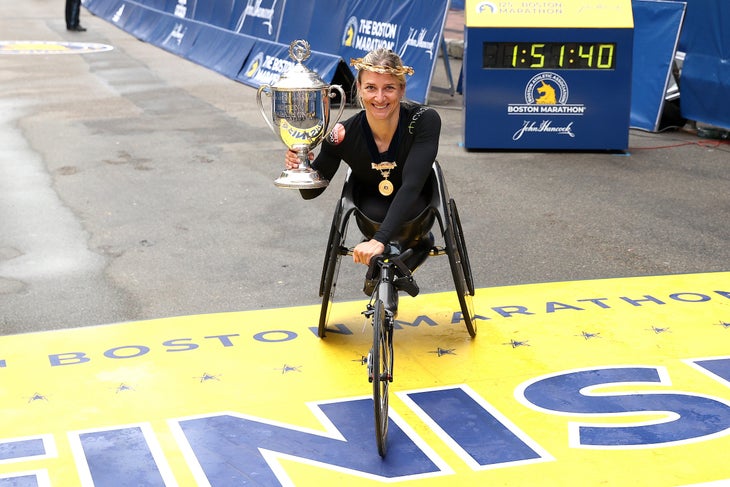 In the women's wheelchair division, Manuela Schär of Switzerland took the win; Tatyana McFadden, who won the Chicago Marathon just 24 hours before starting the race in Boston, took second. She is racing all six World Marathon Major events in the seven-week window this fall.
"The crowd was really great support because mile 20 was my cutoff. My back started to hurt, my arms started to really fatigue, and then my face got really white," McFadden said after the race, adding, "I really did feel Boston strong today, to be the only elite woman to come out and to do all of these is insane, but I'm up for the challenge. I know I can do it and still be on the podium, which is really quite amazing. I've surprised myself."
Shalane Flanagan, 40, who retired from professional running in 2019, has also continued her quest to complete all six of the major marathons this fall. She ran Chicago on Sunday, finishing in 2:46:39 and crossed the line on Boylston Street on Monday in 2:40:34. Prior to this weekend, Flanagan finished the Berlin Marathon on September 26 in 2:38:32 and the London Marathon on October 3 in 2:35:04.
RELATED: Shalane Flanagan's New Goal to Run Six Marathons in Seven Weeks
Boston traditionally takes place on the third Monday in April, Patriots Day, but was rescheduled for October due to the pandemic. The Boston Athletic Association adhered to several COVID-19 mitigation policies, including testing and proof of vaccination.