Courtney Dauwalter Sets Back-to-Back Course Records at 2023 Hardrock and Western States
Aurelien Dunand Pallaz led the men's field from early on for a win while Dauwalter battled from second place to surge for the win and course record.
Heading out the door? Read this article on the new Outside+ app available now on iOS devices for members! Download the app.
This weekend marked the 2023 edition of the Hardrock 100 in Colorado's San Juan mountains, with deep snow and soaring temps to keep things interesting in the alpine. 
With 102.5 "rough and wild" miles to complete in the course's counter-clockwise direction, which is considered by many to be the more difficult direction because of the tough ascent of Handies Peak (the hard side!) around mile 32. Courtney Dauwalter, fresh off a record-setting win at the Western States 100 on June 24, made it look surprisingly easy.
In her third go at Hardrock, after a DNF in 2021 and win (and course record, clockwise/overall) in 2022, Dauwalter again raised the bar for women's endurance running with a 26:14:08 clocking and fourth-place overall finish. (well below Diana Finkel's 2009 CR of 27:18:24), making her owner of both the counter-clockwise and clockwise records and shattering her own overall course record set in 2022 (26:44:36). 
RELATED: The Enduring Allure of the Hardrock 100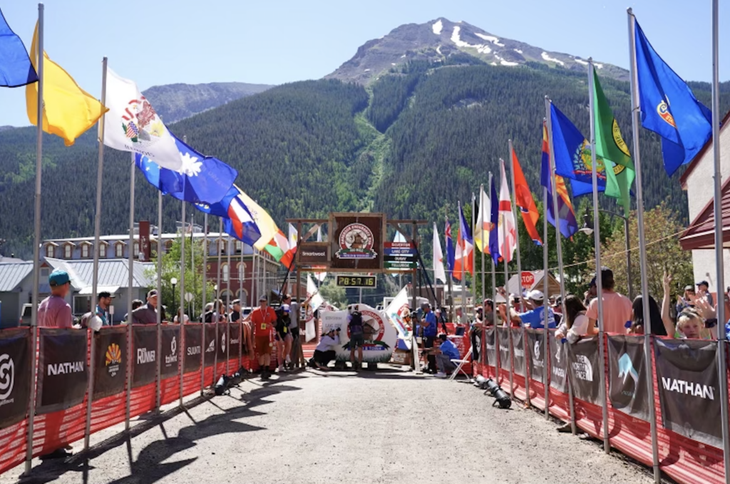 Not only did the 38-year-old Leadville, Colorado, runner complete the infamous Western States-Hardrock Double (with two 100-mile races just weeks apart) but she won and set course records at both, something no other athlete has ever done. (The only other athlete to hold both CRs simultaneously was Scott Jurek, who set a Western States course record in 2004 and still held it when he won Hardrock in 2007). Dauwalter's cumulative time for both events was 41:43:42. The previous record for the double was held by Jeff Browning, (who finished fifth in the men's field in 2023) with a time of 42:12:43.
Dauwalter battled with French Athlete Anne-Lise Rousset Seguret, leap-frogging through the Ouray Aid station (mile 58), where both athletes left within a minute of each other on Saturday evening, before Dauwalter reclaimed a demanding lead in the night, with a blazing fast descent into Telluride (mile 74) that would establish a gap that Dauwalter maintained throughout the race. Dauwalter did not have an easy day, battling the heat and residual fatigue of Western States in her legs, but was able to make up time on the back half of the course, despite historically snowy conditions. Dauwalter was emotional as she embraced her crew, and knelt to kiss the rock that signifies a finish. 
RELATED:Hardrock Almost Didn't Happen This Year: Here's How the Course Director Pulled It Off
Rousset Seguret finished in second in a time of 27:29:55, with the fifth-fastest women's time in history. Annie Hughes, another Leadville-based runner, rounded out the women's podium with a time of 32:13:03. Hughes, who struggled with breathing problems throughout the night, but was able to pace a consistent race, said at the finish "That was really hard. That nearly killed me."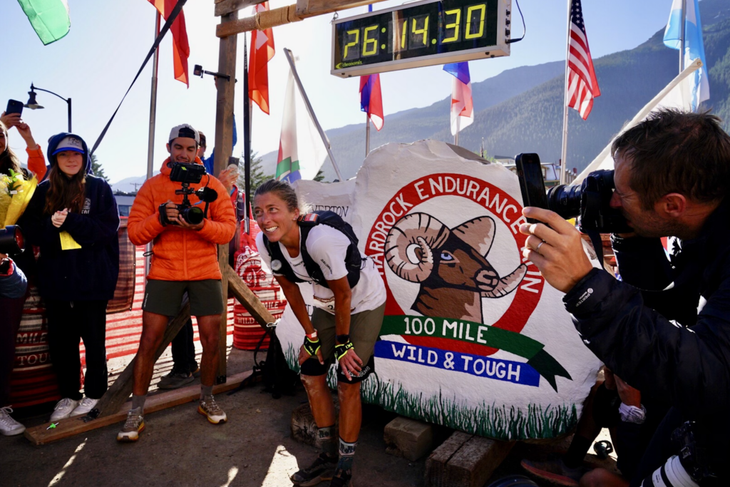 In an Instagram post, Hughes said, "I know I can come across as all 'sunshine and smiles' but I spent a better portion of this race in a dark place, and was grateful to be able to finish third female."
Japan's Kimino Myazaki finished in fourth in a time of 34:17:16 while France's Claire Bannwarth was fifth in 34:51:48. 
RELATED: Courtney Dauwalter Returns to Hardrock, Just Three Weeks After Western States Record
Zoë Rom is Editor In Chief of Trail Runner magazine and Managing Editor of Women's Running.
When she's not running, she's writing or reading. You can catch her doing stand-up and improv in the Roaring Fork Valley with Consensual Improv. Southern story-teller turned mountain-dweller, she starts every day with a cup of strong coffee and a good story. Her work has appeared on NPR's Marketplace, Morning Edition and in REI Co-op Journal, Discover, Rock & Ice, Trail Runner, Backpacker, and Threshold Podcast.
She is co-author of the forthcoming book, Becoming a Sustainable Runner with Tina Muir.