Americans Led By Emma Bates at the 2023 Boston Marathon
The top three finishers from the U.S. all set substantial personal bests.
Heading out the door? Read this article on the new Outside+ app available now on iOS devices for members! Download the app.
Three days before the 2023 Boston Marathon, Emma Bates proclaimed she was in American-record shape and that her training on the rolling terrain of Boulder, Colorado, had prepared her to contend for the win.
She didn't break the tape, but came close, leading the race several times before falling off the group of four other runners around mile 24, in what was touted as the deepest women's field in the 127-year history of the race. She placed fifth in 2:22:10, taking 68 seconds off her previous best set at the 2022 World Championships marathon. It was a solid indication that she could take a shot at Emily Sisson's current American mark, 2:18:22, on a flatter, record-eligible course. 
"Being at this level, not only top American but top of the Boston Marathon is something that I'm going to hold close to my heart for a long time," Bates said.
Hellen Obiri, 33, of Kenya, won on Monday, finishing in 2:21:38, followed by Amane Beriso of Ethiopia (2:21:50), and Lonah Salpeter of Israel in third (2:21:57).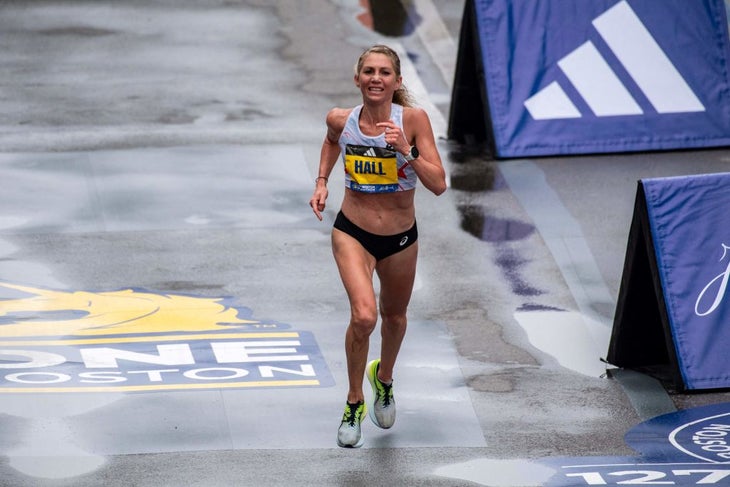 RELATED: Emma Bates: "For Me to Run My Best I Have to be Happy"
Bates, 30, was the lone American to stay with the leaders after the group of 30 splintered following the 10K mark—and she remained with the top pack until late in the race. She was hoping somebody might have a Modelo beer waiting for her at the finish line, but nonetheless was pleased with her results, saying it was a strong indication that she can possibly give the U.S. record a try in the fall, before the U.S. Olympic Marathon Trials in February 2024. 
"I was blowing kisses to my friends at mile six," Bates said, adding that she was often buoyed by the enthusiastic crowds who always show up in Boston. 
Joe Bosshard, who coaches Bates and Scott Fauble, the top American man (seventh in 2:09:44) on Monday, said, "It's not about the coach, it's about the runners," he said. "To perform on the same day, on the same course at a high level, I thought that was kind of cool. I'm going to be pretty happy with this one."
Bosshard said Bates executed the race plan well. Although he'd rather she tuck into the group more often instead of racing at the front, he also realizes that Bates runs in the position she's most comfortable.
RELATED: Helen Obiri Wins the 2023 Boston Marathon
"She was in it from the beginning, controlled a lot of the race, she ran the way that she wanted to run—she likes to train by herself and she likes to run by herself," Bosshard said. "I saw her at the top of Heartbreak. She shrugged, she kind of laughed and smiled—I yelled at her, 'Let your legs run,' and off they went for the last five miles."
Aliphine Tuliamuk, the reigning U.S. Olympic Trials champion, was 11th, in a personal record, 2:24:37 (bettering her 2:26:18, set at the 2022 New York City Marathon). Nell Rojas, who has twice been the top U.S. woman in Boston, was 14th in 2:24:51, which was also a personal record by more than a minute. Sara Hall finished 17th in 2:25:48, followed by 2018 Boston Marathon champion Des Linden in 18th (2:27:18). Erika Kemp, in her marathon debut, finished in 2:33:57, making her the fastest American-born Black woman in history.
Tuliamuk questioned whether she should have gone with the surge at mile seven, but quickly realized that the pace was too much—miles seven, eight, and nine were the quickest in 5:08, 5:10, and 5:09.
"I think you can't be too disappointed in a PR, but I wanted more than just a PR," Tuliamuk said. "I really wanted to see if I could compete with some of the best in the world and I feel like I did not put myself in a place where I could have done that. But when I hear, '5:08,' there's no way I could have done that."
Hall, who turned 40 on Saturday, was pleased with her race, especially following a long IT-band injury that has taken her out of marathon racing since placing fifth at the 2022 World Championships marathon last summer. She wasn't sure what to expect out of herself in Boston, but she said she smiled a lot and enjoyed the race. 
"I'm actually really happy with that race, until I heard I was 17th, and then the competitor in me doesn't like that at all," Hall said. "To run 2:25, especially running a lot of the race alone, that's a really good, best-case scenario."
Linden described her race as a "solid day," saying that after the 2022 New York City Marathon she had been disappointed with her result (15th in 2:32:37), her goal on Monday was "just to get a good one on the board." She was encouraged, she said.
"I wasn't really willing to take too many big risks," she said. "It was just too rich for me. I didn't feel like I was slowing down—it was just that the front got real hot."
Linden said after a short break, she'll resume her book tour for her memoir, Choosing to Run, which landed fourth on the New York Times best-seller list last week. On Monday, though, she was happy to see the American results and what they mean for the sport.
"It's super exciting and encouraging," Linden said. "Emma Bates being up there, knocking heads for a long time, that's what we need to be doing,"