Americans Hall, Bates, D'Amato Shine in World Championships Marathon
A team effort pushed the Americans to three top-eight finishes.
Photo: Hannah Peters/Getty Images for World Athletics
Heading out the door? Read this article on the new Outside+ app available now on iOS devices for members! Download the app.
Sara Hall said she's never enjoyed such a hard race before.
Not only did the 39-year-old American runner run one of the best races of her career and finish fifth in the World Athletics Championships marathon in Eugene, Oregon, but she also could hear her husband, Ryan, and their four daughters cheer from the sidelines during the three-lap course.
"It was fun," said Hall about seeing her kids."I was able to give them high-fives. I had a lot of fun out there. I think that this was, like, the most fun I've ever had in a marathon."
Running in front of a supportive home crowd amid clear skis and cool mid-50s temperatures, Hall and U.S. teammates Emma Bates and Keira D'Amato smartly hung back in the chase back for the first half of the race as a lead pack of eight women went out at a blazing fast pace. The lead group included three Kenyans (Ruth Chepngetich, Judith Korir, and Angela Tanui), all three Ethiopians (Gotytom Gebreslase, Ashete Bekere, and Ababel Yeshaneh), Israel's Lonah Salpeter, and Eritrean Nazret Weldu.
Led by Chepngetich, the defending world champion from 2019 and pre-race favorite, the lead pack hit the 5K mark in 16:10, on pace for a 2:16:26 finish. D'Amato (37, Richmond, Virginia,), who originally had gone out a bit harder only to get stuck in between the first two packs, eventually settled in with the chase pack alongside Hall, Bates, and British runner Jess Piasecki, Uganda's Immaculate Chemutai and Mexico's Risper Gesabwa and Citlali Moscote.
The lead group stayed together through the 15K mark (49:29) and continued at a blistering pace, with Hall, Bates, Piasecki, Chemutai, and D'Amato about 22 seconds behind. But then Chepngetich suddenly stopped running just before the 18K point and never returned to the course. Tanui, Korir, Gebreslase and Yeshaneh surged ahead, dropping Bekere, Weldu and Salpeter. Yeshaneh led the group through the halfway point in a quick 1:08:49 split, with Korir and Gebreslase following right after.
From there, Yeshaneh soon faded and Korir, the Kenyan, and Gebreslase, the Ethiopian, battled stride for stride. Korir did the bulk of the work, leading Gebreslase, who tagged along until the 41K mark, when she took the lead and kept it over the final 1.5 miles of the race.
By winning the women's world title in a championship record of 2:18:11, Gebreslase matched the spectacular effort of her countryman Tamirat Tola, who won the men's marathon 24 hours earlier in a new championship record time. Gebreslase's effort bettered Paula Radcliffe's mark of 2:20:57 set at the 2005 championships in Helsinki.
RELATED: Gotytom Gebreslase is the Fastest Runner You've Never Heard Of
Korir sprinted hard to the finish second in a new personal best of 2:18:20, while Salpeter took third in 2:20:18 a year after she had dropped out of bronze medal contention at the Olympics marathon because of cramps.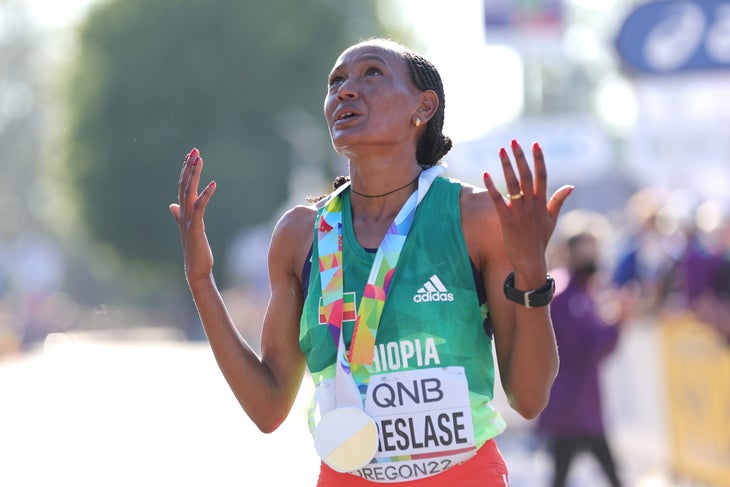 Meanwhile, back in the chase pack, the conservative strategy was working for the American trio as they began to work their way up as some of the runners in the original lead back began to blow up. Hall was the first to go, putting a gap on Bates, Piasecki, and D'Amato.
Hall, who splits time between Crested Butte, Colorado, and Flagstaff, Arizona, was the best of the bunch, surging throughout the second half of the race to move up from 9th place (after several runners dropped ahead of her) to place fifth in a season-best 2:22:10.
Hall passed Tanui (6th, 2:22:15) in the final mile but ran out of room in her pursuit of fourth-place finisher Weldu (2:20:29). Hall's finish was the best showing by an American woman in the world championships marathon since Amy Cragg earned the bronze in 2017 in London.
Hall used a similar come-from-the-chase-pack strategy at the 2020 London Marathon, where she moved all the way up to second.
"I really drew on my experience from the London Marathon where, you know, I went out with the leaders, but then could tell when it was too fast," Hall said. "So, I was checking our splits and we were running plenty fast out there. I didn't want to run faster than that."
The 29-year-old Bates (from Boulder, Colorado) followed a similar strategy and wasn't far behind in seventh in a new personal best of 2:23:18. D'Amato (Richmond, Virginia), the American record-holder who was just added to the team as a substitute for Molly Seidel two weeks ago, ran a strong second half to finish eighth in 2:23:34.
"I definitely was humbled by this," said the 37-year-old D'Amato, who revived her career in her mid-30s after taking time off for her career in real estate and to start a family. "I think the short marathon build is not the way to go. I really think that I could have used another month or two to build up with the long runs. I think that last lap when it was time to dig just had a really hard time locking-in and digging."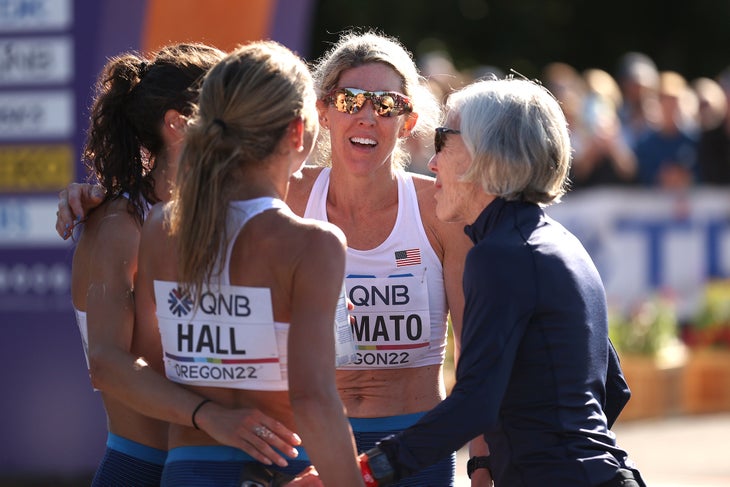 Hall, Bates, and D'Amato received roaring cheers from the crowd along the course that sent runners between Eugene and nearby Springfield, especially along the finish chute on Dr. Martin Luther King Drive. None had represented Team USA at a global outdoor championship before.
They were greeted at the finish line by American running legend Joan Samuelson, who won the 1984 Olympic marathon and served as the official starter of the women's world championships race, and Kathrine Switzer, who in 1967 became the first woman to run the Boston Marathon. 
Only 40 women started the race, the smallest number since 1993, and there were only 32 finishers.