Molly Huddle To Race NYRR New York Mini 10K
She will join Desi Linden, Sarah Sellers and Krista DuChene to round out a crazy rematch following the Boston Marathon.
Heading out the door? Read this article on the new Outside+ app available now on iOS devices for members! Download the app.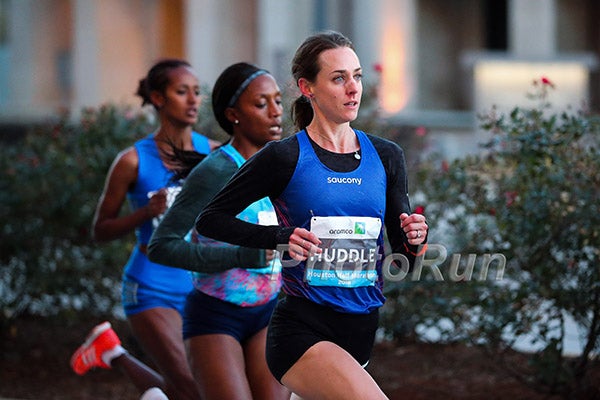 Molly Huddle Joins The NYRR New York Mini 10K Elite Field
The American women are having a moment. Or is it a string of moments? Or maybe it's not a moment at all. It's a grand reveal—but not of the potential of U.S. distance running; the reality of it.
Shalane Flanagan captivated the country when she blasted through the tape at the New York City Marathon last November. The sheer emotion on her face was felt from coast to coast. What we had all been waiting for—a when, not if—had finally happened, and it had happened to the most deserving female in the sport.
Then, on a horrid day of weather, magical things started to happen at the Boston Marathon in April. Desi Linden, after waiting for Flanagan to take a quick bathroom break, won the race against high competition, high winds and, many would say, high doubts. She was visibly freezing in her olive wreath crown during the National Anthem that followed, but that didn't matter. Her perilous fight and epic smashing of a 33-year drought provoked collective happy tears and boosted more hope that this string of major U.S. victors will continue. American women are now the reigning champions of our sport, and suddenly the conversation has shifted from when to who's next?
Well, as social media snoops might tell you, Molly Huddle could be the next big marathon champion for the U.S. (Shalane called Desi to be the next champion after NYC, then Desi passed the torch to Molly as the next champion.) But not before she goes head to head with Linden at next month's NYRR New York Mini 10K—just eight weeks after finishing a little over 10 minutes behind her on Boylston Street.
Related: NYRR's Women-Only Race To Welcome Boston's Top 3 Finishers
And what really keeps the momentum going for all us running fanatics? This race is for women only.
"I felt like it would be best to take that [Boston Marathon] energy and momentum to another race that is dear to my heart. This will be my fifth [mini 10K]. I love the course, the atmosphere and the significant history of the event," Linden told NYRR earlier this month.
Sarah Sellers and Krista DuChene, second- and third-place finishers at Boston—and basically unknown to the world before that day—will also compete for their first times at the 10K. Huddle rounds out the squad for a fun American rematch in, hopefully, much better weather.
But what's the larger point behind this event—and all the ones that will follow? This is the victory lap for Linden—and by extension Flanagan and all the women that will break tape in tears after them. It's a collective fist pump and "f*ck yeah" for all the girl dreamers that now know their goals are possible.
And with the added suspense of Huddle, arguably the greatest runners over this distance, and you not only have another hefty matchup, but you also have a great display of unity and power. You have one of the greatest American marathoners, catapulted to the top of the world from Copley Square, literally leading a field of women over 6.2 miles. And you have the national record holder in 10,000 meters on the track, ready to throw down against her. It's thrilling to say the least.
Linden, Flanagan, Huddle and everyone else are leading this charge into the next chapter of distance running—where the U.S. women are heroes that transcend the sport. They even present at award shows. This new American Dream could possibly be birthing a new running boom—where girls run the world.
Related:
NYRR's Women-Only Race To Welcome Boston's Top 3 Finishers
Race Recap: Des Linden Wins Windy, Rainy Boston Marathon On Big Day For U.S.
The Effect Of Des Linden's Boston Marathon Win On American Running