Mile Posts: A Love Story
Dorothy shares how she fell in love with running.
Heading out the door? Read this article on the new Outside+ app available now on iOS devices for members! Download the app.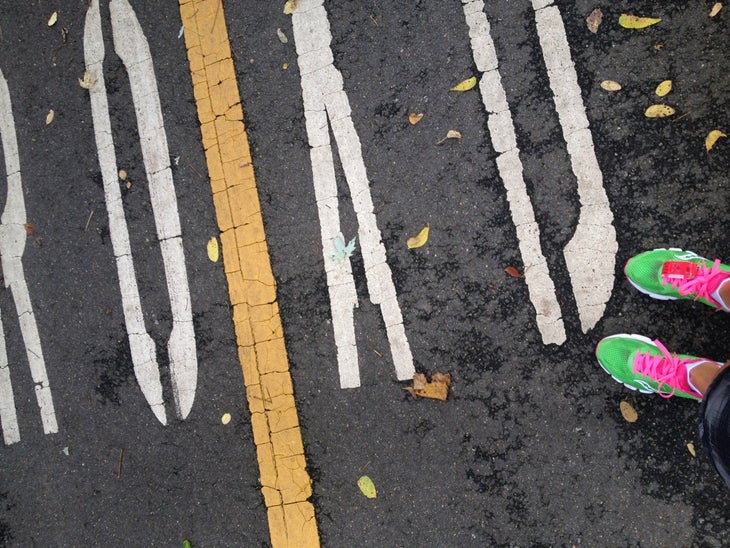 If' I'm being truthful, it wasn't love at first sight.
In my heart I knew maybe our paths crossed for a reason, but I'm old enough to know that things come and go.
As days turned to weeks, weeks to months, and months to years, I felt like this was something that could possibly last.
I asked a friend, "How do you know when you have found 'the one.'"
"You just know it", she said. "It's not something I can explain. It's more of a feeling."
A feeling? I've had lots of those.
There were times I was in bliss. There were times when I was reduced to tears, both good and bad. Wonderful highs and terrible soul searching lows.
Did I want the till death do us part thing? Was I ready for better or worse?
It was a huge commitment – LIFELONG. There isn't much that lasts for life these days.
Could the good times be enough or more than enough to over shadow the bad?
Would I still continue to grow? To be me if I said I DO and committed for life.
Was I setting myself up for success or failure?
Would I be HAPPY? And what is happiness? Is it something you go after or something you just are?
So many questions…..
But just like my friend said, when you know you know. There came a point when I just knew.
I knew I was in it for better or worse. It would last a lifetime.
I wasn't ME without this relationship and dare I say it made me and continues to make me a better person.
Yes, yes…..our paths crossed for a reason. I KNOW that now. I feel complete.
My love of running is one that will stand the test of time – for better and for worse.