Hannah Gavios Is Racing NYC On Crutches
After surviving a 150-foot fall two years ago, Hannah Gavios is now preparing to tackle the NYC Marathon on crutches in support of the Christopher & Dana Reeve Foundation.
Heading out the door? Read this article on the new Outside+ app available now on iOS devices for members! Download the app.
Crutching NYC
On Sunday, Nov. 4, Hannah Gavios will take to the streets of New York City for one of the world's largest marathons. She'll join more than 50,000 athletes to race through the five boroughs for 26.2 miles. The only difference? Gavios will be logging her miles on crutches.
She's not aiming for a personal record or a top finishing spot. In fact, she estimates the race will take her around 10 hours to complete. No, Gavios is "crutching" the TCS New York City Marathon for a much greater purpose. Her goal is to raise at least $15,000 for the Christopher & Dana Reeve Foundation, an organization that has great significance in her life.
Two years ago, Gavios was traveling in Southeast Asia when she fell off a 150-foot cliff while fleeing an attacker. Unable to move, Gavios laid at the bottom of the cliff for more than eight hours before someone found her. Even in her stillness, Gavios' resolve was fierce: She would survive.
"I learned that I had fractured my spine and was partially paralyzed from the waist down," Gavios said. "I couldn't feel my glutes, my feet, my toes—and some of those areas remain paralyzed today."
Before her injury, Gavios had enjoyed a very active lifestyle. She'd been a long-distance runner since high school, when she competed in cross country and track and field in her home state of New York.
"I was a huge runner before my injury, and after it happened, I asked the doctors if I'd ever be able to move my feet again," Gavios said. "But they really didn't know what the outcome would be. It was scary to hear that I may never be able to walk or run again."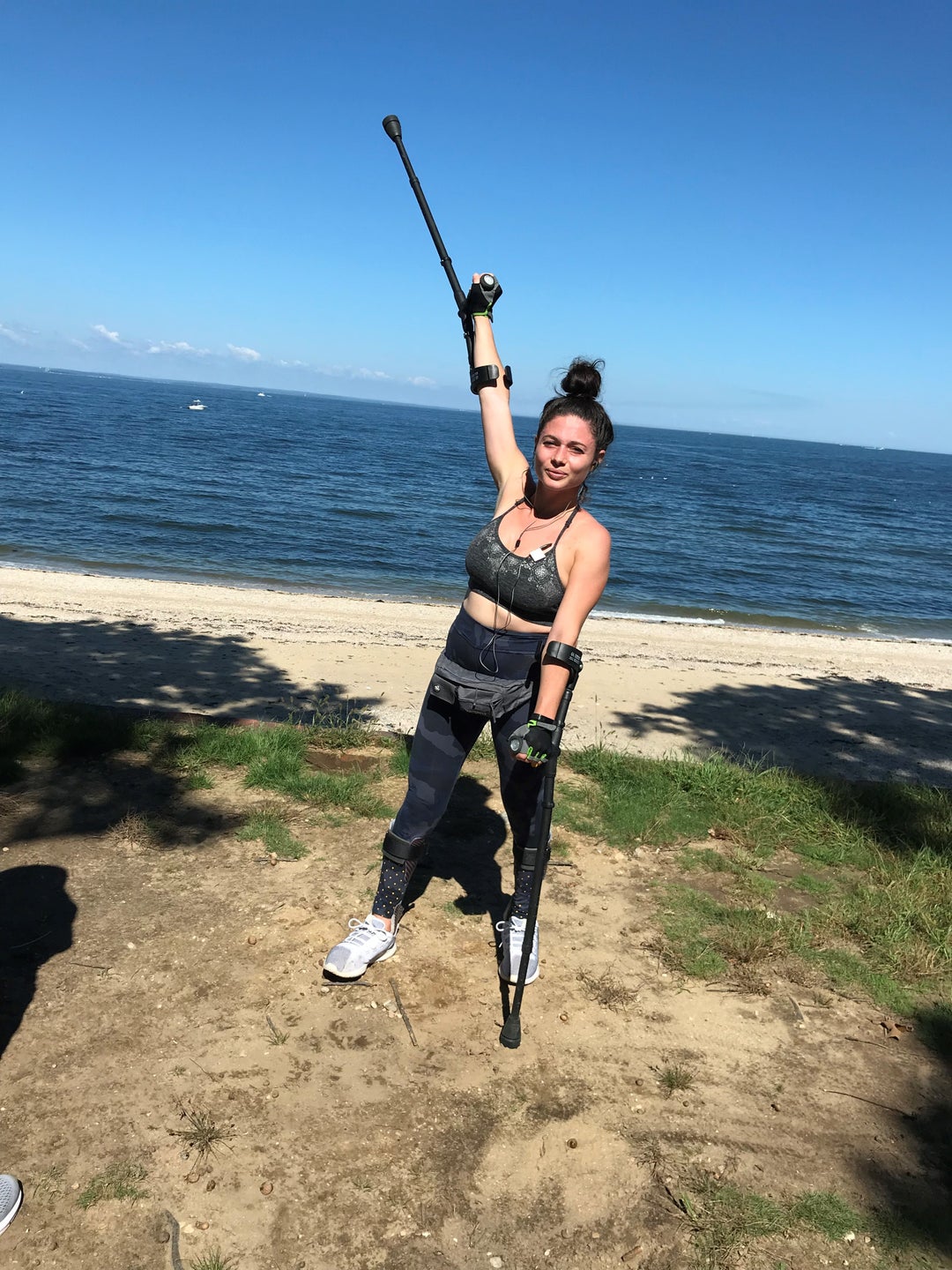 Those doctors didn't know Gavios. Last year, one sent her a photo of a woman who had gotten hit by a car and was crutching the New York Marathon.
"That gave me the idea," Gavios said. "I realized that if she could do it, so could I."
As someone who's "always looking for the next challenge to conquer," Gavios had already found ways to incorporate yoga, martial arts and hiking into her new life. Running was the next challenge.
As a result of her injury, Gavios was already familiar with the Christopher & Dana Reeve Foundation. Its focus on finding a cure for spinal cord injuries was directly in line with Gavios' ultimate goal of running again. So, she decided to run the marathon with Team Reeve, and raise $15,000 in the process.
Training for a marathon on crutches was no easy task. Gavios had to find the right braces and gloves. And then there was the matter of fuel: How would she carry food and water?
Once she figured out the logistics, Gavios began building her endurance. When she could walk for one hour, she did an hour and a half. Next, she moved up to two hours and then three. Throughout the spring and summer, she continued to train, staying focused on her goal.
Aside from merely raising money, Gavios hopes that her marathon debut will raise awareness about paralysis. She also hopes to inspire others to reach past their limits.
"I feel that being an athlete is not necessarily defined by your condition or physical abilities," she said. "It's really about your mindset."
And while she hopes to run the New York City Marathon someday, Gavios is not deterred by her injury.
"I want to show people to be grateful for what they have," she said. "If you can't use your legs, use your arms. Be yourself, show gratitude and count your blessings."
Follow this link to learn more about Gavios and her work with Team Reeve.