Meet The Indigenous Women Traversing The Rocky Mountains
Native Women Running's team is running the three-day TransRockies Run for ancestors, family, courage, and inspiration
Photo: Wynonna Curley-Fulgham
Heading out the door? Read this article on the new Outside+ app available now on iOS devices for members! Download the app.
This year marks the second sponsorship between the Under Armour TransRockies Run and Native Women Running (NWR), a principal organization in the running space that empowers and supports Indigenous women. The collaboration offers a platform for the voices and achievements of Native women, enriching the event's diversity and depth.
During the TransRockies Run (August 14-19), runners travel the Rocky Mountains and camp under the stars each night. The course changes each year, offering new challenges and experiences for seasoned trail runners and newcomers alike. Race organizers generally provide runners with the exact route months in advance. However, it is kept secret until just before the race begins to enhance the challenge and fun.
The NWR team will run the GU RUN 3 – Cross the Divide: 3-Day Solo Event, encompassing the first three stages of the full six-day Transrockies Run. The three stages cover 57.5 miles and 8,600 ft. of elevation. We caught up with this year's NWR team to discover and delve deeper into their unique stories.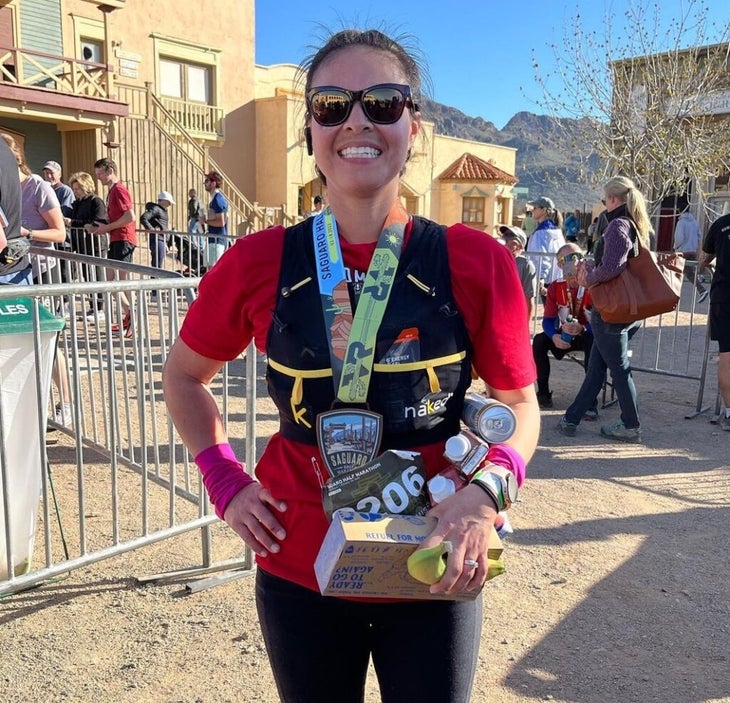 Missy Hendricks: Running for Strength and Family
Missy Hendricks, Mescalero Apache Tribe, runs for personal peace, healing, solitude, and time to reflect.
"I got into running at a young age because my parents had such a huge influence," recalls Hendricks. Her father's love for running became a shared passion. "It was our quality time together, so I jumped at every opportunity to run with him," she said. Those early experiences were not just about fitness, they were about discipline and resilience, values instilled by her mother. "I remember my mother would wake my siblings and me up at 6 am in the summer to run, and because of that, she taught us discipline and to push through when you think you can't."
The outdoors became her sanctuary, where she found solace and serenity. "Running and the outdoors has always been second nature for me," Henricks said. "For as long as I can remember, my parents have taken us to the outdoors and encouraged us to run."
In a society where representation is essential, she proudly represents her tribe and the community. "It feels great to see so many Native women running and representing our people," Henricks said. "Our community is growing, and it is wonderful to watch."
Outlining her vision for her tribe and beyond. Hendricks hopes to inspire all women to branch out and immerse themselves in the mountains and running culture.
"I hope to inspire them to get out of their comfort zone and try new runs," she said. "To believe in themselves, and if they set their mind to it, they are capable. It's the coming together and welcoming others a seat at the table and (showing others) that we do belong at any run."
This is Hendrick's first TransRockies Run and is a tribute to her family and their unwavering support. "The drive to run this race is dedicated to my parents and to prove to myself I can do anything," said Hendricks. "My family has always been my number one fans since the beginning—and I owe it to them. I will always run for my family, and I know if my dad could join me, he would."
RELATED: A Unique Program Is Inspiring Native Student Runners to Dream Big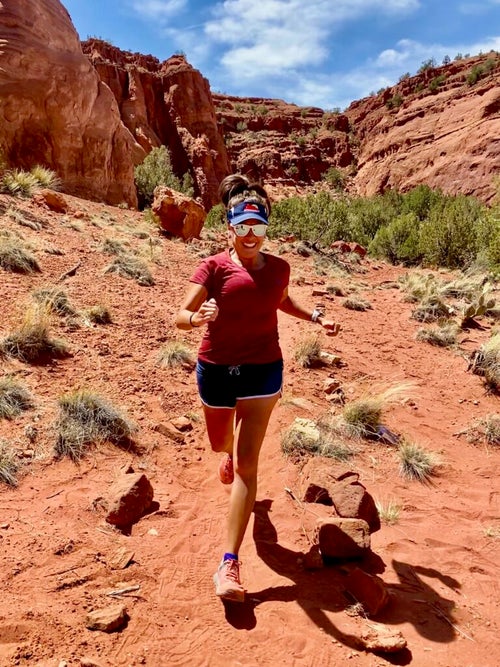 Nicole Smith: Running for Adventure and Inspiration
"I started trail running because, quite honestly, it looked cool," recalls Smith. "Right then and there, I decided that trail runners were the cool kids of running, and I wanted to be one of them."
As a citizen of the Navajo and the Jemez Pueblo Tribe, Smith's trail-running journey is intertwined with a legacy of great runners from each tribe. "I do not think of myself as a barrier breaker," when asked about helping break barriers in the sport. "Because of these great runners who have come before me and the students who are currently doing great things, I feel as if I am just trying to live up to a standard of running excellence that has already been set."
She hopes her trail-running adventures become a beacon for Native individuals seeking a connection with nature. "I consider myself an adventure junkie," Smith said. "By sharing this adventure, I hope to inspire other Natives to get outside and find the activities that make them smile, laugh, or just bring them peace."
Guided by aspirations and her heritage, Smith's trail-running endeavors empower her and serve as an example of inspiration for fellow Native individuals.
"While I am not an accomplished or fast runner yet, I have big running dreams and aspirations," she said. "It may take a couple more years of hard work to get there, but I know I can get there because I come from a strong legacy of Jemez runners. Now, I run to become worthy of being a part of that legacy."
For Smith, the TransRockies Run is a space for her love for adventure and the beauty of the Rocky Mountains. "TransRockies is just my kind of adventure," she said. "It is a lot of fun hanging out and exploring the Rocky Mountains with over 300 new best friends. Now, I may not feel the fun on day two when I am huffing and puffing up the mountain to Hope Pass at 12,500 ft, but there definitely is a big smile painted on my face when I am running down the other side."
RELATED: What We Can Learn from Indigenous Runners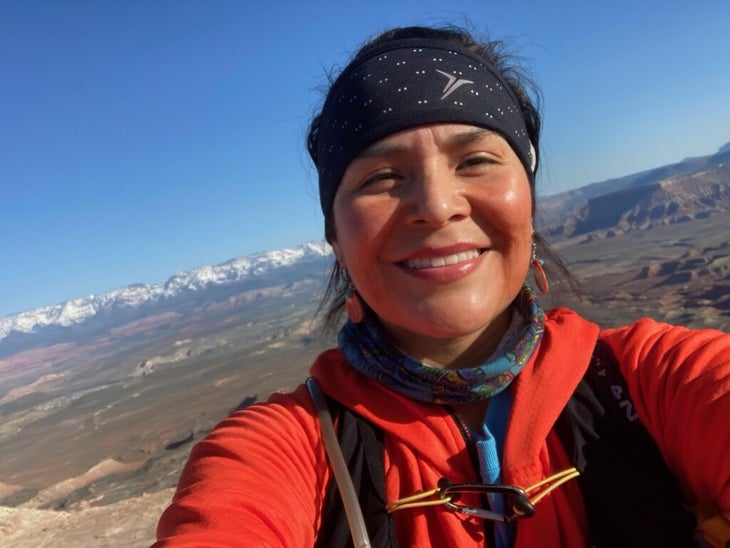 Wynonna Curley-Fulgham: Running Strong with Ancestral Courage
Wynonna Curley-Fulgham, Navajo, incorporates running with heritage, courage, and a deep connection with nature. Her journey is one of embracing challenges, honoring traditions, and breaking down barriers as she paves the way for Native athletes to shine.
Growing up on the Navajo Reservation, Curley-Fulgham's connection with running was interwoven with her heritage. "I never knew there was a difference in the types of running with road running or trail running," she sad, highlighting the harmony between running and her culture. The practice of running to the East at dawn, a tradition among the Navajo people, instilled values of honor, prayer, and self-improvement.
Embracing her culture's significance of running, Curley-Fulgham found empowerment during her Kinaaldah, the puberty ceremony.
"I started really getting into running during my puberty ceremony, Kinaaldah," Curley-Fulgham explained. "Running is an important part of a young girl's transition into a woman—when she starts to menstruate. On top of other duties the young woman performs throughout the four days, she is required to run in the morning before the sun comes up, mid-day, and in the evening before the sunset."
The ceremony's teachings ignited her spirit, guiding her through challenges and doubts. Her journey became an embodiment of the ancestral legacy that fortifies her steps.
"This part of the ceremony is when the young girl learns how to pray, find her strength, and push herself beyond her limits," she said. "It is said that the further she runs on her last morning run—after staying awake and sitting up the night before, the longer she will live. During this last run, you are tired, hungry, sometimes cold or hot, and sometimes just want to stop and cry, but during this challenging time, she searches deep and finds her strength and keeps running."
Curley-Fulgham vividly remembers how she endured and actualized her strength during this part of her life. "This was the point when I realized that I was not going to listen to those around me, those that either were going to limit me or doubt me," she said. "I was going to run as long and far as I wanted. I was now in control of my own decisions and was not going to be influenced by others."