Meet Julia From Germany!
For Global Running Day, we are celebrating runners from all over the globe! Follow the stories on our Instagram page.
Heading out the door? Read this article on the new Outside+ app available now on iOS devices for members! Download the app.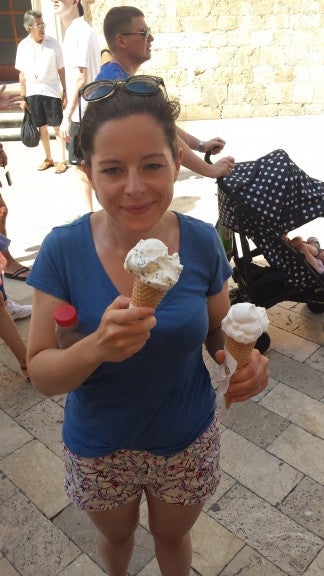 Julia Tiemann is from Germany, and we asked her a few questions about running:
Why do you run?
I started running as a coping mechanism, as my mum became sick during my teenage years. She was suffering from COPD combined with mental illness, so to remain sane and create some only-me time, I started running. Running was also my anchor in the last months of my mum's life, when she was at the hospital in a coma and finally died there in 2010 when I was 24 years old. Between university 300 kilometres away, being at the hospital almost daily for hours on end and caring for my dad, going for a run was the only down time I did allow myself. Sadly, I had to rely on running this way once again when my dad was diagnosed with ALS shortly after mum's death and died three and a half years later in agonizing pain. I don't know what mental and physical state I would be today if it wasn't for running, which saved be in these hardest times of my life. Life put rocks in my way, and I would just run them over. As my everyday life became harder to bear, I increased mileage and pace. As a nice side effect, I went from an overweight teenager to a fit and curvy twenty-something, since I lost more than 25 kilograms through running.
Describe your favorite place to run.
It is hard to pick only one, and I thought about all the exotic (to me) places that I have run in up to now—from canyons in the southwest U.S. to runs under the Icelandic midnight sun. Still, I probably would choose my regular running track, starting from my home in Gí_ttingen. After only a few minutes through residential area, you reach open fields and forests and a small lake. Going there during the crack of dawn, when the air is still cool, crisp and full of the night's smell, I am close to heaven!
What's your go-to pre- or post-run meal?
Banana with peanut butter.
What makes you a badass?
Prioritizing running as my number-one me time, and making it possible in almost every situation, be it during hard times in life, during conferences when I just cannot stand to sit all day or after pregnancy and a traumatic birth just a few weeks ago.
How will you celebrate Global Running Day?
Hand over that newborn boy of mine to his father and go on a nice little long run while remembering all those people that are not able to run anymore.
Read all of our Global Running Day stories from runners all over the world here.