Local San Diego Runner Is Aiming For The Olympic Trials
Who else is balancing training for the Olympic Trials with studying for a masters degree?
Heading out the door? Read this article on the new Outside+ app available now on iOS devices for members! Download the app.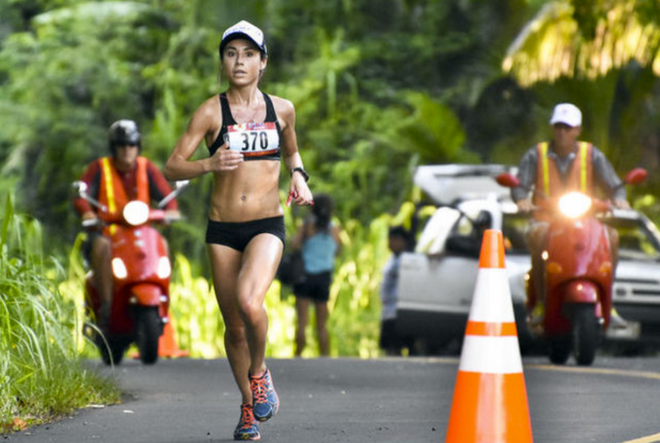 San Diegan Sabina Piras started running in between working toward her masters in structural engineering as a way to de-stress from the college workload. A quarter before she graduated, she signed up for her first marathon. Three years later, Sabina is not only juggling a 60-hour work week as a bridge engineer but is also training to qualify for the 2016 Olympic Trials Marathon. Women's Running spoke with Piras and learned what motivates her to run and how the heck she keeps a run-work-life balance.
Women's Running: Tell me a little more about how you started running and what your initial spark to run the marathon was!
Sabina Piras: When I was in college, I decided to start running in between classes as a way to stay in shape and de-stress from the workload. Then three years ago, when I was getting my masters at UC San Diego, I found a local triathlon and running team called Breakaway Training and started running with them. I did a couple of triathlons and half marathons, but I always had this thought in the back of my mind that I would one day qualify for the Boston Marathon. That was a reason why I signed up for my first marathon three years ago. Little did I know I would finish in 3:31 for my first marathon and have the Boston Marathon be the second marathon I ever ran!
WR: What are some of your greatest running accomplishments to date?
SP: 2015 has been a big year for me in running. I finished the Boston Marathon with a 2:51 and came in the top-50 women. I won the Livermore Half Marathon in my hometown, which was incredible because my entire family was able to come out to see me run. At the finish line, the announcer called out my grandmother's name and recognized not just me, but also my family. Then this past September, I won the Kauai Marathon as the first overall female and second overall finisher. This race meant a lot to me because Kauai was my first marathon three years ago that got me hooked on the sport!
WR: You work full time as a bridge engineer, while having a high volume of training every week. How do you balance a 40-plus-hour work week with your training?
SP: I start most mornings at 5 a.m. so I can work out before heading to work. During my peak training, I train three times a day, normally with a run or strength training in the morning, a swim or shake-out run during my lunch break, and spinning or running in the afternoons.
WR: What advice do you have for other full-time working women who are trying to balance a higher volume of running and work?
SP: I have created a routine for myself the last three years that prioritizes being a great employee with being a great athlete. I tell myself every morning that exercise and running will give me more energy at work and it gives me a better stamina for life. Running has created healthier habits for me like meal prepping, eating healthy, sleeping early on weekdays, and has helped me balance out other areas of my life.
Sabina is closing her 2015 season with racing in the elite division for the California International Marathon on Dec. 6 and hopes to secure her spot for the trials next February with this race!