Editor's Corner: Living Legend
Heading out the door? Read this article on the new Outside+ app available now on iOS devices for members! Download the app.
Joan Benoit Samuelson is beloved the world over, but in Maine (her home state), she is absolutely treasured. For a young runner like myself, growing up in New England, it was impossible not to be instilled with a serious case of role-model-syndrome for the Olympic gold medalist. I've read her training manual, cried while watching the video of her at the 1984 Olympics (how could you not??!), and set my alarm clock to register for her signature race Beach to Beacon, which sells out quicker than a Beyonce concert.
Break Out the Tissues. . .
I now have the honor of editing Joanie's column and have met her very briefly. However, I never truly heard her speak until the Houston Marathon Expo. I think that, often, when you come in contact with an idol, she or he underwhelms (and often disappoints). Joan, on the other hand, completely blew me away. After listening to her for half an hour during a spotlight show with fellow marathon legend Bill Rogers, I am more in awe than ever.
Here are three quotes that prove she is the coolest lady to ever grace the planet. . .
1.     "Whether it's a little local race or on the world stage, I always get nervous."
This is coming from a woman who has run in literally hundreds of races. As a two-time winner of the Boston Marathon, an Olympic gold medalist and a Masters world-record-holder, I think this takes some courage to admit. More importantly, listening to Joan speak, you really get the impression that she respects the sport of running completely. She went on to mention that in her house "PMS" comes in two forms, the non-Mydol-related version being Pre-Marathon Syndrome. "And the two PMS's look pretty much the same," she laughed. So true!
2.     "I've never looked back in a race."
If you watch the video above you can see that even though Joan's in the lead for the vast majority of the race, she doesn't look back—not even once. By the final lap around the track, she's incredibly far ahead of the second woman, but in this moment she had no idea how much of a buffer she had, so she simply ran as fast as she could. "You can't do anything about what's behind you," she says. I love that for Joan, racing is about one thing: how she can perform on any given day. Other competitors and racing tactics just don't appear on her radar. Who can say this? I know I can't.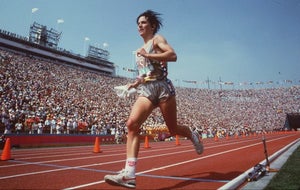 3.     "We all help each other. We all support each other. Thank God for our friends in the sport."
Joan truly believes in the idea of runners as a global community. For runners, companionship trumps competition every time. In the discussion, she went on to profess her belief that runners can be at the forefront of saving the planet, in terms of slowing global warming, as well. Why not? When people come together they can make a change—and that's a powerful message.