Life Lessons Learned During A Marathon
Running 26.2 miles can open your eyes to many life lessons.
Heading out the door? Read this article on the new Outside+ app available now on iOS devices for members! Download the app.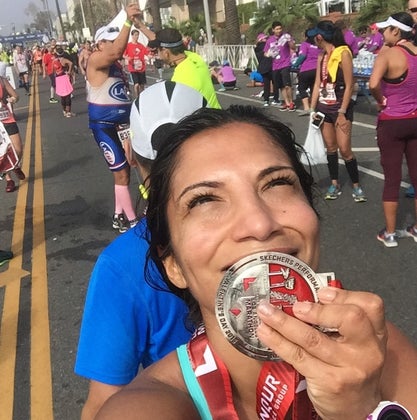 Life itself is a marathon, and in training to run my first full one, I learned many lessons. Most of them apply not just to running, but to other aspects of life as well.
Physical strength without mental fortitude will only carry you so far.
When it comes to days and miles, keep the big picture in mind, but focus and make the best of the one you're in. Stop ruminating about the ones you left behind.
Yes, you can function without enough sleep, fuel, or hydration; but you'll excel with them.
I can accomplish any difficult task, athletic or not, once I make the choice to commit to the time and work involved.
I may be able to complete a gargantuan project or run a marathon on my own. However it is more enjoyable and rewarding to rely on my support system and have them run some miles with me.
Related: 50 Life Lessons Learned On The Run
There is no music in existence that is more motivating than people cheering, as well as the sounds of rhythmic breathing and footsteps beside me.
I cannot control certain external factors, but none of them are a match for my internal determination.
Every run and every route, every task in life, no matter how many times I've done it, has a lesson to teach if I'm open to learning it.
There is not any problem that I can't solve or at least put into better perspective on a run.
I should listen to all the advice from the people who have traveled this road before me, but in the end, I still need to trust my instincts and listen to my body. It has the answers and knows the best pace for me.
The world is full of generous, kind people who want to see you succeed.
Related: Dedicating My Marathon, Mile By Mile
If I'm not enjoying the journey, the end point is irrelevant.
When I run with my heart instead of my legs, pace, time and distance are inconsequential. Everything is possible.
Paria Hassouri is a mother of 3, a pediatrician, a margarita enthusiast, and now a marathoner.  She chronicled her journey to marathon on her blog Mom On The Runsanity, and now continues her life on the run on her Instagram and Twitter.