Kate Grace Wins 800 Meters, Alysia Montaño Tumbles Before Finish
Heading out the door? Read this article on the new Outside+ app available now on iOS devices for members! Download the app.
If there's one thing that's true about track and field, it's that it's gritty, it's fast and it's full of drama. This was 100 percent true during the women's 800-meter final at the Olympic Trials, a race that is already known for its speed and moves that make a difference in the blink of an eye.
Kate Grace, a poster runner for Oiselle, won the final in a crushingly fast time of 1:59.10. Not only was this cause for celebration for Grace and her flock of birds because it was a huge win, but it was also Grace's first major podium win, well, ever. No big deal—she just won the Olympic Trials!
At the post-race press conference, all eyes were on Grace and her big win, but questions were also asked about what her perspective looked like when the fall occurred. But like the truly poised champion she is, Grace kept the focus on her race and how the unfortunate fall didn't have an immediate effect on her mentally or physically. She didn't stop to think about it; she came what she came to do: to make the team. People even commented on how she looked "stoic" and "like a warrior" at the finish line.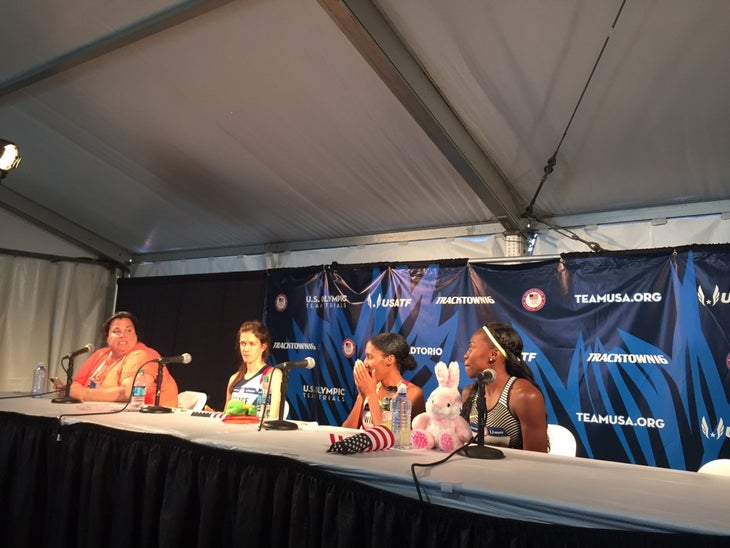 "It's funny, when I pictured in my mind this moment, I start crying immediately," Grace explained at the post-race press conference. "And I didn't at all. In the moment that was kind of my response to the reality. I was almost in shock. I almost didn't start crying until I saw the Oiselle people."
Still, despite the tremendous win for Grace, the attention still turned to the distance's veteran, Alysia Montaño, when she took a tumble with roughly 150 meters to go, her Olympic dream destroyed. It appears Brenda Martinez, another favorite for the final, and Montaño had accidental contact when she tried to make her move around the pack. Louis Montaño, the husband-manager for the "flying flower" runner, said later that that was exactly her plan: to go with 150 meters left in the two-lap race.
The collision caused Martinez to falter and Montaño to completely go down on the track. She eventually finished the race like a champion to a standing ovation, but she collapsed in emotion 50 meters from the finish line again, crying. Immediately following the race, Montaño answered a frenzy of questions, with tears streaming from her eyes. However, that contagious smile of hers still lit up every time a giddy and, for lack of a better word, clueless Linnea, Montaño's baby daughter, screamed for mom's attention.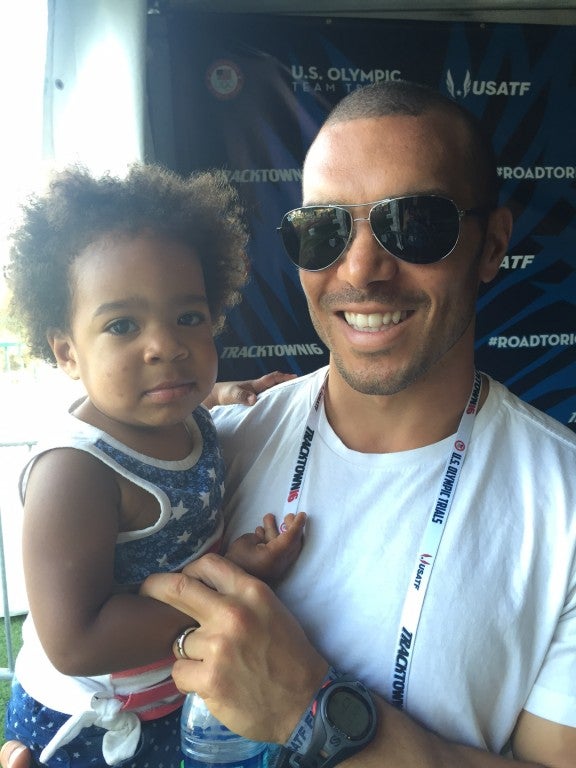 Louis said that the situation is understandably too raw right now to really know how it will settle. "She will at least be able to tell Linnea about just finishing it, you know? Just seeing it through.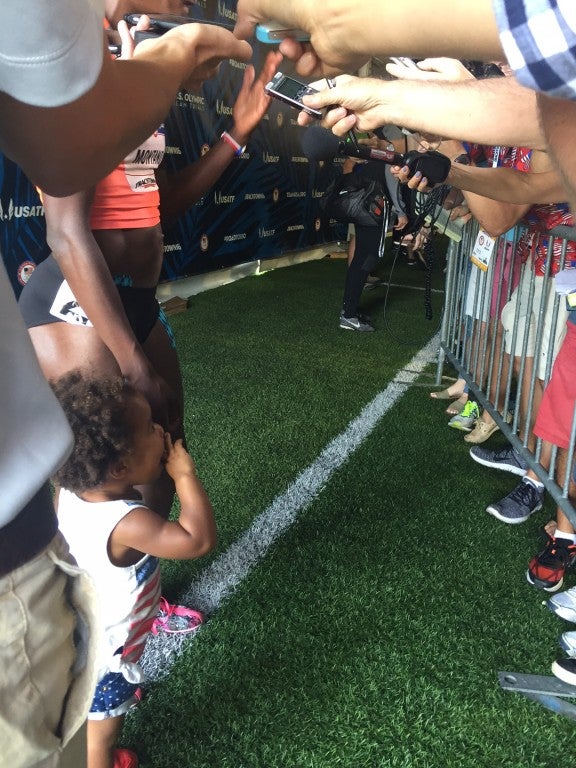 "It's just been one thing after another. First coming back from pregnancy, then with the doping scandal [Montaño commented on feeling like her career is somewhat of a "farse" due to cheaters who have stolen what she fairly and rightfully earned at previous games and world championships]," Montaño goes on. "Emotionally we've just tried to create distractions or not even bring it into the picture. If I have something important to ask her [about work], I'll just send it in an email."
Louis goes on to explain that taking interviews surrounding the trials and now approaching Olympics are a constant emotional drain, with people asking the same questions about the same situations. "I couldn't imagine what it feels like to be ready to run and ready to do something great and then be tripped up like that."
The 800-meter is indeed reason to celebrate for Grace—she's never won a national title, and she just won the trials!—but your heart still breaks for Montaño and Martinez. But as many people said on Twitter, "that's track." The result was contested with potential for a re-run—which was addressed after the race, and the top-3 runners looked less than thrilled about the idea—but currently the results stand.