How To Inspire A Little Runner Within Your Kids
It's all about setting an example.
Heading out the door? Read this article on the new Outside+ app available now on iOS devices for members! Download the app.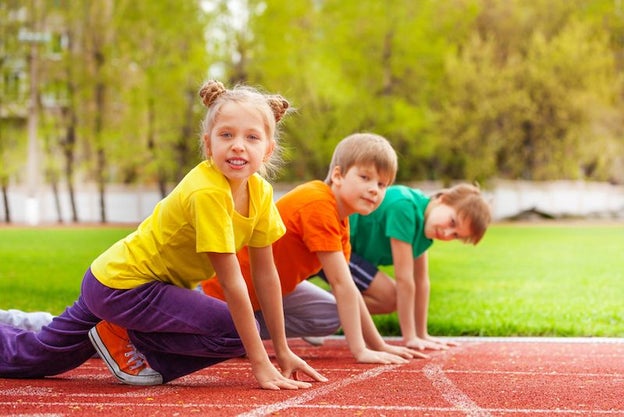 My Kids Became Runners
Obsessed with running? Want a partner in crime? Wondering how to recruit your friends—or maybe even inspire your kids to run?
Getting people to join in on your insanity isn't as easy as it seems. I ran for years, built up my endurance and considered myself a glutton for punishment. Then I signed up for my first race—a half marathon—and had a plan.
Training sucked. It wasn't fun; I felt alone, out of shape, slow and would have never told anyone I was a runner. Honestly, I didn't feel like a runner. I felt like a runner 'wannabe.' Then I ran that 13.1 miles, crossed the finish line, went behind a vehicle and threw up. When I stood up and heard the music blaring and felt the energy surrounding me, I looked down at the medal hanging around my neck and realized that I am a runner–and I wanted more.
Thanks to that moment, my 13 kids have grown up with this now badass runner. I've brought them with me to races. They have learned how to crew me from a stroller to a bike, and 11 of them have run at least a 5-kilometer race. Our rule is: for every race I pay for them to run, they have to volunteer at another. They have created aid stations that would bring tears to your eyes and are exceptional at cheering and holding signs.
Related: Ask The Coach: When Can My Kids Start Running?
My kids usually volunteer at two aid stations and run two races each year. I try to be the one holding the signs and screaming at least once a year. I love watching them cross finish lines. As they've gotten older, some have maintained running while others have not. They know what it's like to compete in races, stand on podiums and kick some serious ass. But how exactly did they become inspired to go from non-runner to avid strider?
I included them in my training.
I slowed down or biked, so they were always running with me.
I gave them control.
They mapped out routes based on where their bus drove and took me on many adventures.
I've made their races a top priority.
I've made sure I didn't enter the races they wanted to run so that I could support them.
We've kept track of times together.
For every race, we use a Sharpie to write their PR on their wrists. Not only does this tactic encourage them to beat their PR–it also keeps things in perspective. It serves as a reminder that if a race wasn't great, they have the ability to run better. When they beat that written time, they develop pride and gratitude for how far they've come…and how far they can go.
I assisted in writing training plans.
One of my girls runs on the track during recess. She knows that it takes 12 laps to complete three miles.
I always, always support them.
I encourage my kids to compete in every other sport they're interested in. Running will be there when they want it again. They know how to run. It's the lifestyle I wanted to pass down, and I enjoy sharing my love of fitness with them.
Getting your kids to join your running insanity may take bribery, blackmail, threats, cajoling, begging, pleading…but in all seriousness, it takes the example you set and your genuine desire to have them involved. Expose them to running, make it seem normal and let them know about the rewards it brings—even the intangible ones.
Related:
Olympic Hopeful Encourages Kids To Take A "Second Recess"
5 Hilarious Reasons Your Kid Is The Perfect Run Coach