Inspiration Awards: Renee Williams-Smith
After becoming the 1st girl to run XC at her high school, this barrier buster returned to coach.
Heading out the door? Read this article on the new Outside+ app available now on iOS devices for members! Download the app.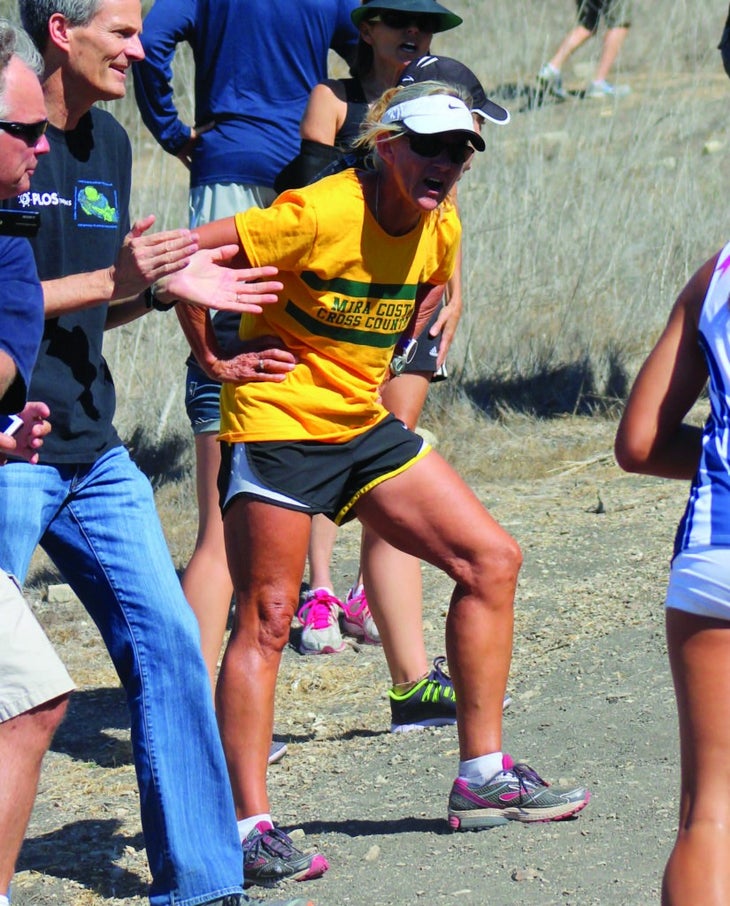 That's interesting, thought Renee Williams-Smith, as she watched the infield at a Mira Costa High School track meet, 20 years after graduating herself. It looks like not much has changed. While she saw the boy runners receiving back slaps and trackside assistance, she noticed that the girls had to find the coach themselves to ask for direction in their upcoming event.
Having recently quit her consulting position to get away from a life of 80-hour workweeks, Williams-Smith decided to see if the team could use a hand. "Literally in three days, I started volunteering as the assistant cross-country coach, thinking I'd do that until I found another job," she says. "But almost immediately I realized, this is what I should be doing."
Perhaps the position fit so well because Williams-Smith had always been a groundbreaker in girl's sports—even when she was only a girl herself. As a sophomore at Mira Costa, Williams-Smith became the first female to run on the school's cross-country team. Even though she was not invited to the invitational meets on the weekends and had to sew her own uniform, the experience left a lasting positive impression. "I was a little insecure and self-conscious, but when I ran, I would feel the best about myself."
In her new position, Williams-Smith wanted to give girls the same gift of confidence she'd received. After transitioning to head coach, she took a team with only 20-odd "runners" (most of whom only put their names down on the participant list before skipping practice and heading home) to the second best squad in the state of California.
The Mira Costa girl's cross-country and track teams now are 90 strong and regularly compete for national ranking. Many runners have gone on to earn scholarships from the best colleges in the country.
Williams-Smith credits her success to encouraging accountability, healthy competition and inclusiveness. But we think it's her incredible dedication, beaming spirit and full heart.
"To be able to influence kids is so amazing," she says. "There are so many things that can go wrong. To feel like you're a part of something positive in their life is a gift. I'm blessed to have that."
RENEE'S INSPIRATION
The coach says that her girls are an endless source of inspiration. She remembers, "I had a new runner who told me, 'I have been the last person picked on every team I've ever been on.'" Through the support of the team, the girl flourished to become a top varsity athlete.
GIRL POWER
Studies show that girls who compete in sports are more likely to graduate high school, attend college and even earn higher salaries in their careers. Help every girl have a chance to gut it out on the track by donating to Dream Big! (dreambig.org), a charity that provides low-income girls the resources for uniforms, footwear and training feeds.
Related: Inspiration Awards- Harriette Thompson