Inspiration Awards: Kayla Montgomery
This young runner is living proof that anyone can get back up.
Heading out the door? Read this article on the new Outside+ app available now on iOS devices for members! Download the app.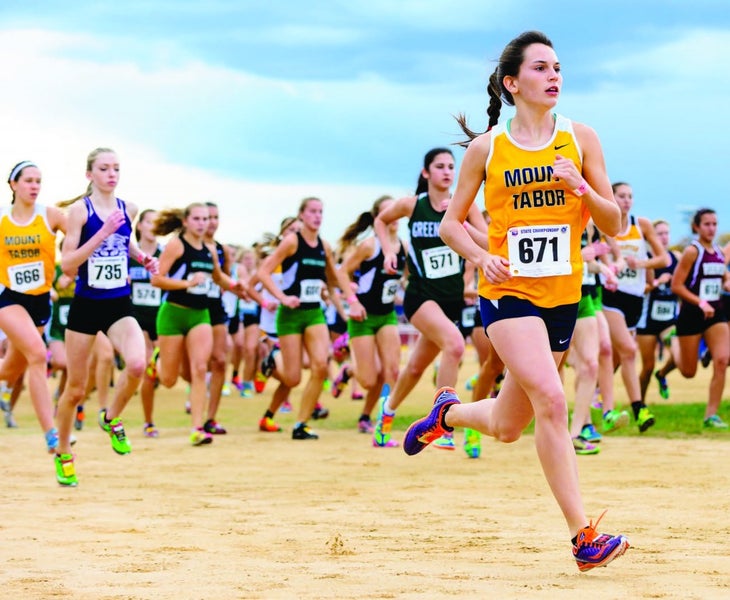 Three years ago, Kayla Montgomery took an unexpected spill during a high school soccer tournament. Later that evening, she felt numbness in her feet. The sensation crawled up her legs over the following week before a painful spinal shock sent the then-15-year-old to the doctor, who referred her to a neurologist.
"After having many blood tests, including being tested for Lyme Disease, a spinal tap, a couple MRIs of my brain and spine, I was diagnosed with multiple sclerosis," explains Montgomery. Despite the devastating diagnosis, the young athlete found hope in the fact that her doctors cleared her to run. "That was when I decided that I wanted to continue training to become the best runner I could be."
Almost as soon as she was back on the cross-country team, Montgomery was running faster than ever. However, she discovered her disease created one difficult and visible consequence: Montgomery collapses the second she crosses the finish line. Because the young runner's legs go numb as her body temperature rises, she runs "as if on autopilot," but loses control when the forward motion stops.
"I can't feel most of the pain in my legs while I run—it's really hard for me to tell if I'm going too slow or too fast," says Montgomery. Instead, she uses her arms as measures of effort—and she's become a master of her craft, winning her North Carolina high school state title in the 3,200 meters earlier this year with 21st fastest time in the country.
Spectators' hesitant reactions to her dramatic finishes don't phase Montgomery, who says that running "is a great distraction from whatever life may have thrown at you." For her, having MS is just another bump in life's road—even if that means falling again and again.
Montgomery, now a freshman at Lipscomb University in Nashville, Tenn., says, "If you go into a race confidently, there should be no reason you can't achieve the impossible."
GIVING BACK
Along with school, track and managing her own condition, Montgomery hopes to become an ambassador for the National MS Society. Support her and others with this disease by visiting nationalmssociety.org.
KAYLA'S INSPIRATION
The student gains motivation from another high school phenom:  "Tessa Barrett has overcome a debilitating disorder to become a national champion." Barrett battles migralepsy, which causes migraines and occasional seizures. One tough chick inspiring another!
KAYLA ON ESPN
Recently ESPN's news program E:60 chronicled Kayla's story. CLICK HERE to watch. Prepare to be inspired!