Inspiration Awards: Harriette Thompson, The Queen
At 91 years old, Harriette Thompson is still running 26.2 miles for cancer research.
Heading out the door? Read this article on the new Outside+ app available now on iOS devices for members! Download the app.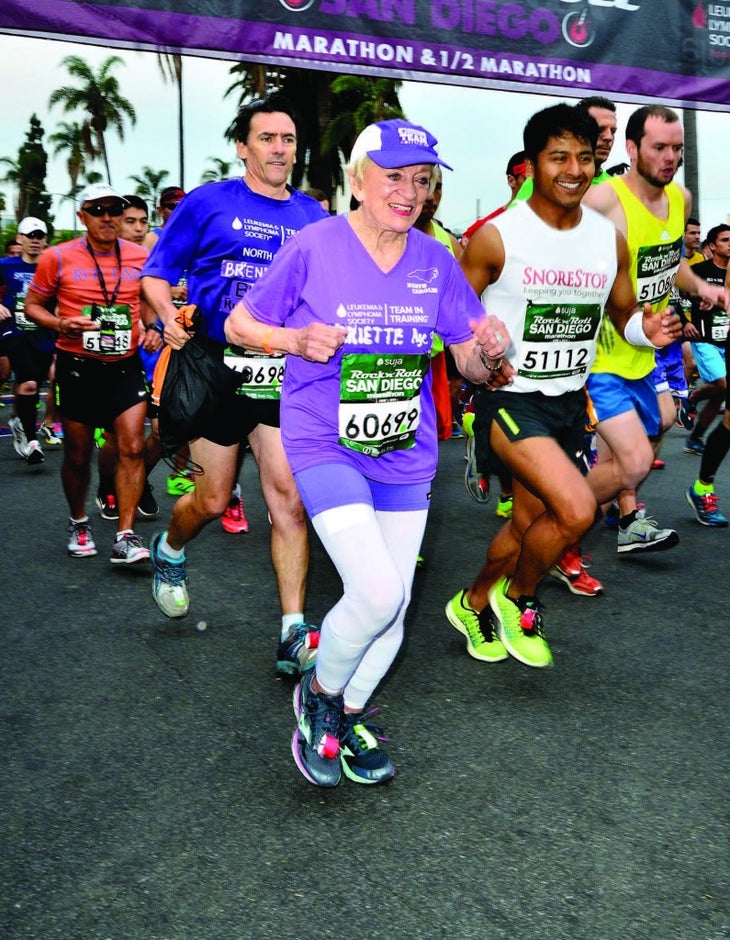 This marathoner makes you wonder: at 91 years old, what do you want to be doing with your life?
Harriette Thompson will make you erase the phrase "too late" from your vocabulary. At age 76, a life stage our society more often aligns with nursing homes than new beginnings, Thompson trained for the first marathon of her life.
Recruited by a close friend, she signed up for the 1999 Rock 'n' Roll San Diego Marathon with the goal of raising money for the Leukemia & Lymphoma Society. After watching many people close to her suffer from blood-born cancers, she decided that challenging herself while raising money would be the perfect way to give back. She didn't expect to fall in love with the distance—but after crossing the finish, she was hooked.
Since her first finish 15 years ago, Thompson has made the California event an annual tradition (save for last year's race). But in 2014, at age 91, she did it again, this time with a renewed focus.
After losing her brother to leukemia earlier this year, she was more determined to run than ever before—even though she hadn't been able to train to the same extent as years past. Battling both oral and skin cancer herself—forcing her to forgo last year's event due to treatment—she wondered if she could actually make it to the finish line.
Signing up to be her personal bodyguard, Thompson's son, Brenny, ran the entire distance in support of his mother's journey. With her son by her side, Thompson thought, "If I can make it to the 20-mile mark, I'll be okay." Even after hitting a wall at mile 17, Thompson says, "I tried never to think about the possibility of not finishing. The idea of 'can't' wasn't an option."
And so, just after the 7-hour mark, she crossed the finish line with a time of 7:07:42, a new American record for the fastest marathon ever run by someone over 90.
Having raised more than $90,000 over the past 15 years for the Leukemia & Lymphoma Society, Thompson plans to return for her 16th race in 2015. The spunky record-smasher will up the ante in her 92nd year and says, "I am certainly going to be better than my last time. When I was 89, I was much faster and I know I can get there again."
HARRIETTE'S INSPIRATION
The 91-year-old runner says, "All my life I was inspired by my mother. She had a wonderful attitude and was a great example for her children. She whistled everywhere she went, letting others see the happiness she had within. My mom showed me how to live a positive life."
JUST KNOW THIS
Thompson wants everyone to understand: You don't have to be young to run! All you need is a good pair of shoes and the will to succeed. Start slowly by running around your block. Then gradually add more distance and before you know it, you'll be hooked. Join her on the road, and in her mission to fight cancer at teamintraining.org.