I Lost 80 Pounds…And Ran My 1st Marathon
26.2 in the happiest place on earth left Jenn Heist feeling stronger than ever.
Heading out the door? Read this article on the new Outside+ app available now on iOS devices for members! Download the app.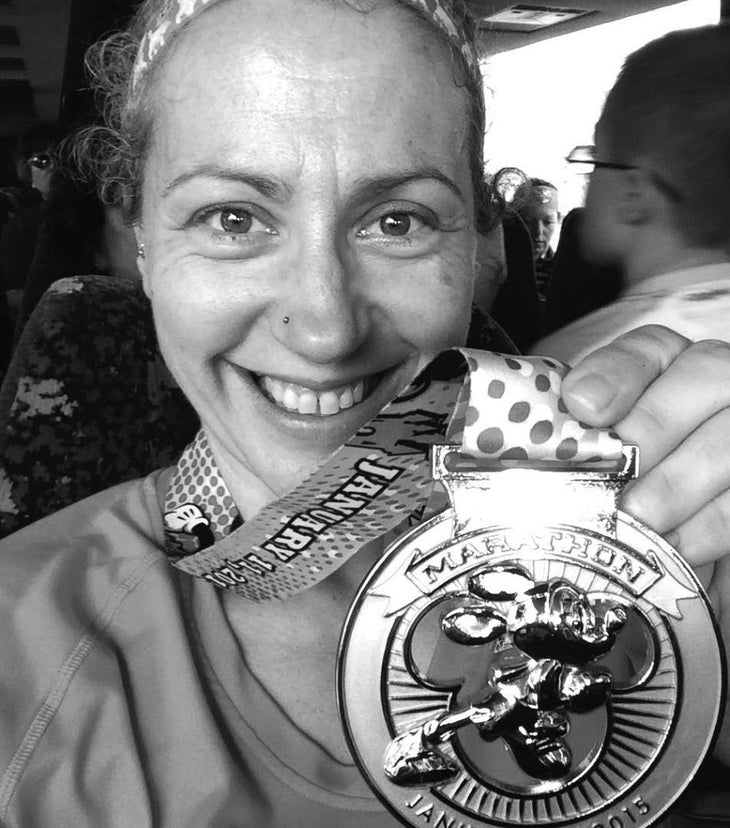 Jenn Heist
Age: 43
Little Rock, AR
I ran my first marathon after losing 80 pounds!
Standing in one of the last corrals at the start of the Walt Disney World Marathon this January, I was overwhelmed with emotion. Not only had I lost 80 pounds in the past year, but I was about to begin my first marathon in my favorite place on earth.
As I watched the fireworks explode over the line, I felt butterflies dance in my stomach. My coach, Tara Costa, a contestant on the seventh season of "The Biggest Loser," sent me a text message minutes before I set off saying, "Just remember, you love to run." And with those perfect words, I took the fi rst step of my 26.2-mile journey.
I crossed the start line and headed down Main Street in the park, still with disbelief that I was running in Disney. Just 12 months prior, I could never have imagined I would be capable of running. I certainly wouldn't have dreamed I could run a marathon.
The first few miles went by in a blur—I was awestruck by the experience. As a Disney fanatic, I made sure to bring my phone so I could take pictures with the characters at every mile.
Related: How One Runner Ditched More Than 100 Pounds
I made it to mile 13, weaving through the Animal Kingdom Park, where I found two of my friends who had come to cheer me on. Seeing my girlfriends made a big difference and gave me a boost of energy to keep going. Not long after leaving my friends, I decided it was best to continue the race walking instead of running.
I'd received a diagnosis of compartment syndrome in both my knees eight weeks prior to race day. Though I never questioned I would finish the marathon, I knew that I would have to adjust my expectations.
Keeping a quick walking pace, I sent my coach a text message at mile 16 saying, "I can't wait to come back and run this race next year." Though my injury made it impossible to run for the entire course, I knew that it wouldn't be the last time I'd  tackle this event.
Along the way, I met other runners and walkers as we shared our stories of running and how we each ended up sharing this experience.
After passing the 20-mile marker, I turned to a newfound friend and said, "We only have 10K to go!" We laughed at the thought that 6 miles somehow seemed short and knew it wouldn't be long before that finish line was ours.
Related: Former Fitness Competitor Shares Her Body Love Tips
As I rounded the corner of the final stretch, I couldn't believe that I was actually going to complete a marathon. I was so proud of myself for sticking to my goal. I crossed the finish line, collected my medal and for the first time, I realized that I'm full of grit and can accomplish physically hard things.
I can't wait to get back to Disney in 2016 and see what magical running adventures lie ahead.
Running my first marathon taught me that I am mentally and physically stronger than I ever imagined. Though my injury caused me to doubt my ability, I battled through shaken confidence by believing that I can do difficult things. I made it to the finish line by channeling my inner strength and I can