I Became A Runner To Follow In The Footsteps Of My Dad
Catherine bonded with her father, through hardships and happiness, on the road.
Heading out the door? Read this article on the new Outside+ app available now on iOS devices for members! Download the app.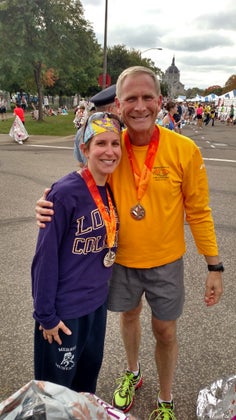 For as long as I can remember, my dad has been a runner. I recall admiring his dedication and being proud when my dad finished half marathons and marathons, but it never once crossed my mind that running would someday be a part of my life, too. Furthermore, I could never imagine how running would become an important part of our relationship.
Three years ago, I decided to give running a try. I started with only one mile a few times a week until it felt manageable before gradually added more. After finishing my first 10k, I decided to begin training for a local half marathon (Dam to Dam). As I increased my mileage, my dad began joining me for long runs. In June of 2014, I ran the Dam to Dam half marathon and my dad was with me every step of the way. In the last three miles, when I was struggling and second-guessing myself and my training, my dad enthusiastically told me how awesome I was and counted each person I passed to further motivate me.
About a month after Dam to Dam, in July of 2014, my mom passed away at age 55 from cancer. Words can't describe how devastated we were and how much we continue to miss her daily. Weekly long runs with my dad became a therapeutic way to process her death and absence. As we pounded the pavement, we shared memories of her, expressed disbelief that she was gone, cried together and committed to keeping her memory alive.
Last October, I was so proud when my dad and I crossed the finish line at the Twin Cities Marathon. Just as he had been for all my long training runs, my dad was with me every step of the 26.2 miles. In the early miles, we laughed, joked and took in all the beautiful sights of the race. During the middle miles, he kept me steady and reminded me to trust our training. As the race became harder in the later miles and as the course turned uphill for miles 21-25, he gave me the constant encouragement I needed to persevere.
My dad has always been my biggest fan in everything I do, but running has brought us even closer. Even more important than finishing races, running together has provided an outlet for us to work through our grief at losing my mom together. While no one knows for sure what the future holds, one thing I do know for certain is my relationship with my dad will continue to include love, laughter, weekly runs and hopefully more a few more races side-by-side.
Related: Running With Your Family Could Be The Best Part Of Your Week