How This Teacher Changed The Lives Of Her Students
After settling abroad, this triathlete is making a difference in the Dominican Republic.
Heading out the door? Read this article on the new Outside+ app available now on iOS devices for members! Download the app.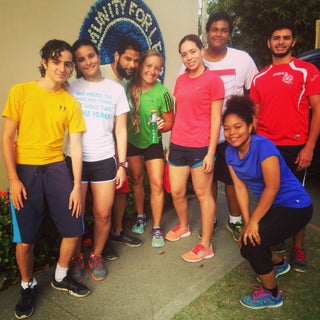 Who would have thought that looking for an adventure would lead to a life of running, travel and giving back?
Elizabeth Nyitray, or "Lizzie," a professional triathlete and schoolteacher, wanted to study abroad while attending Boston College. While many of her friends were going to Europe, as many young adults do, she opted to study in the Dominican Republic—Santo Domingo.
"I was flipping through a catalog and saw the Dominican Republic and thought, Oh I don't know much about this place, so this will do. I fell in love with it," Nyitray explains.
Studying elementary education and Latin-American studies, Nyitray spent the semester learning the country, getting an education—and training. "I met the director of the school and she said when I graduate from Boston College I could come back here and have a job. So I thought, Great, this will be a good year adventure. Well it's been 10 years and I have not left."
Related: The Ladies Behind Black Girls Run
Over the years, Nyitray has traveled the world racing in triathlons, making a name for herself. Smart, confident and athletic, Nyitray had to find the perfect balance between training, racing and work. "It's very hot here, so I have to get up in the morning to train. I ride to work, cross-train, run, and swim. After work I train again. It's so beautiful here so on the weekends I ride. It's great."
But over the years, Nyitray noticed one disturbing thing while riding to work: "The constant cat-calling. Men will try to reach out while I ride my bike or they whistle and make comments about me out running or riding." Not many people are as active in Santo Domingo; the running community is growing now, but 10 years ago it was rare to see a women out on the road, according to Nyitray.
"Women are still treated unequally here. I mean I saw a billboard that reads, 'Toda mujer quiere en su vi da un diamante,' which translates to 'Every woman wants a diamond in her life.' It's so 1950s."
With slogans that try to teach young women to be a housewife, Nyitray saw an opportunity to make change. "My students don't realize they have so much to offer, and that's what got me started with my running club for the students."
As if Nyitray doesn't have a busy life already, she took some students from The Community for Learning out and just got them to run. "They love it. My kids are always telling me how they can't wait to get out and run. It's great. It teaches my young girls that there's more than being a housewife. They have opportunity to get an education and do what they want."
Related: This Woman Won Her Second Marathon
Getting her students to run has helped them gain confidence and helped them stay focused in school. "What started out as just a 4K walk has now evolved into these kids being able to run the whole thing. It's very rewarding."
For her, it's an opportunity to teach these kids to stay active and create healthy habits. It's a way to change the future and give these kids the confidence they need to grow and succeed in life. "My kids participate in 5K races and always talk about different ways they want to improve running. They talk about how their mile time has improved and they can see the results from their practice."
A rewarding experience yes, but being a part of a movement to help shape young lives is something many cannot say they have been able to do.