How Running Is Exactly Like Dating
If you really think about it, the casual running scene feels eerily similar to the casual dating scene that gives us all pre-race jitters.
Heading out the door? Read this article on the new Outside+ app available now on iOS devices for members! Download the app.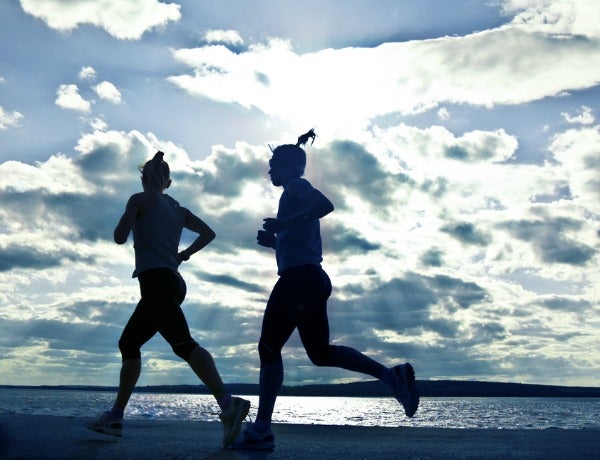 You first noticed each other at your favorite park and finally introduced yourselves after a run-in at the gym. A compliment on your sneakers led to a prolonged chat while you stretched, and before you knew it, you'd set a date for Saturday. You went home and called your mom to tell her you've finally met "The One"—your dream running buddy.
What, did you think that was about a romantic rendezvous? That's a fair mistake, because the search for someone to walk the road of life with has a lot in common with trying to find a pal to run the actual roads with. Such as…
The pickup scene
The hot new corner bar is now the popular gym around the corner. You mingle with potential partners while you warm up in class, and you fantasize about long weekend runs with the cool girl on the next treadmill. Or maybe you let your eyes roam at the park, checking out your fellow runners and admiring their form. You might even try out the speed-dating of the running world, aka your local running club, where you can jog with someone for a few minutes before trying out a difference pace with someone new. Pick-up lines like "I love your tank top!" or "Where did you get your GPS?" are especially alluring.
The getting-to-know-you drinks
Once you've made the initial contact, it's time to test the waters over drinks. You suggest coffee, or maybe grabbing a juice at the gym. Juice turns into smoothies, running chatter turns to real life talk and you leave feeling like you've hit the jackpot.  Someone you can be friends with and run with? How is she still unattached??
The first-date jitters
You've made plans to go on your first run date together, and the nerves set in days before. Do you wear shorts or capris? Ponytail or bun? What if her pace is too fast for you? Or too slow??
The long-term commitment
A few casual jogs lead to regular long runs, and before you know it you've found your forever running friend. And just like the person you're going to spend the rest of your life with, the right running partner won't really care what you're wearing, how you fix your hair, and is willing to compromise on how fast things move. Hold onto her—a love like this only comes around once in a lifetime.