The 5 Most Hilarious Things I Heard At Rock 'n' Roll Las Vegas
After heading to Las Vegas to run the Strip at Night, one runner heard some pretty hilarious things leading up to the race.
Heading out the door? Read this article on the new Outside+ app available now on iOS devices for members! Download the app.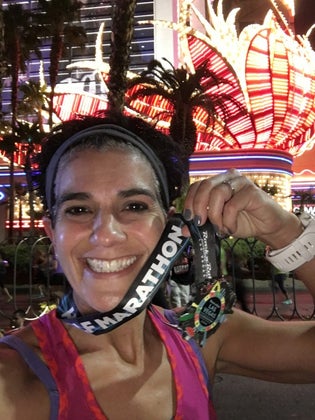 Just like everywhere else in the United States, the non-running people in Las Vegas were pretty clueless when it came to specifics of running and runners. While in town as a virgin to the Rock 'n' Roll Marathon Series events, I heard and was asked the most outrageously bizarre questions and comments about the impending race:
The overly concerned retail clerk
The day of the race, I found myself in the Nike store at the Forum Shops at Caesar's and I was chatting with the cashier as she was checking me out. I had purchased some clothing items and proceeded to tell her I was in town for the race. All of a sudden, she looked up at me and, with panic in her voice, asked:
"Oh my God! Do you have sneakers for the race?"
Um, yes. And if I didn't, it's probably not the best idea to buy brand new Nikes and pound them into submission over 13.1 or 26.2 miles. Yikes!
The peeved limo driver
The day before the race, I headed to the expo in style—I took a limo. The driver was wondering why I was headed all the way out to the expo center (it's not that far off The Strip!) and when I told him, he did not hold back on how he really felt about closing down The Strip for a race:
"I hate when you people come to town and close The Strip down! I seriously cannot believe the city allows for it. You runners must spend a lot of money here!"
I especially loved the use of the phrase "you people" like we're drug addicts or criminals. I had to laugh. He also proceeded to tell me that if I kept running I would destroy my knees. Classic.
Snoop Dogg, the headliner
Having Snoop Dogg rap to a bunch of runners, in broad daylight, before a big race was nothing short of hilarious. We were dressed in our short shorts, laden down with last-minute bagels, Gatorade and gels as he waxed poetic about drugs, sex and alcohol. It was amazing. Obviously, he had a few questions for us:
"What is it y'all runners drink? Gator-what? Gatorade? Aw hell no!" And then he promptly busted into "Gin and Juice."
The baffled employee
As I was buying keychain emojis for my sons in a local souvenir store on the strip, the man behind the register asked why I was in town. When I told him I was running the half marathon, you would have thought I said I was running from Las Vegas to Los Angeles on my hands:
"Do you have to qualify to run today? How do you do that? How do you even run…wait, how many miles? What? Oh my God! Best of luck to you. I don't know how you're going to do that but good luck!"
In between his gushing, his fellow employee was trying to ask logistical questions, clearly fearful of her commute home.
The oblivious banana salesperson
Most people I talked to had no idea the race was even happening. Obviously someone gave the food court businesses a heads up to put out their banana baskets, but that seemed to be where the information ended. As I walked up to purchase my pre-race potassium, the man behind the counter asked if I was running in the race. I told him yes but, as I walked away, I heard this exchange:
Male employee: What time does the race start? I think they close The Strip!
Female employee: Oh no, it's over.
It was 1:00pm and the first wave didn't start until 4:30pm. Good luck getting home.
Overall, the people of Las Vegas were amazingly supportive and lined the streets with encouraging signs and cheers. If you have never done a Rock 'n' Roll race, this is the one to do—just make sure you spread the word once you get into town…and don't forget your running shoes!