Harriette Thompson, Oldest Woman To Run Marathon And Half, Passes Away At 94
Harriette Thompson, the oldest woman to finish a marathon and half marathon, passed away on October 16, 2017 at the age of 94.
Photo: LEO_KENNEY_603-387-6363
Heading out the door? Read this article on the new Outside+ app available now on iOS devices for members! Download the app.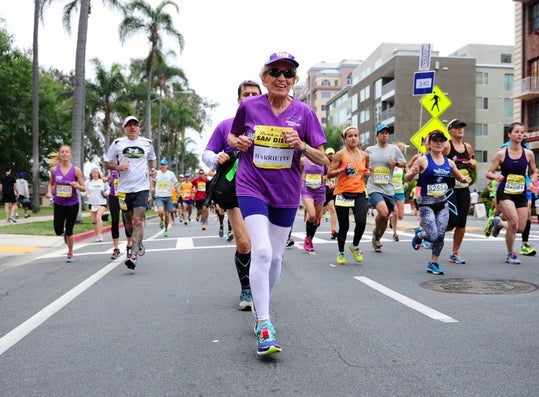 Remembering Harriette Thompson
The running world lost one of its most inspiring athletes today. At 94, Harriette Thompson became the oldest woman to complete a half marathon earlier this year when she ran the Rock 'n' Roll San Diego Half Marathon. Two years ago, she also set the record as the oldest woman to complete a marathon. "It's great inspiration for me to see how much people think that I am an inspiration," Thompson said after finishing the San Diego race in June.
Inspiration seems too small a word to describe the effect Thompson has had on runners of all ages. Thompson wasn't always a runner–in fact, her late turn to running is part of what's made so many others believe in their own abilities to embrace the sport since she drew headline attention with her record-setting marathon run in 2015. A three-time cancer survivor who lost several family members to cancer, Thompson set out on her first marathon journey in her mid-70s with the goal of using her race registration to raise money for cancer research. The opportunity to raise money and awareness for the fight against cancer served as motivation for Thompson to continue signing up for new races in the years that followed.
Thompson is one of 21 women Women's Running chose to highlight in the cover feature of our October 2017 issue, which focuses on women transforming the world through running. "I'm amazed at how many young people say, 'I'm running because of you,'" Thompson told Women's Running earlier this year. "I think, 'Oh, good–I'm glad I'm good for something!'" While running the Rock 'n' Roll San Diego Half Marathon in June, Thompson was pursued along the route by women of all ages who were excited by the opportunity to take selfies with the record-setting marathoner. Thompson, however, didn't seem fazed by all the attention she was getting–in fact, she wasn't sure what all the fuss was about. "It's amazing to me that people are making such a big deal out of this," she told us at the time.
Thompson's death was confirmed earlier today by The Charlotte Observer. According to the Observer, Thompson was injured after taking a spill on October 6; her son, Brenneman Thompson, confirmed that she was placed in hospice care shortly after the fall.
Despite her multiple bouts with cancer in recent years, Thompson remained involved in the running community. Her final race was on August 26, when she ran the Yiasou Greek Festival 5K near her Charlotte, N.C. home. Through it all, she continued raising money for cancer research, spent free time taking care of others and was treasured by her growing crowd of admirers. Most importantly, she maintained a sunny perspective on life and running that served as its own kind of inspiration.
Thank you, Harriette: for your many years of dedicated running, for inspiring women and men of all ages to join the running community and for the legacy you've left behind. You truly will be missed.
Related:
The Story Of Harriette Thompson, Oldest Marathon Finisher
A Q&A With Incomparable Harriette Thompson At Rock 'n' Roll San Diego