Major Goal Achieved: My First Sub-30-Minute 5K
Jenn Wilson shares the triumphant story of her first sub-30-minute 5K, a personal race goal she set 3.5 years ago.
Heading out the door? Read this article on the new Outside+ app available now on iOS devices for members! Download the app.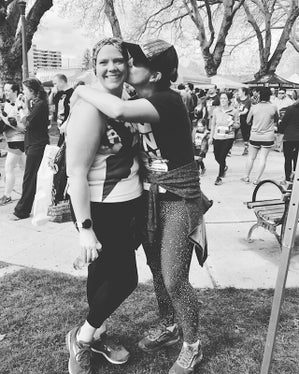 Racing Toward My First Sub-30-Minute 5K
I remember the conversation like it was yesterday. It was December of 2014 and it was one of the first days of my health journey. I was talking with my new health coach, Jennifer, and she asked me what my fitness goals were. The very first thing I stated was to get back to running and complete a 5K in 30 minutes. Little did I understand the journey that was ahead of me.
In the last 3.5 years I have completed fifteen 5Ks, all with the same goal in mind: get faster and break 30 minutes. With each attempt, I would go down a little bit in time, getting slightly closer to the 30-minute mark. In June of 2017, I went into a 5K with the goal of running as fast as I could. I finished with a time of 32:24 and realized for the first time that the reality of breaking 30 minutes was within reach. That was the point in time when I started sharing my goal of achieving that sub-30 5K with more people.
I quickly discovered the support that came flooding in to help me reach this goal. People asked how my training was going, offered words of encouragement and cheered me on with each attempt. I realized this past November that there is really no such thing as failure when you are chasing your goals. My brother joined me for my first real attempt to crack 30 minutes and it blew me away that he would willingly sign up for a 5K (he hates them!) and run alongside me, encouraging me and pushing me to reach my goal.  I came in at 30:50 and learned that I wasn't giving myself enough credit for what I can do. Yes, I felt like I was going to puke when I crossed the finish line, but I had left it all out there.
I spent the winter months getting stronger, working on speed and dreaming of the day I would break 30 minutes. We all know that my last attempt in March left me feeling confident that this was going to be the year. Since I had finally announced my goal of the last three years to the world, I felt like a giant weight had been lifted off my shoulders. And then I met a wonderful woman, Beth Baker of Running Evolution, who looked me in the eyes and said that she wanted to pace me to my goal. A woman I had spent less than an hour with in a coffee shop saw in me what I was afraid to see for myself. She wanted to help me reach my big, scary goal.
Last weekend, I attempted the 5K again. I woke up and knew it was going to be the day. Everything felt right, from the weather to my attitude and my heart. Knowing that my entire support system was behind me regardless of the results only helped. Beth let me set the pace, reminded me to slow down a bit when I felt challenged, told me to get out of my head when I realized how fast I was going and instructed me to gun it when we saw the finish line. I crossed the line with an official time of 28:41.
I stood there in shock as other runners came in around me. I am still in shock that I reached the goal I have been working towards for 3.5 years. I think Beth said it perfectly when she told me, "Take this moment in. You've had it in you for a long time, it just took someone to help you realize exactly what you could do." It all goes back to the word I have centered my entire year around: Believe. Do I actually believe that I am capable of the goals I set out for myself? On that day, I realized that I am capable—I just need to get out of my head and believe in my ability, my training and push through the tough moments.
I want you to remember that there is no such thing as failure when you are chasing your goals. Each attempt brings a new lesson learned and helps point you in the direction you need to go. Believe in yourself. You are so much stronger than you think.
Related:
Chipping Away At My Goal, One Race At A Time
Never Discount The Power Of Your Journey As A Runner