Girl Talk: Who INSPIRES you?
Read about an unexpected dose of running inspiration our Women's Running Web Editor found at a high school cross-county meet.
Heading out the door? Read this article on the new Outside+ app available now on iOS devices for members! Download the app.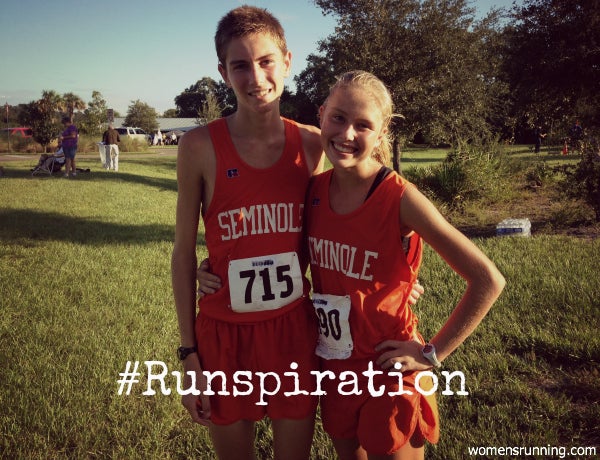 Last week, I uncovered an unexpected dose of inspiration. And I'm so glad I did. . .
One hot and sweaty afternoon I set out to cheer on my step-son, Kyle, and his girlfriend, Olivia, at a high school cross-country running meet. A little stressed and worried about the tasks I left behind in order to skip out on work early, I drove to the competition thinking I'd watch them run and leave immediately after they finished. Little did I know, my plans would change.
As the starting gun sounded for the boys meet, I scanned the crowd of runners observing faces of determination. The group flew past me as I cheered wildly, joining the wall of screaming parents. After the flurry of boys vanished out of eyeshot, I moved over to the first sighting spot where I waited for the lead runners to arrive. One-by-one racers charged by, each with a look of intense drive. Towards the end of the pack, fierce grimaces melted into smiles as the boys relished the crowd's cheers.
In that moment the beauty of running came alive. From a sideliner's perspective, it didn't matter who was winning – everyone received equally loud cheers. As with any race – there were winners, middle-of-the-packers and those who ran to finish. From fierce competitors to the teens pushing to reach the end, runners left everything they had out on the course. And as each boy crossed the finish line, he headed over to his team to be greeted by high-fives and fist bumps. Watching the camaraderie of runners experiencing the simple joy only a run can ignite reminded me of why I run – because I truly love the way it makes me feel.
As I left the meet after the awards, I headed home to lace up my shoes and set out for a run. I couldn't help but think of the determined faces of the high school runners as I pounded out the miles. And when I arrived back at my house, I savored the feeling of accomplishment knowing I did something good for myself.
Whether you're out there to win, achieve a personal best, or simply doing something healthy with friends – the heart of the matter is that you're running. Unless you're a professional athlete, it doesn't matter where you finish as long as you give it your all.
Oh and my step-son's girlfriend – she won the meet for girls, running a faster time than her boyfriend. Does it make me a bad step-mom if the girl power side of me secretly cheered for her accomplishment?  
 I want to know – who inspires you?  Let me know here or tweet me @KaraDeschenes using #Runspiration!