Gabe Grunewald Discusses That Beautiful Post-Race Huddle At USAs
It was like a prayer circle to wish her well in her continued journey against cancer.
Heading out the door? Read this article on the new Outside+ app available now on iOS devices for members! Download the app.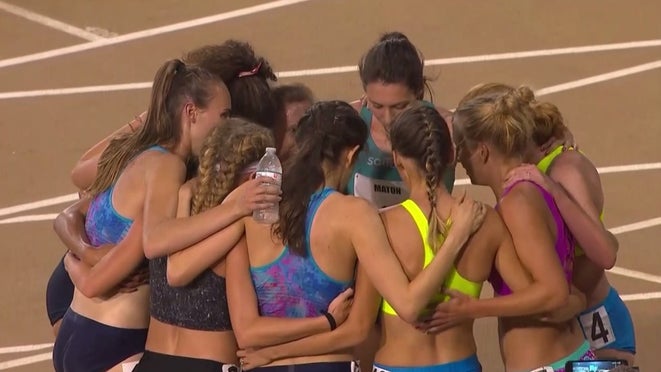 Everyone witnessed that beautiful moment following heat one of the women's 1,500-meter first round at the USA Outdoor Championships, where all competitors gathered around Gabe Grunewald, who is battling cancer for the fourth time. Grunewald, who was the final runner across the line in 4:31.18, received loud cheers as she came down the final 100 meters, wearing intense emotions on her face as she reflected on her tremendous journey leading up to this point.
"The mental and emotional struggle was something you could see on my face last night. It was a big moment for me," Grunewald explained. "[Last night] was very much the culmination of the whole season I was trying to put together that's been really rewarding and challenging. It's been emotional."
Following the heat, a group of competing women gathered around in what appeared to be a prayer circle to offer best wishes regarding Grunewald's chemotherapy treatment, which resumes next week.
"I think Angel Piccirillo and Stephanie Brown [two runners who also raced in heat one] wanted to get us in a little huddle form. They both just kind of talked about me and how they were thinking about me. It was kind of like a prayer circle," she explained. "It started out like, 'Hey, maybe we should get together and have a prayer for Gabe.'"
Words exchanged within the group, which also included fellow elite runners Kate Grace, Alexa Efraimson and Brooks teammate Amanda Eccleston. The women focused not only on well wishes for Grunewald's difficult battle with cancer but on wishing each other successful summers in running and life. "It was kind of acknowledging where everybody is at," Grunewald said. "I think Emily Lipari was like, 'We are Team Gabe!' We did a 1-2-3 Team Gabe at the end, which was just cute. They are very sweet."
Grunewald said that the sentiment was beautiful and totally unexpected—something that really demonstrated the "sisterhood" among competitors on the track. "At the end of the day, there is a special bond and sisterhood between those of us that run these races. I think there's a real respect for each other, and we care about each other, too. It's important to show that side of the sport, and I think that's what we did."
The Brooks-sponsored runner shared that she was admitted to the ER the Sunday before her race due a low-grade fever, causing a "down-to-the-wire decision" about whether she would compete in the championships at all. Fortunately, all ended up being fine, but the scare did cause extra concern surrounding the extreme triple-digit heat in Sacramento. Grunewald said the brief hospital visit was very emotional for her for obvious reasons.
"[Low-grade fevers] can be really dangerous if you're having chemo. So I just had a really bad weekend. It ended up being fine—my cell counts were in a fairly normal range and I got discharged and that's why I got to race. But that was a huge reminder that I need to be mindful of how hard I'm pushing myself and not go over the edge."
She went on to say that, despite everything that has gone down in her life these last several months—and really years—her 1,500-meter run was an "overall positive experience." She was prepared for several different potential outcomes, knowing that running has become extremely tough these last several weeks.
"Running has been just getting tougher, and running hard from the gun for a full four minutes is something I [can do, just not at the level I want to]. I knew [running alone] was a possibility so I tried to be okay with that. And also knowing that I didn't want to run super slow, I tried to push myself, but I'm also at the point in my treatment where I don't really want to push my body over the edge at all."
Although this was her final competitive race for now as she focuses on treatment, Grunewald says she will continue running—and continue supporting the "Nothing Is Is Impossible" campaign that was announced between American Cancer Society and USATF. For every medal Team USA earns at the world championships in London later this year, Americans can pledge to donate money to ACS to fund cancer research. Grunewald said the "timing was perfect" for the campaign announcement and for her involvement as a spokesperson.
"Seeing USATF support the American Cancer Society and how they can work together to raise funds for cancer research, which is so needed, I think it's a wonderful partnership and it just shows track cares about things other than itself, which is really important. I'm excited to support."
Grunewald's 13-inch scar across her abdomen, left from a surgery to remove cancer from her liver last year, has become a symbol of strength within the running community. You can hear the smile in her voice when she exclaimed: "Scar positivity!"