Former Olympian Opens Up About Life As A Las Vegas Escort
The former Olympian bravely opens up about her private-turned-public life and her deep struggle with bipolar disorder.
Heading out the door? Read this article on the new Outside+ app available now on iOS devices for members! Download the app.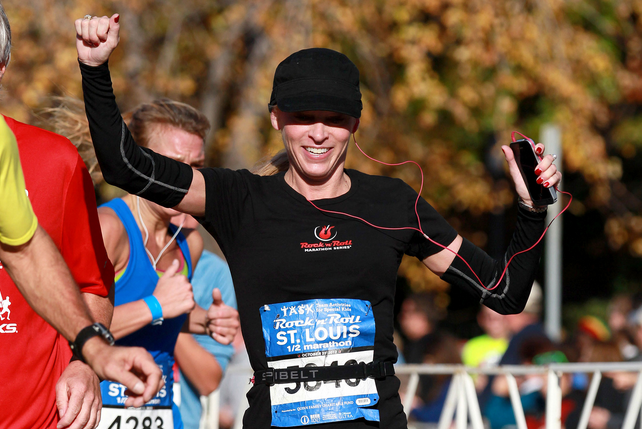 Three years ago, the world of elite running attracted a different type of attention, when three-time Olympian Suzy Favor Hamilton was exposed as a high-end Las Vegas escort. Hamilton, who used the alias Kelly Lundy in Sin City, competed in the 1,500 meters at the 2000 Sydney Olympics, where she mysteriously collapsed less than half a lap from the finish.
"At the starting line, I felt like the whole entire world was watching me," Hamilton says in a 20/20 interview. "Everybody in the world. I had just lost my brother the year prior to suicide, and I felt enormous pressure to make my family happy."
Her brother, who suffered from bipolar disorder, had taken his own life. The deep loss and desire to do well for her family had become too much for the runner. Hamilton deliberately collapsed, exhausted from a "total anxiety panic attack."
Following her devastating race, Hamilton returned to her home in Wisconsin and lived with shame and embarrassment from what she had done at Sydney, something she says she carried with her for years. Shame shifted to depression and depression led to a prescription for antidepressants, something that seemed to work for awhile.
In Hamilton's 20/20 interview, she bravely opens up about how a single night in Vegas with her husband and a "third party" quickly slipped into a complete double-life as an escort. Her depression, which was properly diagnosed as bipolar disorder in January 2013, was to blame for her addiction to life as Kelly Lundy. The antidepressants that were wrongly given to Hamilton elevated her mood to dangerously high levels, according to her doctor, a negative side effect that can result in extreme behavior like hyper-sexuality.
"I know it wasn't Suzy. I keep trying to emphasize that wasn't me. It was the disease," Hamilton explains, who details her time as an escort in a new book, Fast Girl, that's out now.
"The book was a huge trigger, and there were a few times that I cried and cried and just wanted it all to go away," Suzy continues in her 20/20 interview. "It's not just about an Olympic athlete who becomes an escort. There's so much more to it than telling it. I know in the long run it had to be done because I had to be the one to tell the narrative."
If you're struggling with a mental disorder and want more info on bipolar disorder, here are some informational websites:
NAMI (National Alliance of Mental Illness)
National Institute of Mental Health
Related: Running On Empty