Your Favorite Pop Hits From The 2000s For Runners
What a throwback.
Heading out the door? Read this article on the new Outside+ app available now on iOS devices for members! Download the app.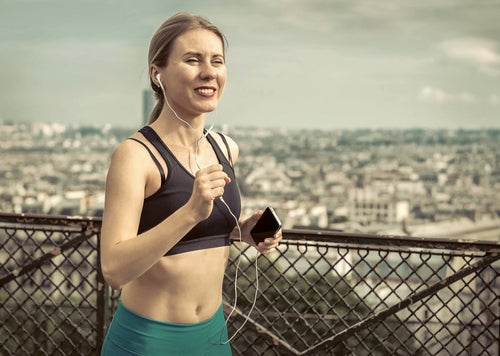 Earlier this week, I wandered into a short debate about whether a song playing on the radio was by Michelle Branch or Vanessa Carlton. There were multiple folks on each side of the debate, which makes me think this isn't the first time the first two have been confused. For what it's worth, they should be easy to differentiate based on their instrument of choice. Namely, Michelle Branch writes guitar-driven songs, and Vanessa Carlton writes piano-driven ones.
If you forget this for a moment, though, their voices have a bit in common. Moreover, they were mining similar themes in similar times–which leads to my larger point: each decade has a sound. With this in mind, I set out to compile an overview of 2000s pop hits worthy of a slot in your workout mix.
The list features everything you'd expect from a recap like this. There are early hits from folks who later became megastars–like Katy Perry and Taylor Swift. Elsewhere, you'll find remixes that provide fresh takes on "LoveGame" by Lady Gaga and an iPod commercial favorite from Feist. Lastly, you'll find pieces distinct to this era–like its innumerable pop/rap collaborations–in the form of Flo Rida and Wynter's "Sugar" or Diddy and Keyshia Cole's "Last Night." On the whole, the playlist serves dual purposes: it collects uptempo hits that have stood the test of time while functioning as a time capsule from 10 specific years. You can put both elements to work in your routine using the picks below.
Pink – Get the Party Started – 129 BPM
Sean Kingston – Beautiful Girls – 131 BPM
Lady Gaga – LoveGame (Dave Aude Remix) – 127 BPM
Miley Cyrus – See You Again – 139 BPM
Flo Rida & Wynter – Sugar – 132 BPM
Taylor Swift – You Belong with Me – 130 BPM
Feist – 1234 (Van She Remix) – 128 BPM
Katy Perry – Hot n Cold – 132 BPM
Diddy & Keyshia Cole – Last Night – 121 BPM
To find more workout songs, folks can check out the free database at Run Hundred. Visitors can browse the song selections there by genre, tempo, and era—to find the music that best fits with their particular workout routine.