Eat Pray Run DC: Why You Should Volunteer At A Race
Races could not function without volunteers. Here are reasons why you should give back to the running community.
Heading out the door? Read this article on the new Outside+ app available now on iOS devices for members! Download the app.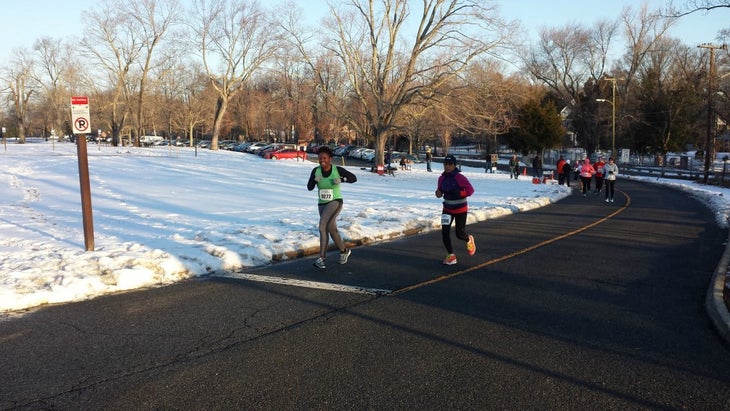 A few weeks ago, I had my first experience volunteering at a race. I served as a course marshall for a race put on by my local running club. It was my first time volunteering at a running event and I absolutely loved it. In fact, I wondered why it took me so long to volunteer. If you haven't yet had the chance to volunteer at a race, I would encourage you to do so. Here's why:
It's fun to be on the other side of the race. I had such fun while volunteering. As a course marshall, I was responsible for making sure cars did not turn in front of where runners were crossing the street. I took my job seriously. Since I like to tell people what to do, it was fun for me to direct traffic. (I'm only half kidding.) The race was pretty small, so I got to cheer on just about every runner as they flew by. Cheering on runners is pretty much my favorite thing ever. (By the way, if you are running Rock and Roll in DC this weekend, look for me cheering before mile 12.)
It helps you to better understand why and how certain decisions are made in races. Seeing a bit of the behind the scenes action can provide the perspective that you just don't have when you are running. For example, I recently ran a race where the course was changed just a tiny bit because of the weather. Having previously volunteered at a race, it gave me the perspective to understand that was a game time decision made in everyone's best interest.
Giving back is important. Races need volunteers. It's just a fact. At some point in your life as a runner, one of those volunteers should be you. Volunteering can be a thankless job, but it is an important one and races couldn't exist without it. Fortunately that wasn't my experience— almost every runner thanked me! I know that I felt so good about myself after volunteering. I also felt inspired after watching folks run all morning.
The other thing to remember about volunteering is that it doesn't always have to happen during the race. Larger races will need help at packet pick up, the expo and after the race. So it can often be possible to volunteer for a race you are running.
Have you volunteered for a race? Tell us about your experience on Twitter at @eatprayrundc and @womensrunning.