She Earned A Running World Record To Honor Her Dad
Winter Vinecki has raced a marathon on all seven continents by age 15 as a way to honor her late father and raise money for prostate cancer.
Heading out the door? Read this article on the new Outside+ app available now on iOS devices for members! Download the app.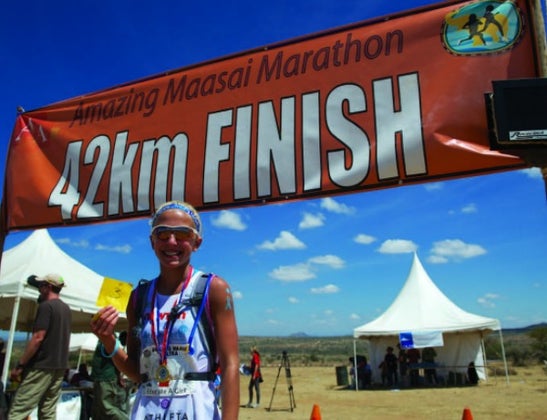 WINTER VINECKI
Age: 15
Salem, OR
My dad was diagnosed with an aggressive form of prostate cancer just before his 40th birthday. Having watched my mom compete in triathlons, I decided to make racing my way of showing my father that his fighting example inspired me. Though I was only 9 and some people doubted my ability, I completed in my first Olympic-distance triathlon. It was the last time my dad was able to cheer me at a finish line.
Later that year, my dad succumbed to the disease, further fueling my fire to never give up. With the help of my family, I formed Team Winter, a charity that raises money for prostate cancer research, and I continued racing. Prostate cancer affects one in six men, and I want to help prevent other families from suffering a loss.
A few years later, I was flipping through a book of world records when I saw the category for youngest person to complete a marathon on all seven continents. I immediately knew I wanted my name to take over that spot to honor my dad.
I'm lucky that my family supported my ambition from the very start. My mom even committed to running all of the races with me so that we could share the experience as a team.
I kicked off my marathon tour in Eugene, Ore., before going to Kenya, Antarctica, Peru, New Zealand, Mongolia and ending a year and a half later in Athens, Greece. The biggest challenge was persuading race organizers to let me compete at such a young age. But with an unrelenting spirit, my mom and I eventually convinced people to take a chance on us.
This struggle only made me work harder. When my legs screamed with fatigue during high-mileage runs, I thought of my dad and my promise to him to never give in. And as I lined up at each start line, I was determined to prove that age is only a number—it's the heart be-hind the legs that counts.
Running these races at such a young age taught me to believe in myself. Crossing the final finish line in Athens (home of the first-ever marathon) and earning my world record solidified this as a lesson I will never forget for all of my life. And I know my dad is watching from above, beaming with pride.
I learned never to be afraid to dream big. If you believe in yourself, your body will follow. We only have one life. Why not go after your wildest dreams?
For more information on Winter's charity, Team Winter, visit teamwinter.org.