Marathon Legend Deena Kastor Is Hosting A Running Retreat
And it's jammed with gorgeous views, great conversation, endless knowledge from the greatest and yes, very good food.
Heading out the door? Read this article on the new Outside+ app available now on iOS devices for members! Download the app.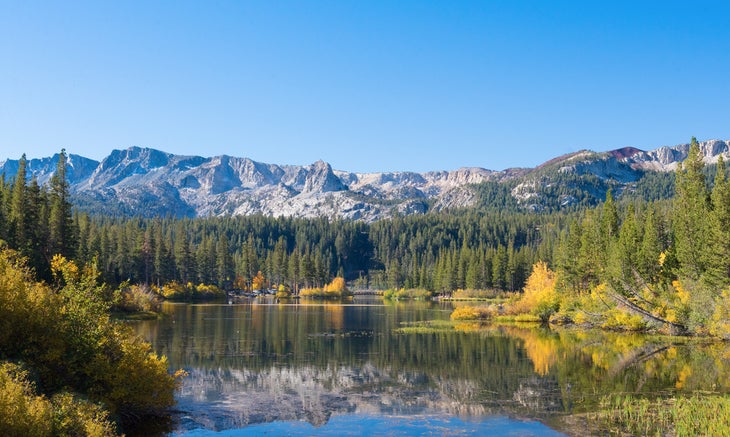 Here are a few things that make most runners giddy: epic views, great food, opportunities to meet the greatest runners in the world and schedules—yes, we love schedules. All four of those things are in full form at Deena Kastor's running retreat: It's in Mammoth, she only eats the best food, she is, well, one of the greatest marathoners of all time, and there's a fully packed schedule for your enjoyment over the July 22-24 weekend.
But wait—aren't there so many elite-hosted camps and retreats right now? This is true—lucky for us age-groupers, there are a growing number of options when it comes to running with the best. Here are a few things to note when choosing a summer camp for adult runners and why I would argue that Deena's is worth considering:
The location. Deena's program is in Mammoth, which is incredibly beautiful. The elevation factor is something to keep in mind, but the views, the trails and the lakes are outstanding. Why else do so many top athletes like Meb Keflezighi train there? Go and find out.
The food. Everyone seems to have food allergies and/or specific diet restrictions these days. You know you'll get the best bang for your buck when you leave it in the hands of not only a professional athlete but also one that is preparing her own cookbook! And speaking from experience, Deena is definitely a foodie in the best sense of the word—and she enjoys a glass of wine at the end of the day as well!
The company. It's Deena Kastor—the name says it all. I had the privilege of spending a lot of time with her last month in Napa and enjoyed her words and company tremendously. She's knowledgeable, she's dedicated to her running practice (and passionate about it), and she has a zest for life and interest in bettering it every single day. Who wouldn't want to be surrounded by that positive energy?
The schedule. We get it—most of these things are really expensive. So what's in it for you at the end of the day? There's the running (up gorgeous trails into the mountains), the eating (by the lake), the workshops (on how to embrace optimism and basically be a better person and runner), the potential swag (she's sponsored by Asics, FYI) and extracurriculars (gondola ride under a full moon, anyone?).
Now that it's on our summer bucket list, is it on yours?