Dedicating My Marathon, Mile By Mile
Thinking of the people that mean the most can be the best way to run 26.2 miles.
Heading out the door? Read this article on the new Outside+ app available now on iOS devices for members! Download the app.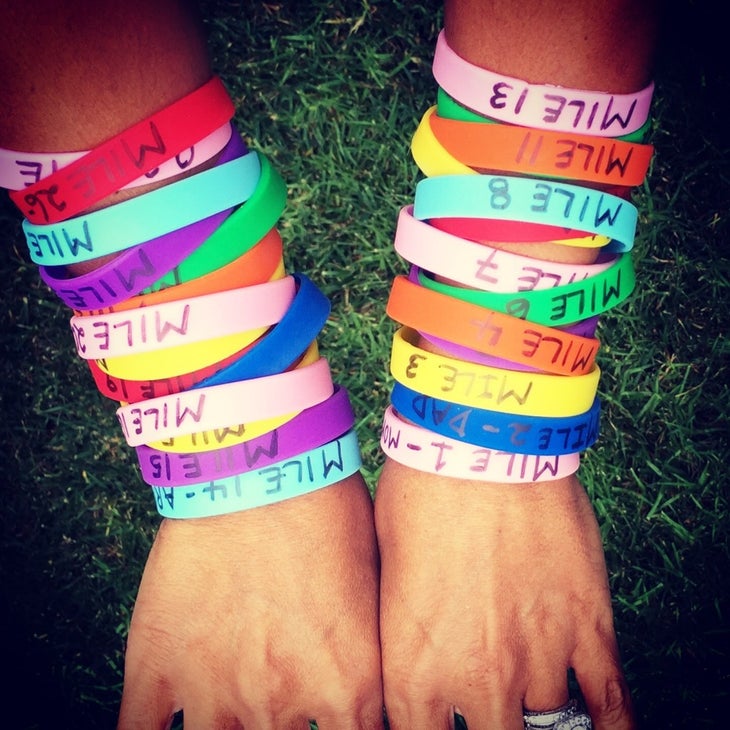 They say it takes a village to raise a child. I think it takes a village to run your first full marathon. On Valentine's Day, I am running the Los Angeles Marathon. While many people will run their first marathon through a charity organization, I decided that I want to dedicate my first marathon to all the people in my life, my village of support, who have helped make this happen. By dedicating each of the 26 miles to a different person who has somehow supported, inspired or impacted me, I plan to have my village serve as my inspiration.
During the marathon, I will wear 26 wristbands and write the name of the person for each mile on the corresponding band. As I run each mile, I'll think of the person that I am dedicating it to. As I pass each mile marker, I'll take that wristband off as my inspirers help pace me through my first 26.2.
Have you ever thought about all the people who have guided, inspired, mentored and impacted you? Who would be the 26 people that you would give your miles to?
For me, mile 1 and 2 will have to go my mother and father. I would not be here without them. Their sacrifice and support throughout my life is responsible for everything I have.
I have always known that Mile 26, the last one, will go to my deceased aunt. She was like a second mother to me. She passed away unexpectedly when she was way too young, and her loss is one that I have carried with me for many years. It has been a major factor in making me realize that I need to live every day of my life to the fullest. While my aunt was not a runner, she is probably the only person I know that had enough joie de vivre to tackle a marathon with no training. Knowing that mile 26 is for her will help me keep pushing when exhaustion sets in.
And what about all the other miles in between? Miles 9, 12, and 14 will go to my three children, since those miles correspond to their ages. Mile 20 will go to my husband, because that is the number of years that we have been together. He also wants to be "the wall mile" so I can "get there and pass it."
Mile 13 will be dedicated to my friend Katie, who ran my first half-marathon with me when I initially decided to take on this life-changing journey of becoming a runner.
I will definitely dedicate a mile to Caitlyn Pilkington of Women's Running, who was the first to share my words with their inspiring audience of women runners in posts such as Why Marriage Is The Ultimate Marathon and Real Life Confessions of a Runaholic. Caitlyn is a great inspiration, as she is not letting inflammatory bowel disease stop her from running the Boston Marathon or tackling the Run The Year 2016 Challenge.
All the other miles will go to friends, family, my running group mentors and readers that have supported both my running and writing journey. And what about the last 0.2 miles? The last 0.2 miles after the preceding 26 represent perseverance, determination, strength, gratitude and belief in yourself. The last 0.2 represents becoming a person who looks at any journey and says, "Yes, I can." The last 0.2 will be for me; the best Valentine's Day gift that I can possibly give myself.
Paria Hassouri is a runner, a pediatrician and mother of three. She chronicles her journey to marathon and self-discovery on her blog, Mom On The Runsanity.